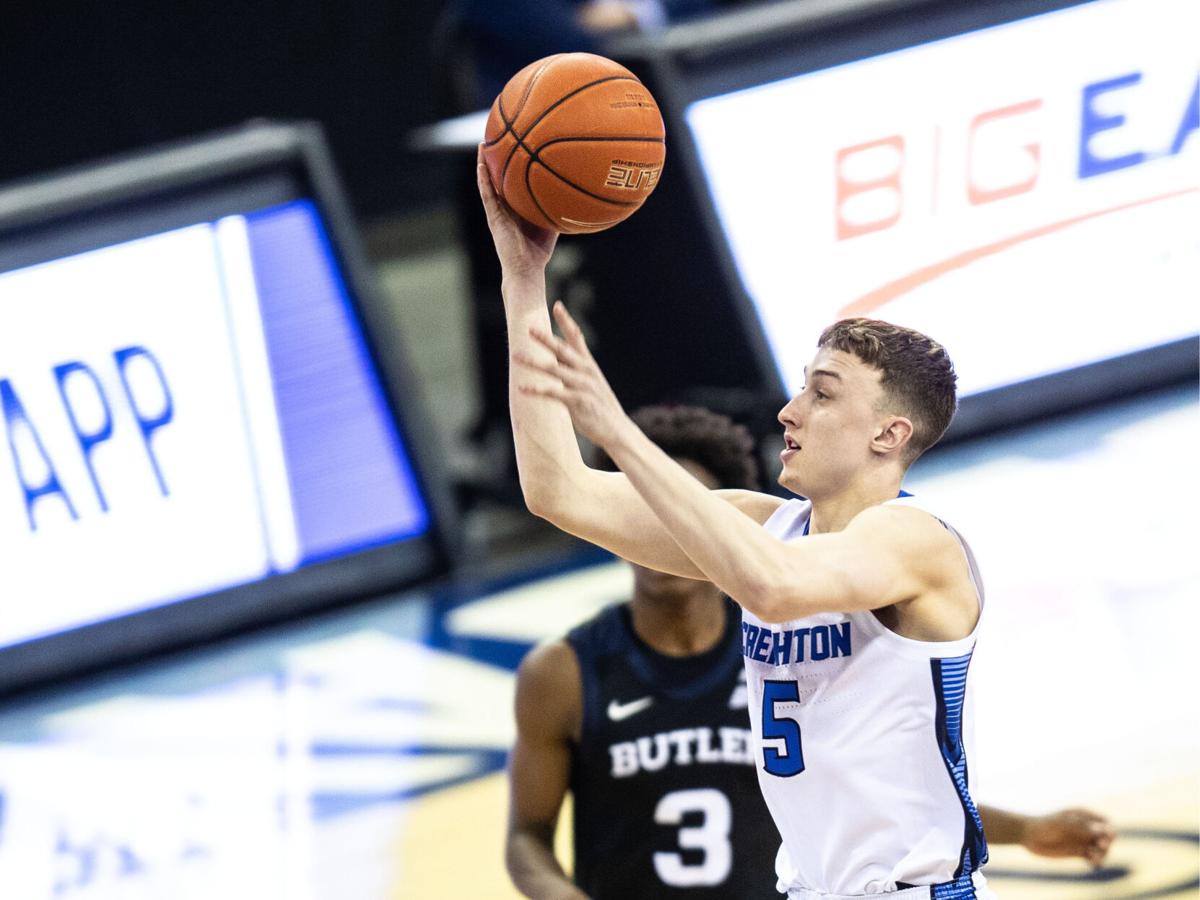 Creighton's Alex O'Connell knows the finish line will be here before he's ready.
A few blinks, and it'll be April. The end of his college career.
So he's trying his best not to think ahead, even though it can be enticing to daydream about the possibilities on a CU squad that has all five starting spots up for grabs and runs an offense traditionally designed to showcase a playmaking wing with O'Connell's skill set. It's why the 6-foot-6 guard transferred after three seasons at Duke — to get a chance to prove himself in an expanded role.
But also, it's only October.
"I've been waiting for this moment for a while," O'Connell said. "I'm trying to keep a level head about it. Just keep working every day. Because you know how quickly it comes and then all of a sudden, it's ending. I'm just trying to stay calm about it."
Framing his mind around the team's objectives seems to be helping him stay grounded.
When he took the court with the Jays this summer, O'Connell said his first thought was always to talk more — whether he was bringing enthusiasm, sharing encouragement or just celebrating the good moments with his teammates.
Now that preseason practice is underway, he's hearing the coaches emphasize some of the fundamentals as a team featuring eight newcomers works to learn CU's system.
Drive and play off two feet. Sprint into the offense. Crash the glass. Communicate on defense.
"If these guys can see me do it, then they'll do it," O'Connell said.
That's what coach Greg McDermott said he's asked of O'Connell and the other two returnees (sophomore Ryan Kalkbrenner and junior Shereef Mitchell).
McDermott's pitch is this: If Creighton's winning games, then the individuals responsible are in a better position to receive the accolades, the attention and the praise. You're less likely to get noticed when you're struggling.
So even though O'Connell is projected to see an increase in shot attempts (3.5 per game last year) and he'll have more opportunities to deliver momentum-shifting 3-pointers and replay-worthy dunks, his focus needs to be on the little things, according to McDermott. Especially right now, just one week into practice.
"My message to Alex is to do everything you can to help this team become better," McDermott said. "Help these young guys develop and understand how we're going to play. He's got a much better feel this year, compared to a year ago, having gone through it some. Obviously his experience is going to be important to us."
O'Connell wasn't even supposed to play last season. The NCAA decided to lift the sit-out year restriction for all transfers and it granted everyone a free season of eligibility. So O'Connell joined the Jays' top rotation in late-December.
It took him time to settle in.
He averaged 9.7 minutes per game off the bench as Creighton leaned on its veteran starting five. He scored 3.4 points per game on 38.1% shooting, while pulling down 2.2 rebounds per outing.
The playing time last season was actually a little less than what he logged during three years as a reserve at Duke (career 12.5 minutes per game).
"That was a great group we had last year," O'Connell said. "I was fine coming off the bench, playing a supporting role to those guys. They'd all been here so long. And it was their last year, obviously. It was a fun year."
Now it's O'Connell's final run.
All of those starters are gone — and many of those departures were projected a year in advance, when O'Connell originally committed to transfer here.
Creighton was always going to need new players to step up ahead of the 2021-22 season. O'Connell thinks he'll be ready to do it. He just doesn't want to get ahead of himself.
"Those things will start to come as the season comes — those roles will start to carve themselves out," O'Connell said. "Right now, we're all in the gym together, working. It's been good."
---