The calls from Major League Baseball teams typically would come in January for the former Creighton star who expertly pitches with both his right and left arms.
That's how Pat Venditte's winters went for six offseasons.
But this year, it was March. And no calls. No spring training invites or free-agent offers.
"I kind of took that as writing on the wall," Venditte said this week.
He figured he didn't need any more deliberation on whether to continue his preseason training routine or focus fully on joining the technology arm of an insurance company in Peoria, Illinois. Venditte always had taken the family-first approach — if another option made more sense for his wife and three kids, he'd pack away the specialty-made ambidextrous mitt.
This year, it crystalized in the spring for the first switch pitcher in MLB's modern era. Somewhat abruptly, actually. But firmly.
"When you're pitching in Triple-A and the major leagues, you're just so focused on being prepared for that," Venditte said. "You know the end will come at some point.
"Maybe I could have played again this year, or a few more. But it could have been the same situation of going between Triple-A and the major leagues and coming home in the fall and wondering, is it time?"
Venditte stepped away from the game five months ago.
The Omaha Central product hasn't picked up a baseball since, except to play catch with his 4-year-old or help a few high schoolers train.
On Saturday, he'll get immortalized into Creighton lore — Venditte, Kelli Browning (volleyball) and Mike Tranchilla (soccer) are the three inductees in CU's 2021 Athletics Hall of Fame class.
The celebratory weekend takes place amidst tragedy following the Sept. 30 killing of Chris Gradoville, a former Bluejay baseball player who joined the program as its volunteer director of operations one year ago.
Venditte was a teammate of Gradoville's from 2005 to 2007. And he is convinced that his own success — a record-setting CU career, a determination-filled, seven-year stint in the minors, a 2015 MLB debut and 60 more appearances at the sport's highest level — wouldn't have been possible without Gradoville.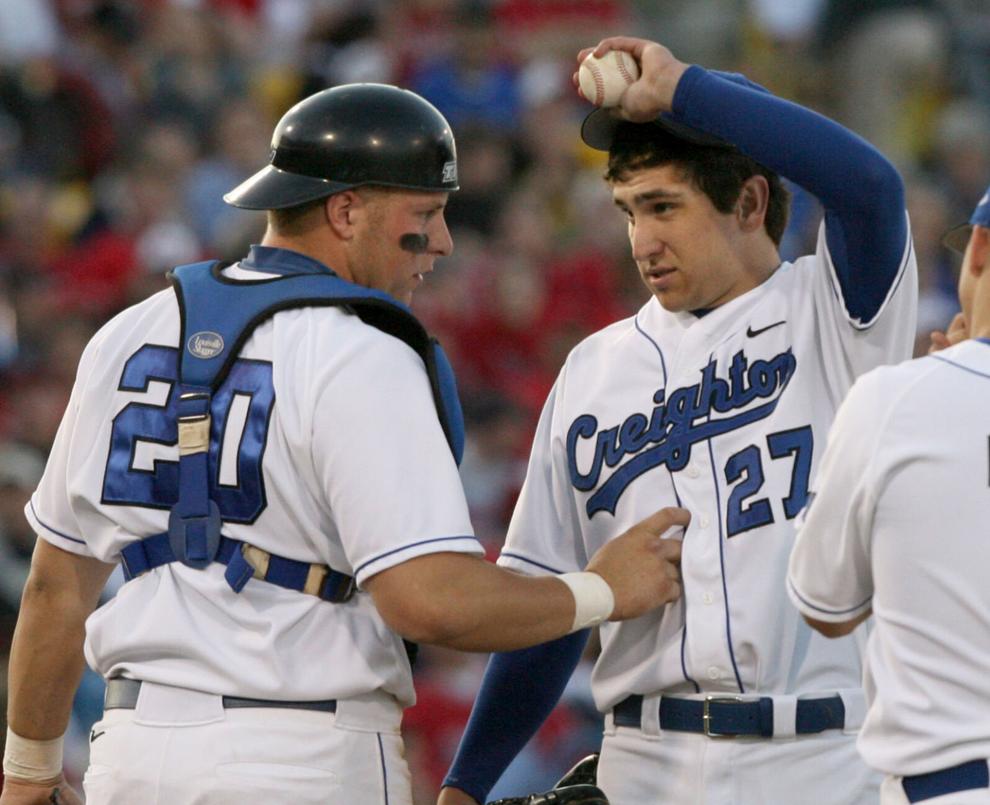 Venditte emulated Gradoville's hard-nosed, passionate approach. They ended up signing with the same agent after both entered the minors, and they keep in touch regularly. Gradoville caught some of Venditte's offseason bullpens. They went through conditioning workouts together.
"By the time I had any type of crucial role (at Creighton), he was it," Venditte said. "He was the lifeline of the team. Our leader, our catcher, our field general. The way he went about it — that zest for life — he attacked everything with everything he had."
Venditte and several former Creighton players were on hand Thursday for Gradoville's memorial service at Sokol Arena.
Many of them will stick around for Saturday's event, where Venditte gets honored.
Surely it'll be mentioned this weekend that Venditte had one of the best seasons of any CU pitcher in 2007, recording a 1.88 ERA in 38 appearances and throwing 43 2/3 consecutive scoreless innings at one point. He's sixth all-time in Creighton history in strikeouts (255), punching out batters with both arms in 39 games.
Venditte recorded a 4.73 ERA in the majors, making appearances for six teams. He didn't give up a run in his four innings with the Marlins in 2020.
Quite the career. And the late Gradoville had his fingerprints on it, according to Venditte.
"He was like a big brother," Venditte said. "Always looking out for me."
---