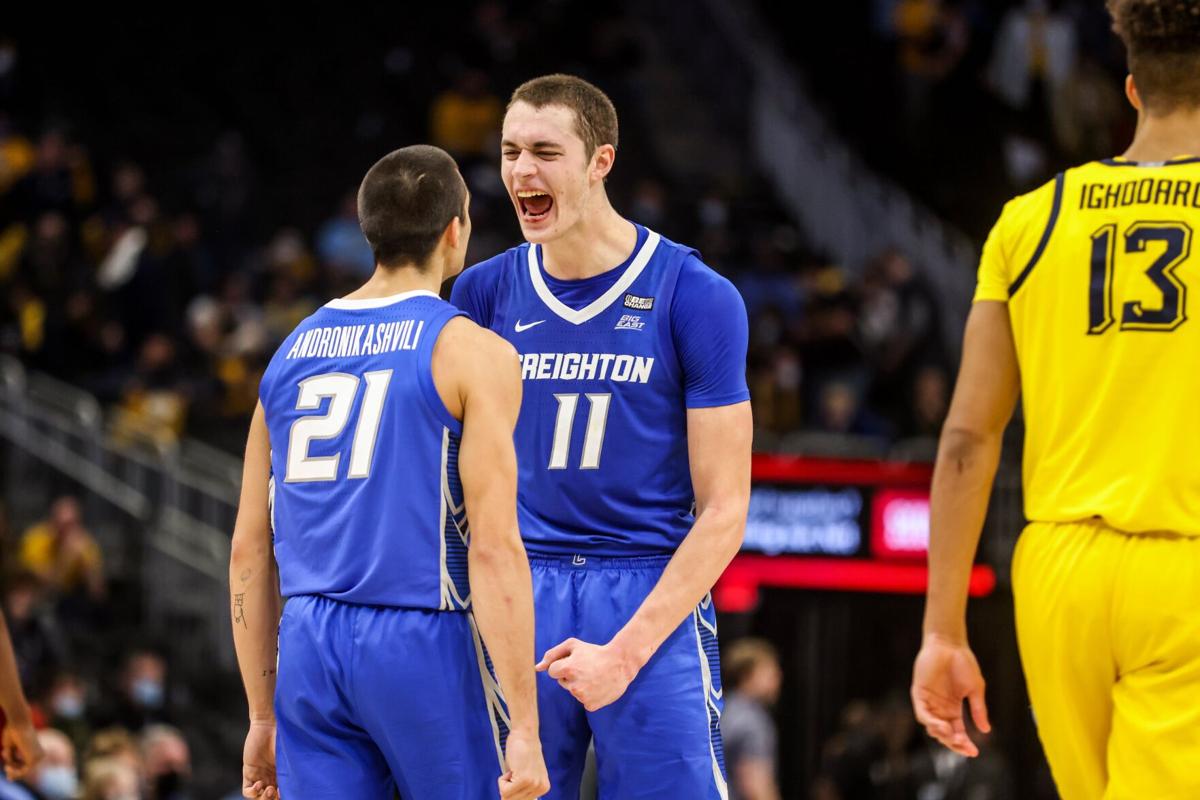 Creighton squandered away a 17-point second-half lead and needed a buzzer-beating 3-pointer from Alex O'Connell to force a second overtime, but the Jays delivered in the clutch to earn a dramatic road win at Marquette Saturday.
It was draining and exhausting — yet exhilarating and gutsy — for a CU team that hadn't played a game in more than two weeks.
Creighton (10-3, 2-0) did just enough to survive late, switching to a zone defense that slowed Marquette in overtime before getting a couple clutch buckets to put the game away inside Fiserv Forum.
Senior Ryan Hawkins nailed the go-ahead 3-pointer to make it 72-69 with 1:55 left. Freshman Rati Andronikashvili's driving layup sealed the 75-69 victory with 16 seconds remaining.
The win improved Creighton to 2-0 in Big East play — it's the first time since the 2013-14 season that the Jays have won their first two league games.
"It was an emotional roller coaster, but we came out on top," O'Connell said on Creighton's postgame radio show on 1620 AM KOZN. "We'll take a victory. A victory is a victory, especially in Big East Conference games on the road."
O'Connell helped make it happen, certainly.
CU fell behind 65-60 in the first four minutes of the first overtime. Then it got two free throws apiece from O'Connell and freshman Ryan Nembhard to trim the deficit to one point. After Marquette made two at the line to take a 67-64 lead with 11 seconds remaining, the Jays had one more chance to tie.
Inbounding the ball with three seconds left, O'Connell caught the pass to start a play that he said the Jays run regularly in practice.
He worked around a defender with two right-handed dribbles and rose up for a guarded 3-pointer. The triple went in as the overtime buzzer sounded, tying the game at 67-67.
"They almost knew that a shot was coming for me," O'Connell said. "But I got a clean catch and I was able to get a clean look at the 3. And it went in."
Creighton held the momentum from there, relying on that tactical switch to zone that knocked Marquette out of rhythm.
The Golden Eagles (8-6, 0-3) had worked their way back into the game by attacking the interior of CU's defense. That 17-point Creighton advantage got trimmed down to four with nine minutes to go.
Then Marquette scored on seven of its final nine possessions in regulation — all but one of those buckets came at the rim. It opened overtime with seven points on its first four trips down the floor.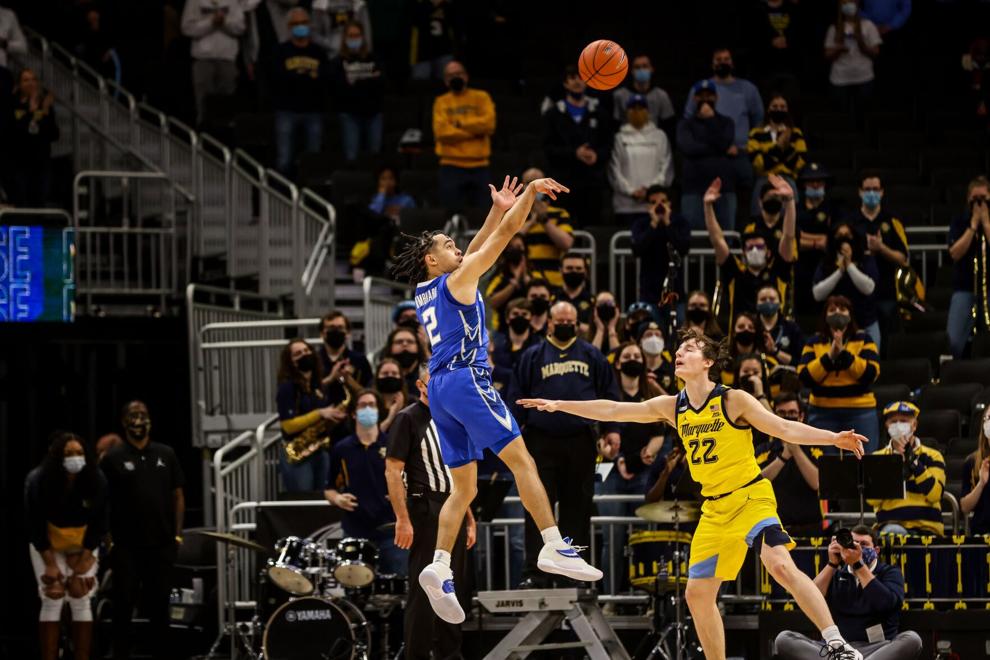 Point guard Tyler Kolek, operating out of the pick and roll, proved to be a menace for CU down the stretch. The Jays couldn't keep him out of the lane. And he repeatedly splintered the defense, creating for himself or his teammates.
Marquette finished with 44 points in the paint, matching a season high by a Creighton opponent.
But the Jays went to their zone look with 90 seconds left in the first overtime and stayed with it throughout the second overtime. The Golden Eagles went just 1 of 9 from the floor during that stretch.
"Marquette exposed us a little bit in the paint but I also thought we were a step slow with some of the things we were doing," McDermott said. "We don't give up those kinds of points in the paint very often."
Fatigue played a factor in the second half, though, according to O'Connell and McDermott.
The Jays hadn't suited up for a game since their win over Villanova on Dec. 17. They did their best this week to work back into shape on the practice floor. But a Big East game brings a different level of intensity and requires considerably more energy output.
So they hit the wall. And had to dig deep late.
Several players stepped up, despite losing momentum and control of the game. There were botched assignments defensively and the communication wasn't always great, O'Connell said. McDermott noted that guys were out of position for important offensive plays late in the game.
But CU found a way to win it.
Andronikashvili ended up with a career-best six assists. Sophomore Ryan Kalkbrenner had 20 points, 12 rebounds and four blocks (his first career double-double). O'Connell's 17 points were the most he's scored since the season opener.
"Really proud of our guys to keep playing until the final horn goes off," McDermott said.
---