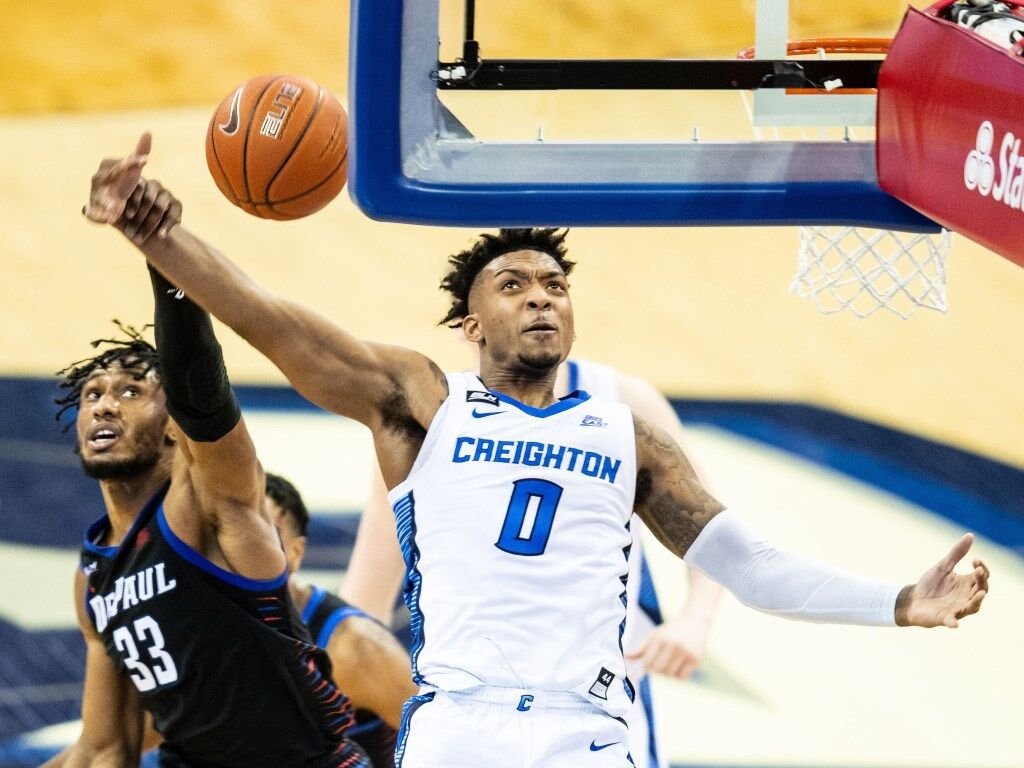 Creighton guard Antwann Jones announced Tuesday that he's entered the transfer portal.
Jones, originally from Orlando, Florida, joined CU's program two years ago after playing his first season of college ball at Memphis. He sat out one year because of NCAA transfer rules, then he entered into the Jays' top rotation last season.
But he'll be searching for a new team now.
The 6-foot-6 Jones wrote on Twitter that he made the decision to transfer after discussions with family members and friends.
"I just want to say thank you to everyone who's supported and believed in me," Jones wrote.
After discussing with my family & friends I have decided it's in my best interest to enter the transfer portal and take my talents elsewhere I just want to say thank you to everyone who's supported and believed in me #TooBeContinued Blessed with 3years of eligibility left 🙏🏾 pic.twitter.com/zwXHc54MP2

— Antwann Jones 〽️ (@j5_twann) June 1, 2021
Jones had some notable moments this past season — he scored 13 points and helped flip the momentum in a Creighton win over Xavier on Dec. 23, and he contributed eight points, four rebounds and four assists in the Jays' Big East tournament opener against Butler.
But he ended up averaging just 10.9 minutes per game on the year. He recorded 3.4 points and 2.2 rebounds per game, while shooting 37.4% from the floor.
He only saw the court for five total minutes in the NCAA tournament as the Jays leaned on their veteran-heavy starting lineup during their Sweet 16 run.
Jones becomes the second scholarship player to transfer out of the Creighton program this offseason. Rising senior Christian Bishop landed at Texas. Four other CU starters decided to turn pro after last season's 22-9 campaign. Walk-ons Jett Canfield and Nic Zeil transferred and Jacob Epperson retired.
Those nine players accounted for 84.2% of the points scored and 81.9% of the total minutes played during the 2020-21 season.
As it stands now, just three members of the Jays' rotation last year —sophomore Ryan Kalkbrenner, junior Shereef Mitchell and senior Alex O'Connell — will return to the program next season.
But Creighton has redshirts Rati Andronikashvili and Modestas Kancleris coming off injury. Plus, it's added several other potential contributors.
CU signed a 2021 recruiting class that ranks as high as No. 7 in the country. Point guard Ryan Nembhard, shooting guard John Christofilis, wing Mason Miller and forward Arthur Kaluma are the incoming freshmen set to join the team this summer.
The Jays also added two transfer big men, Northwest Missouri State's Ryan Hawkins and McNeese State's KeyShawn Feazell. CU announced the signing of the 6-foot-8 Feazell on Tuesday.
"We are excited to add KeyShawn to our program," coach Greg McDermott said in a statement. "His toughness, leadership and versatility was exactly what we were looking for. His skill level combined with the fact that he is a relentless rebounder will make for a seamless transition into our system. We can't wait to get him on campus!"