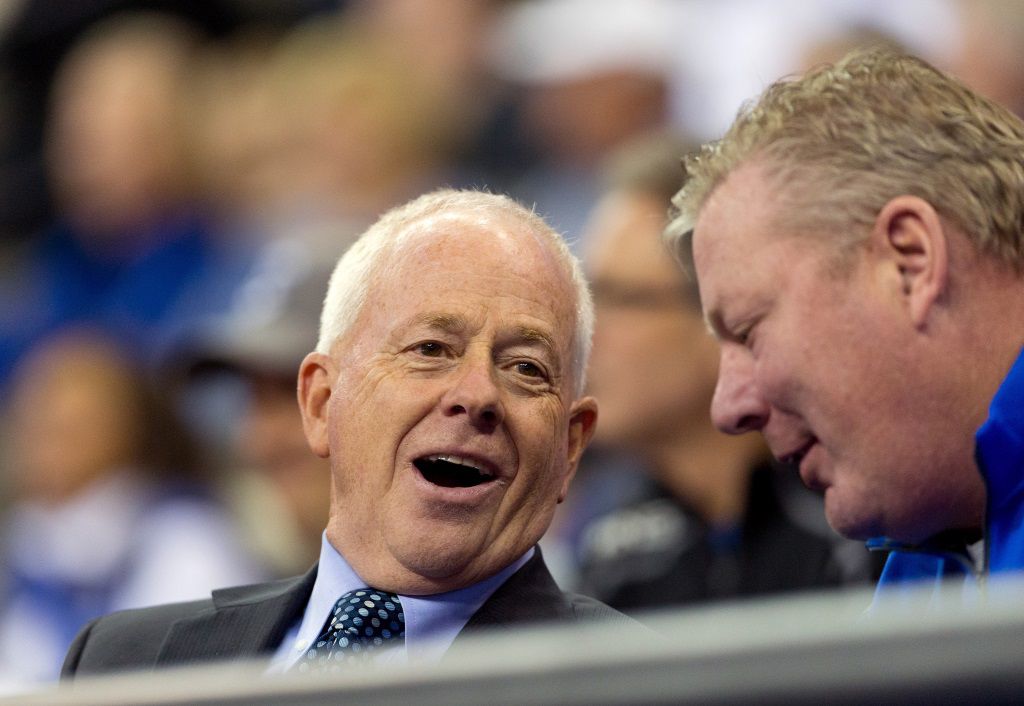 On the night that Creighton inducted its winningest basketball coach and his star player into the CU Athletics Hall of Fame, the loudest and longest standing ovation inside a packed hotel ballroom wasn't for them.
The moment belonged to Athletic Director Bruce Rasmussen.
This was three years ago. A few hundred former Bluejay players, athletic department staffers and longtime supporters gathered to celebrate the CU careers of Dana Altman and Kyle Korver. But just before the ceremony ended, the former coach commandeered the microphone and started pointing his left thumb at his old boss.
"This is the guy ... who's done it all," Altman said.
Rasmussen steered Creighton into a new era of college sports achievement and status — and now he's retiring.
He announced Monday that after 27 years as CU's athletic director, his last day will be Aug. 16.
It's a decision Rasmussen indicated that he's been thinking about for some time. Many of the Bluejay coaches and administrators interviewed by The World-Herald on Monday had even discussed the possibility with Rasmussen in recent years.
But most were admittedly surprised by the news Monday. Rasmussen, 70, informed senior staff members at a meeting that morning. A 600-word letter from Rasmussen was released soon after that.
"This is without doubt the most difficult professional decision that I have ever made," he wrote. "This is the right time for me. It is short notice because I am uncomfortable with farewell tours and long 'good-byes.' "
His legacy at Creighton is far-reaching, both tangibly and intangibly.
Most notably, he's overseen Creighton's transition from the Missouri Valley Conference to the Big East, a considerable step up in competition level and prestige. Creighton stretched its athletic campus from the Hilltop into north downtown during his tenure as well.
But those celebrating his career Monday noted that Rasmussen brought a personable nature and a caring spirit to the job — he sought to build long-lasting relationships with those in his circle of influence.
He had a joke or a story for everyone. His office door was always open. He would routinely pop into Jays' weight training sessions and practices, and he was a fixture at Creighton sporting events.
"He went to bed at night not just thinking about men's basketball," women's hoops coach Jim Flanery said. "He went to bed at night thinking about all his programs, and all of his programs and all of his student-athletes. And how we all fit together."
Flanery and several CU employees acknowledged that Rasmussen, the longest-tenured athletic director in the Big East, will be difficult to replace.
Creighton President Daniel Hendrickson said in a statement that he will begin a "national search" for the next A.D. in the coming weeks. Hendrickson thanked Rasmussen for his "years of service."
Rasmussen's career with the Jays began on the hardcourt. He coached women's basketball for 12 seasons.
The Bluejays won 57.1% of their games with Rasmussen in charge, and his run culminated in the historic 1991-92 season, when CU won a conference championship and an NCAA tournament game.
Rasmussen shifted to an administrative role before becoming athletic director in 1994.
Since then, Creighton has collectively won 43 regular-season conference titles and 43 league tournament titles. CU has secured Big East championships in baseball, men's basketball, men's soccer, women's basketball and volleyball.
Morrison Stadium (soccer) and the CHI Health Center (men's basketball) opened in 2003-04. The Creighton women's basketball and volleyball teams moved into Sokol Arena in 2009, and TD Ameritrade Park became home to Creighton baseball in 2011.
The Jays have also added a men's basketball practice facility (Championship Center in 2014), an indoor turf field (Rasmussen Center in 2012) and a basketball/volleyball practice gym (The Ruth in 2019).
The only major NCAA rules violations committed by Creighton during Rasmussen's career were revealed this summer.
The infractions panel determined that former men's basketball assistant Preston Murphy breached an unethical conduct rule (a Level I violation) and that Rasmussen failed to immediately report that potential wrongdoing (a Level II violation). The subsequent sanctions included a two-year probationary period, recruiting restrictions and a fine.
That ruling came on the heels of the pandemic, which limited ticket sales and sponsorship deals and threatened the stability of CU's budget. Creighton announced a fundraising initiative last fall, Bluejays Persevere, to help cover a potential $8 million shortfall. Rasmussen's leadership was crucial, according to men's basketball coach Greg McDermott.
"His ability to steer us through that very difficult time — I can't imagine anybody that's more prepared to do something like that," McDermott said. "We were in an unprecedented time, yet Rass had a plan."
It is indeed rare to catch Rasmussen off guard.
But Altman did. On that night at the downtown Marriott three years ago.
The Hall of Fame induction event properly honored Altman and Korver with toast-worthy stories of success. The blue-collar tales of the good old days. There were laughs and cheers.
Back in the early 90s, the athletic department was "teetering" a bit, said Associate A.D. Kevin Sarver, who's been at CU for 32 years. Then Rasmussen hired Altman, the men's basketball team piled up wins and the Jays became the hot ticket in town. Korver played during the height of Altman's Creighton career (1999-2003) and spent 17 years in the NBA.
But Altman deflected the praise at the end of the night. He wanted to compliment the visionary, Rasmussen.
Soon the entire room was rising up, applauding in admiration. Rasmussen, with a soft smile, lowered his head to acknowledge it all.
Then Altman grabbed Rasmussen's arm.
"When history's said here, down the road, when they say Creighton University, they're going to say Bruce Rasmussen."
---