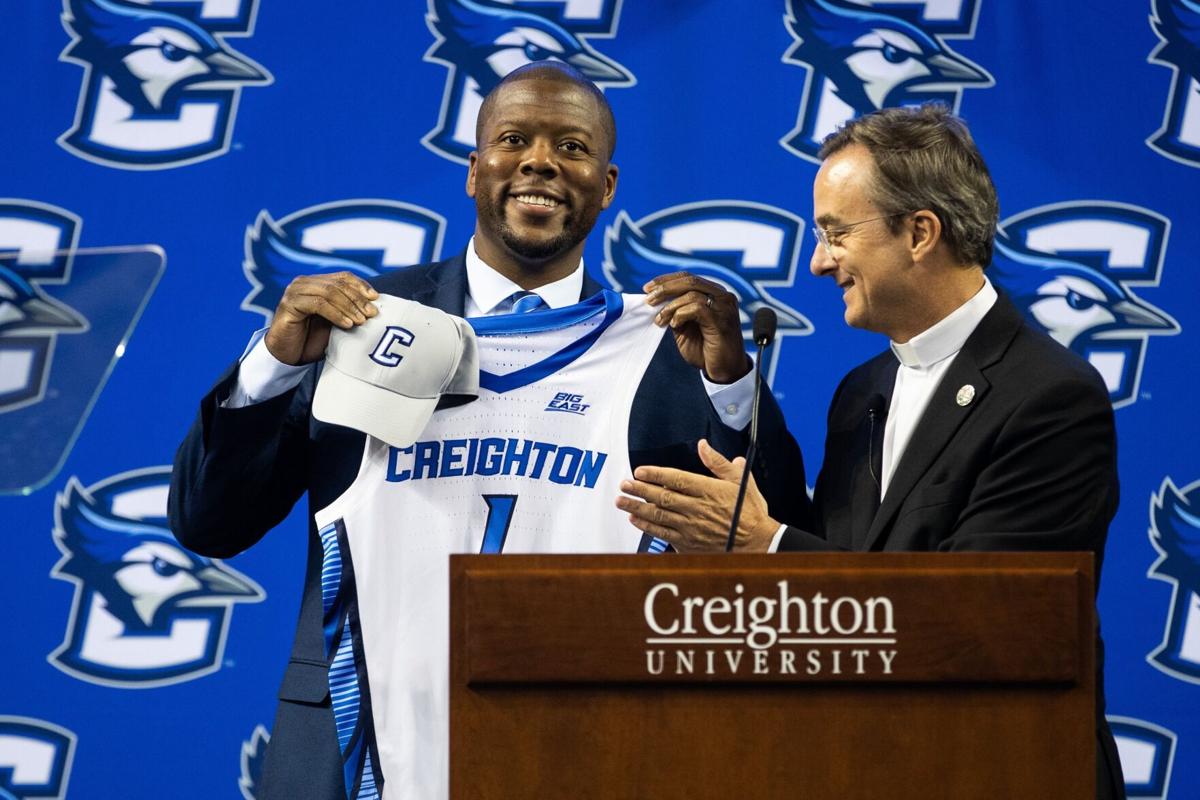 The first Black athletic director in Creighton history didn't start his administrative career thinking he'd be a groundbreaker.
Marcus Blossom enjoyed his college experience at Northeastern. He wanted to help ensure other athletes did, too.
So the hoops star took the advice of an athletic department mentor and enrolled in a sports management graduate program at West Virginia. Then he hit the grind.
It wasn't until years later that he noticed not many folks in the industry looked like him.
"I didn't realize it for a long time," Blossom said earlier this month. "It didn't deter me. Because it's a microcosm of society, too. I don't know if I was oblivious or if I just had my head down working. But yeah, it probably took me awhile."
Blossom sees it now: College athletics leadership has a diversity problem.
What has been encouraging to Blossom, however, is that the trends appear to be improving — a notion his hire at Creighton helps to affirm.
Of the 76 major conference schools (Power Five plus Big East), 17 athletic directors are of color — and 14 are Black. That's 22.4% leading departments in the six highest-profile leagues where non-White athletes made up approximately 41.3% of participants in 2020, according to the NCAA's demographics database.
Across all Division I, 25 of the 32 conference commissioners are White (nine of the 32 are women). And according to NCAA data for 2020, 79.9% of head coaches and 82.5% of associate/assistant athletic directors were White.
"This is the case, where we are now," Blossom said. "But I believe it's changing; it's changing for the good."
Blossom is part of a new wave of minority and female administrators moving up the ranks across the college sports landscape.
The pipeline. That's what Ohio State Athletic Director Gene Smith calls it.
Smith, the first Black A.D. at Ohio State, has been in his position for 17 years. He remembers when he'd have conversations and brainstorming sessions about these issues decades ago with his peers.
Back when he attended athletic administrator conferences and "only a few" of the 1,000 or so attendees were people of color, Smith said. Back before the NCAA had an office of diversity and inclusion (instituted in 2005). Back when you could count the Black athletic directors on two hands.
"Now, it's totally different," Smith said. "It's just a beautiful thing. The candidates are there. It's just a matter of developing them, helping them grow, giving them the platform and the experiences."
Two things, Smith said: The commitment of leaders to help inspire and mentor minority administrators and the increasing push for diversity across all levels of higher education, particularly in athletics.
"(In the '90s), our work was to try and just get the pipeline going," Smith said. "That work was intentional. And now that we've got to this place ... you look back on it, and it was a labor of love. It had the effect that we hoped it'd have."
Smith said the impact hasn't been fully revealed in the hiring numbers yet, but it's coming.
There are too many Marcus Blossoms out there to ignore, he said.
Creighton President Daniel Hendrickson recognized Blossom's potential during the interview process, too.
Hendrickson said earlier this month that hiring a person of color to replace Bruce Rasmussen, who'd been CU's athletic director for 27 years, was not the main priority for his search. He wanted to find the best candidate.
"Diversity is a key metric, objective, dream in our strategic planning for students, faculty and staff," Hendrickson said. "To achieve that in one of the highest leadership positions at Creighton is remarkable."
And more high-profile institutions appear to be making a push for diversity. The results:
In the past 16 months, DePaul (DeWayne Peevy), Duke (Nina King), Michigan State (Alan Haller), Missouri (Desiree Reed-Francois), UCLA (Martin Jarmond) and Vanderbilt (Candice Storey Lee) have hired people of color to their open A.D. positions. Plus Creighton.
"It's all about opportunity. That's what we've been talking about," Jarmond told The World-Herald in a recent interview. "When a guy like Marcus Blossom gets an opportunity to lead, it's a great thing. He's a great athletic director, who's prepared his whole career, his whole life, for this big job. He's ready. He just happens to be Black."
That said, there's still work to do.
Which is why Blossom takes over the Creighton gig with a bit of a burden — or responsibility — in mind. Folks will be watching him closely. He has to perform well.
He's one of the trailblazers, even if he never sought that designation.
When his basketball career at Northeastern ended and he decided not to use his degree in finance to enter the Wall Street world, Blossom asked the advice of the school's lone Black athletic department administrator.
Kevin Porter, the assistant director of compliance for Northeastern at the time, suggested that Blossom follow his path.
Porter, a track athlete at Tennessee, went through the West Virginia grad program, started his administrative career and is now the athletic director at Mansfield High School in Ohio.
At the time, Porter said he wasn't encouraging Blossom with the thought of the industry's low diversity numbers in mind, but he's grateful Blossom went this route.
"Marcus was a bright, young man interested in a career in college athletics," Porter said. "I hadn't thought about (diversity). But over the course of my career, you see it. And I know it's very important for any group of people to see people who look like them having success."
It's one of the reasons Smith is so respected — he's led big-budget, championship-winning programs at Ohio State for nearly two decades. He was 29 when Eastern Michigan hired him as A.D. in 1986. Then Iowa State, then Arizona State, then Ohio State. His approach hasn't changed, and neither has his role in the pursuit for increased representation.
"I've always looked at it more as an opportunity," Smith said. "If I do my job excellently and perform at the top of the pyramid, it's a demonstration that people who look like me can do it. We just need to keep it rolling."
---