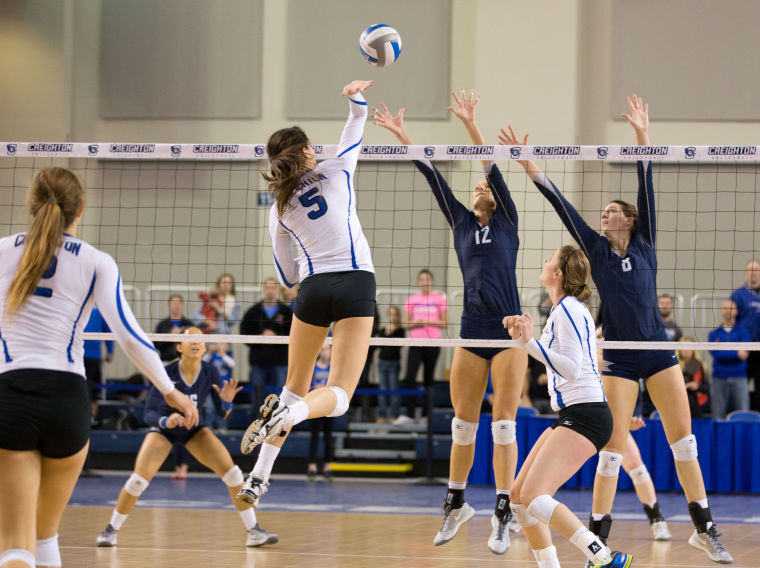 Creighton is one step closer to claiming the school's first Big East championship less than five months after joining the conference.
Five Bluejays registered double figures in kills and three recorded more than 20 digs Friday as Creighton advanced to the championship match with a 25-20, 25-19, 22-25, 25-17 semifinal win against Xavier in front of a Sokol Arena crowd of 1,343.
Kelli Browning led the Bluejays with 13 kills, Lauren Smith added 12, Michelle Sicner and Leah McNary each recorded 11 and Jess Bird had 10.
Sicner added 44 set assists and 21 digs for her fifth triple-double of the season.
The Bluejays (22-7) will take on regular-season Big East champ Marquette (25-4) in the title match at 5 p.m. Saturday.
CU recorded 96 digs against the Musketeers, led by libero Kate Elman's 24.
Sicner said the team discussed the importance of having a body on every ball.
"I think everybody put their body on the line tonight trying to at least get a touch on the ball," she said, "and a lot of the time it was just a little touch."
Coach Kirsten Bernthal Booth said the effort her Bluejays put forth against Xavier will be needed again if CU is to claim the league championship.
"I thought we had pretty good parity offensively," Booth said. "Our struggle this year has been that even though I feel like we've got five great hitters and a setter that can be active, a lot of times it's a different player each night stepping up.
"For us to be great, we have to have them all step up, and I thought at times tonight we had a lot of different options that were all being successful."
Revenge will likely be a motivating factor when the Bluejays and Marquette square off Saturday.
The Golden Eagles suffered their only conference setback in Omaha on Oct. 13 when they were swept by Creighton. Marquette returned the favor by taking out the Jays in straight sets 12 days later in Milwaukee.
Another motivator could be that the winner Saturday could host the first two rounds of the NCAA tournament, which starts next week.
"I think our team will be up for it just as Marquette will be up for it," Booth said. "Lots riding on the line."
After never trailing in the first set, Creighton had the upper hand for most of the second.
CU fell behind twice early with deficits of 1-0 and 2-1 on the way to a 25-19 Game 2 win and a 2-0 lead at intermission.
The Bluejays delighted the crowd as they took a 21-14 lead when Sicner and Melanie Jereb each made desperation saves on the same volley on what looked like a sure point for the Musketeers.
"I thought there were a lot of fun rallies," Booth said. "You want some of those points, and that's really fun. The crowd can get going.
"I thought our crowd really affected things tonight in a positive way."
The Bluejays fought off three set points in Game 3 as they cut their deficit to 24-22, but Xavier held on with an Alex Smith kill to push the match to a fourth set.
Browning sealed the trip to the championship with a match-point kill as the Bluejays took the fourth set 25-17.
Xavier (21-11) .................................................. 20 19 25 17
At Creighton (22-7) .......................................... 25 25 22 25
XU (kills-aces-blocks): Alex Blair 6-0-2, Abbey Bessler 13-1-1, Aubree Smith 5-0-2, Alex Smith 8-0-5, Sariah Suryadevara 0-2-0, Sarah Brown 8-0-2, Sofia Peterson 0-0-0, Makayla Agin 9-0-2, Kelsey Dunaway 0-0-1, Lauren Metzger 1-0-0. Totals 50-3-15.
CU: Ashley Jansen 0-1-0, Melanie Jereb 4-0-1, Kelli Browning 13-0-3, Michelle Sicner 11-0-2, Jess Bird 10-1-0, Lauren Smith 12-0-1, Kate Elman 0-1-0, Leah McNary 11-0-1, Lizzy Stivers 0-1-0. Totals 61-4-8
Set assists: XU 46 (Aubree Smith 39, Brown 3, Suryadevara 2, Blair 1, Bessler 1, Metzger 1), CU 59 (Sicner 44, Bird 4, Jansen 3, Jereb 3, Browning 2, Elman 2, Stivers 1).
Marquette def. Butler 25-18, 14-25, 25-22, 25-16
Freshman Nele Barber paced the Golden Eagles (24-5) with 18 kills while hitting .500. Setter Elizabeth Koberstein helped Marquette to a .293 hitting percentage with 49 assists.
Morgan Peterson led Butler (24-8) with 43 assists and 15 digs.
Marquette went 15-1 in the Big East regular season, losing only at Creighton in straight sets on Oct. 13. The Golden Eagles avenged that loss 12 days later, also in straight sets.
Video: Highlights from Creighton-Xavier