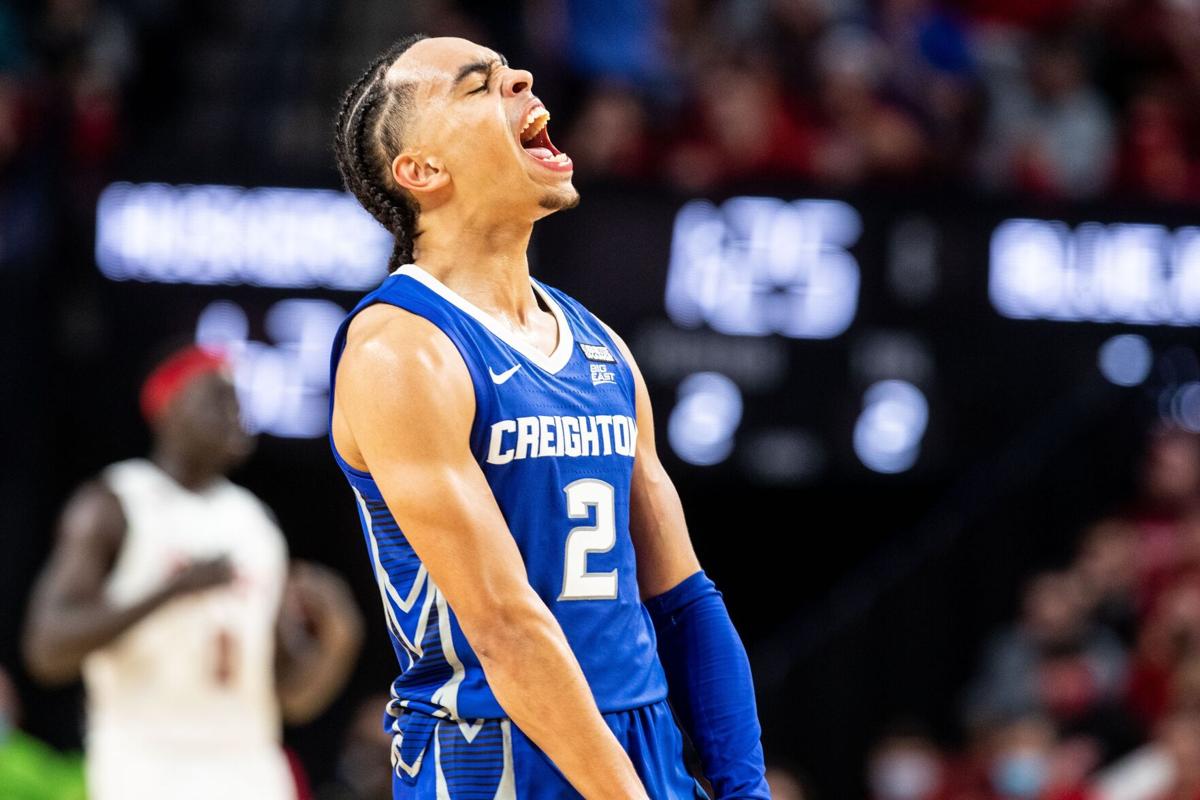 LINCOLN — Creighton's lead had nearly evaporated, its opponent couldn't miss and the home fans were roaring just before halftime.
It was the type of pressure-packed moment that could never be simulated inside the CU practice gym or analyzed in the film room or described in a pregame pep talk.
The young Jays were always going to have to navigate through the potentially perilous momentum swings on their own Tuesday night, relying on their grit and mental fortitude to avoid getting swept away by inevitable surges from a motivated Nebraska squad.
This retooled Creighton roster stunned the Huskers with a ferocious start, withstood every retaliatory response and emphatically put away the 77-69 victory.
"The crowd was all into it, but for us to stay poised and come out and defend, and continue to play our style of basketball — that was big time," senior Alex O'Connell said. "It showed some guts."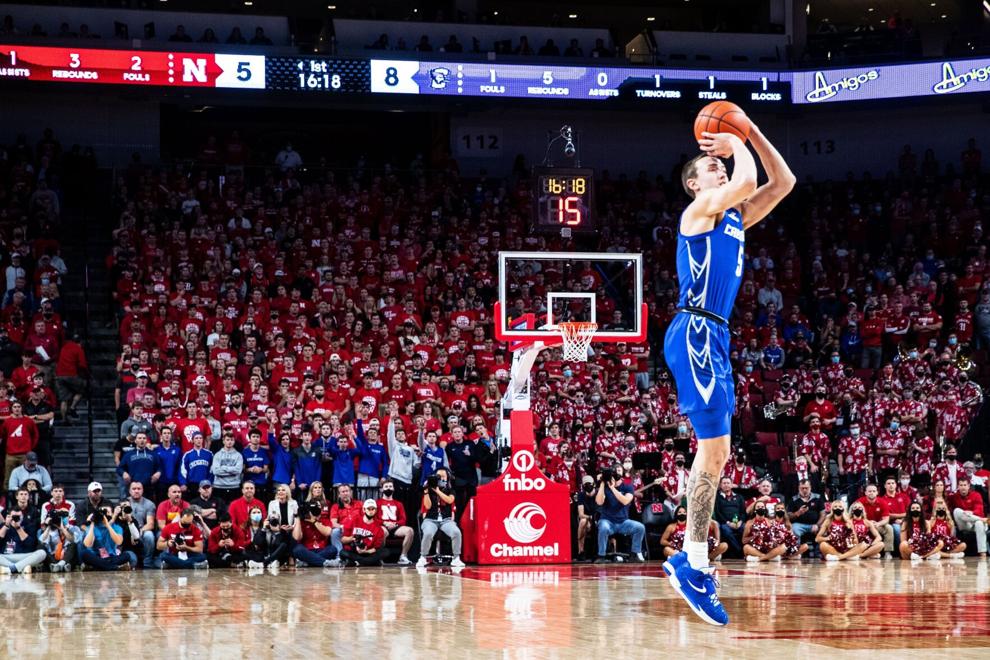 Particularly for these new-look Jays.
Four players within CU's eight-man rotation are 19 years old or younger, including the freshman point guard (Ryan Nembhard) who headlined the Creighton attack. The Jays' two grad transfers had never experienced an environment like Tuesday's energetic scene, typical for the annual in-state clash.
Even O'Connell and the still-hobbled Shereef Mitchell, who made his season debut Tuesday, haven't been asked to carry full-time leadership and playmaking roles throughout their careers.
Yet Creighton (3-0) looked right at home Tuesday. The Jays jumped out to a 29-10 lead.
"We trust each other, we trust Coach, we trust our sets and we trust the work that we put in," Nembhard said. "Even though it got loud in there, we knew to stay true to ourselves and do what we do."
Nembhard was a tone-setter in that way, finishing with 22 points, five assists and five rebounds. He initiated CU's lethal transition breaks in the first half and then helped the Jays find high-percentage looks to quiet the crowd in the second.
His 3-pointer with five minutes left stretched Creighton's advantage to 68-59. Senior Ryan Hawkins — who had 15 points, 10 rebounds and five assists — buried two 3-pointers soon after that to ice the victory.
The win was Creighton's 10th in the past 11 meetings against Nebraska. The Jays have won three in a row and they lead the all-time series 29-26.
Coach Greg McDermott said he talked to his team before the game about CU's history in this rivalry. About what it takes to win in Lincoln. About some of the hard-nosed squads he's had that handled in-game adversity.
But ultimately it was up to the players to figure out how to step up when the momentum started to tilt.
They're the ones who listened during a first-half timeout — the Huskers (1-2) hit four straight 3s in a five-possession stretch to cap an 18-2 run — when McDermott told them that NU couldn't win with that kind of shot selection. So stay with it, he said.
There was sophomore Ryan Kalkbrenner protecting the rim and keeping the driving Huskers from getting clean looks. And O'Connell hitting a second-half floater with the arena starting to buzz once the lead got cut to three. And Hawkins hustling for loose-ball rebounds and keeping the ball moving.
They couldn't exhale until the final couple of minutes. And even when they did, as the players were munching on Chick-Fil-A sandwiches, they were still talking about the focus they showed all game long.
McDermott was there to watch the last few guys step onto the team bus. He patted Kalkbrenner on the shoulder and shared a message he'll surely pass along to every member of his squad.
"You grew up a lot tonight," McDermott said.
Notes
» Mitchell isn't yet 100% healthy but he made an impact in his first game action of the season Tuesday.
Mitchell's the player with the most in-game experience in a CU uniform of anyone on the roster — and the only guy who'd played in a Nebraska-Creighton rivalry game with fans in the stands.
So his leadership was important during Tuesday's win, according to McDermott.
"It was good to have Shereef back," McDermott said. "He gives us another defender, another ball handler."
Mitchell, the Omaha Burke grad, finished with four points and two rebounds off the bench.
» The career 41% 3-point shooter wasn't ever going to start turning down looks, but he had to shake his head after the way his night started Tuesday.
Hawkins, a Division II transfer, came into the game just 1 of 12 from long range on the year.
His first one, a clean look, rattled in and out. Then the second one seemingly touched all parts of the rim before popping out. He missed his next two tries, too.
"Those are the frustrating ones," Hawkins said. "If I'm going to miss, I don't even want it to be close. But stuck with it. Kept getting great looks."
It's a good thing for the Jays that he did. Hawkins hit his final three 3-pointers, helping to put Nebraska away.
His first made triple put CU ahead 55-47 with 10 minutes to go. He buried two more down the stretch.
Hawkins also added 10 rebounds (six on the offensive end) and five assists.
---