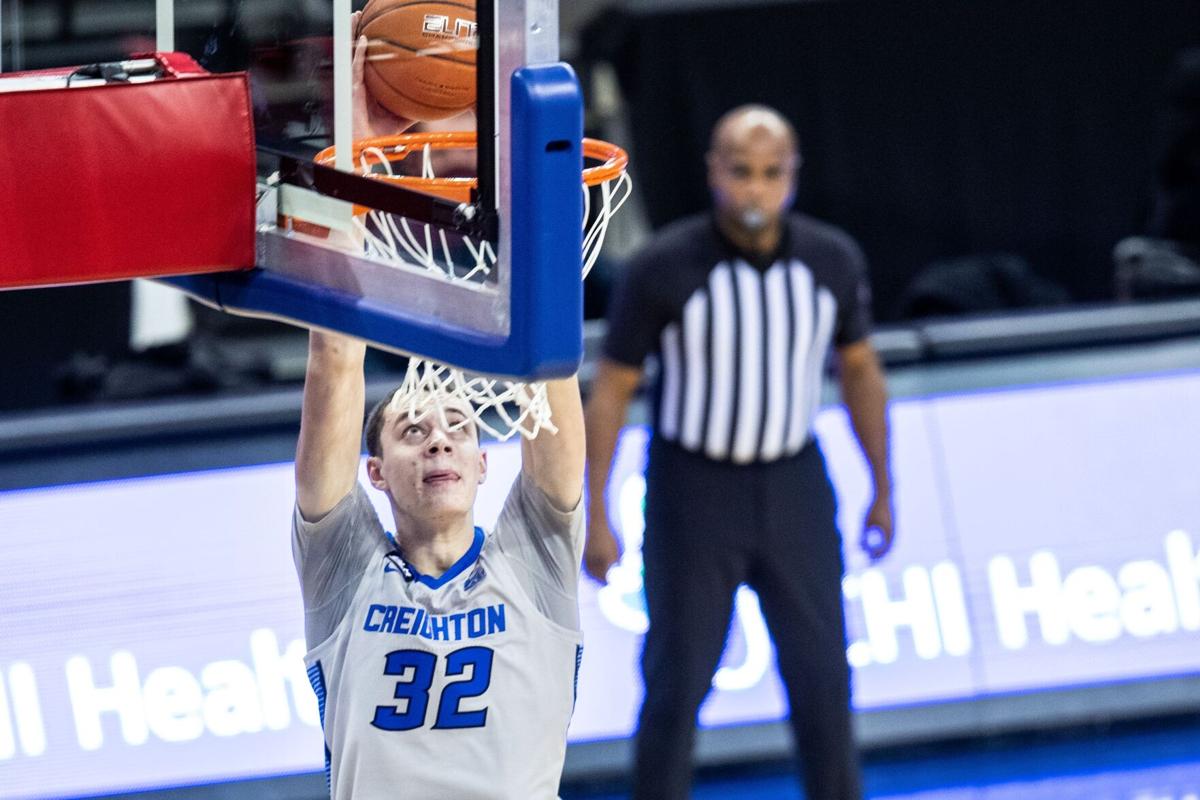 The first practice for Creighton's young team began with a film session.
This actually isn't uncommon for the Greg McDermott-led Jays. He and his coaches routinely have started their day's work on the court by reviewing video clips from a prior game or workout so they can reference certain concepts or schematic principles that need to be addressed.
But perhaps more than ever this year, CU's staff will be intentional and diligent about explaining ... everything.
So before the Jays — who have seven scholarship freshmen and two grad transfers competing for playing time — began their first official practice of the 2021-22 season, they listened and they learned.
That'll be the approach for the next several weeks inside the Championship Center.
"We prepare the same — we prepare to win," McDermott told reporters Tuesday. "Also, we'll have to be a little more patient with mistakes because there is a learning curve. There's a learning curve for everybody."
To start Tuesday, they were talking about floor spacing on offense and off-ball rotations on defense. They installed a couple of plays, ran through one of the program's long-used shooting drills for the first time and logged some transition defense reps.
It's just day one. The season doesn't begin until Nov. 9.
But this group has to maximize every moment it gets together on the court, according to sophomore Ryan Kalkbrenner.
"Right now, the message is growth. Every single day," Kalkbrenner said. "Because we're so young, we've got so much more room for improvement. The message is, how do we stack days on top of days to get better?"
That's why he said he and his teammates haven't thought much about expectations or long-term goals.
They want to win, certainly.
Part of the reason they're here is they watched Creighton win a share of the Big East title in 2020 and reach the NCAA tournament's Sweet 16 in March. They want to build off that success.
But it's going to take time.
"It's a bunch of new guys — we've all got to learn the system and everything," freshman Ryan Nembhard said. "But we'll figure it out."
A few notes from practice:
» Freshmen Rati Andronikashvili and Modestas Kancleris both missed last season because of ACL tears suffered in November 2020. Their recovery process concluded Monday. They're fully cleared for practice, McDermott said.
» Junior Shereef Mitchell underwent surgery for a stress fracture in his foot in July. He returned to the court earlier this month but is still limited. McDermott said Mitchell's available to participate in about 80% of practice.
» McDermott said he'll be leaning on Mitchell, Kalkbrenner and senior Alex O'Connell — the only three returners in last year's top rotation — for their leadership this preseason. They'll have to "steer" the freshmen in the "right direction," McDermott said.
» McDermott on the team's chemistry: "They're really talented and they're about the right stuff. I think there's a great connection amongst them, they really get along and they celebrate each other's success, which I think is kind of becoming a lost art in this day and age. So I think that gives us a chance. But we just have to be mature enough to get through some of the tough times because undoubtedly there will be a few of those."
» The Jays installed a new court inside the Championship Center after rain from an August storm damaged the floor. CU had spent the past few weeks conducting team workouts and individual sessions at the Ruth practice facility, at Sokol Arena and on a court inside a ballroom at the CHI Health Center. But they were on their brand-new court Tuesday.
---