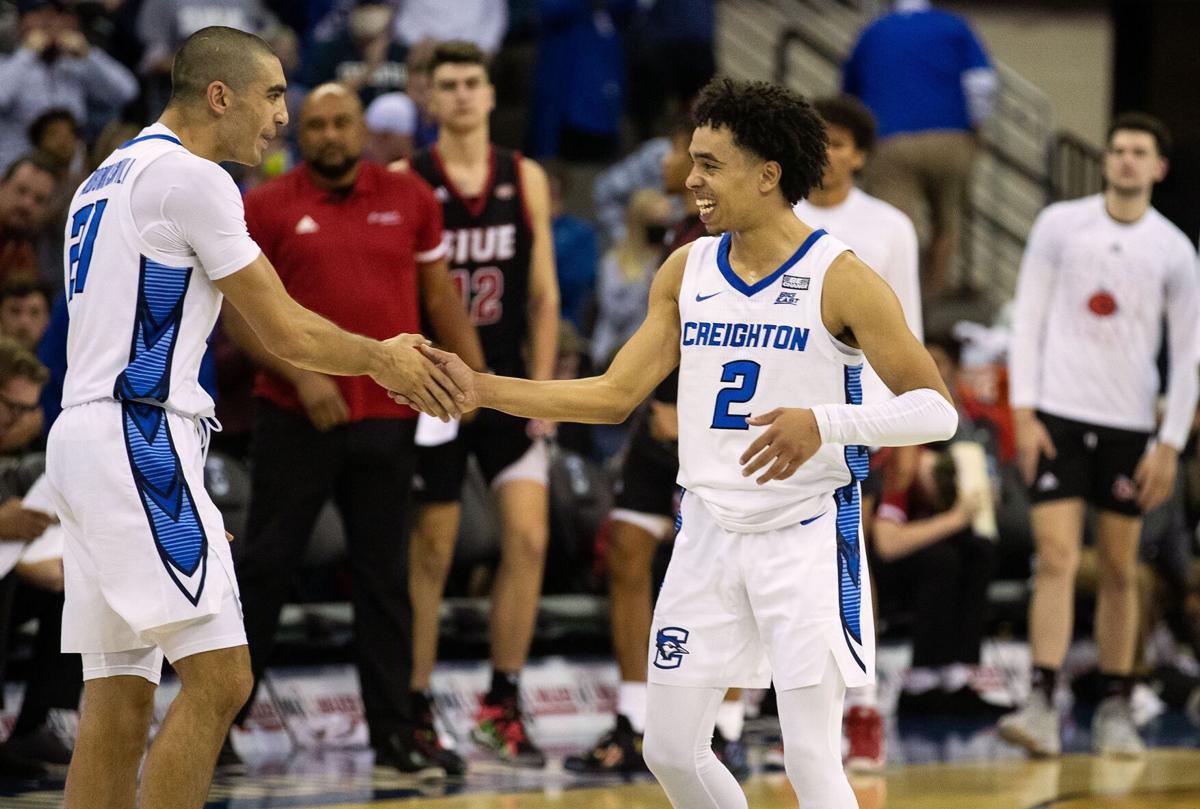 Creighton survived a Saturday afternoon scare, rallying from a 16-point second-half deficit with tenacious defense and clutch shot-making.
The game came down to the wire, which it often has early in this season with a work-in-progress CU squad. The Jays have repeatedly backed themselves into corners with their own miscues, yet emphatically — almost stunningly — reversed course to avoid upset defeats.
That was the case again Saturday.
Creighton held SIU-Edwardsville to seven points — on 2 of 18 shooting — during the final 14 minutes, creating just enough of a window for its playmakers to deliver momentous scoring sequences in crunch time to secure a 70-65 victory.
"We made sure to do our job," freshman Rati Andronikashvili said. "We didn't do something unbelievable. We were just in our spots, where we had to be, where we were not in the first half."
Andronikashvili played a major role in the midgame turnaround, deflecting the ball away from drivers, diving on the court for near-steals and shouting words of encouragement to teammates.
The whole squad seemed to get more energized as its deficit dwindled.
The Jays started pressuring the ball beyond half court. They chased down the loose-ball rebounds. They funneled drivers to their shot-altering big men inside, particularly sophomore center Ryan Kalkbrenner (five blocks).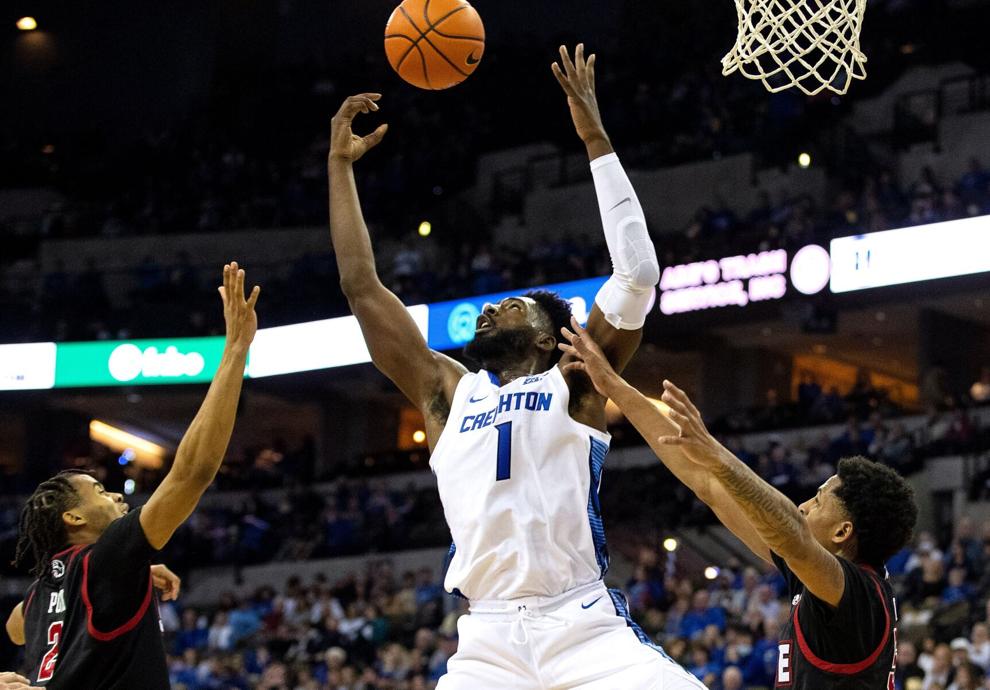 SIUE's field goal percentage reached 55.3% early in the second half. Led by coach Brian Barone, the son of former CU coach Tony Barone, the speedy Cougars (2-5) raced past Jays' defenders in fast-break situations and on clever drives in the half court.
But they didn't make a shot for more than seven minutes midway through the second half. They were scoreless in the game's final five minutes, as well.
"The defense was really solid down the stretch," Creighton coach Greg McDermott said. "That can't get lost in everything else that happened in the first half. That's what they're capable of. And it's our job as a coaching staff to try to get us to be like that a little bit more often."
That's been the early challenge for this new-look Creighton squad, which had a nine-man rotation Saturday featuring two grad transfers, five freshmen, two returnees and no Shereef Mitchell (injured).
The Jays (6-1) are learning, experimenting and growing on the fly.
They had to battle back from a 15-point deficit to win their opener against Arkansas Pine-Bluff on Nov. 9. Two days later, they trailed at halftime against Kennesaw State. They were down eight points with four minutes to play against Southern Illinois last Monday, yet they won that game on freshman Ryan Nembhard's buzzer-beating floater.
Saturday's 16-point comeback matched the third-biggest rally in McDermott's tenure.
"We kind of just had to look ourselves in the mirror, and I feel like that's what a lot of people did," freshman Trey Alexander said.
It was Alexander's three-point play in transition — triggered by a block at the rim by Kalkbrenner — that cut CU's deficit to 58-49 with 12 minutes to play. The Jays inched closer from there.
Senior Ryan Hawkins' patient post-up maneuver resulted in a layup to pull Creighton within 65-61 at the 4:03 mark.
Alexander nailed a corner 3-pointer off a pass from Hawkins the next time down. Then Alexander put the Jays in front for good with a driving layup. A Kalkbrenner bucket on the next possession made it 68-65 with 1:22 left, forcing a SIUE timeout. The Jays ended up closing the game on an 11-0 run.
"We let them gain all the momentum (in the first half)," McDermott said. "To our guys' credit, they found a way to dig out of it."
---