Grit has carried Creighton Bluejay basketball player Jordan Scurry and his mother, Maria, a long way together.
It took them to Creighton's Pink Out game at the CHI Health Center on Sunday, where Jordan joined his Bluejay teammates and his mother watched the game against Xavier from the family section.
The Pink Out is special to them because Maria endured breast cancer treatment for almost a year when Jordan and his brother, Ty, were little guys. She has now been to the past four Creighton Pink Out games to support the fight against cancer and to back her 23-year-old son.
Jordan, now a senior, arrived at Creighton from his hometown of Dedham, Massachusetts, in 2016 and expected to be a key player on the Bluejay men's basketball team. Instead, he's been a reserve and a member of the scout team, which prepares the regulars for opponents' tendencies.
"At the end of the day, even though my role is not the greatest, it still matters," Jordan Scurry said the day before the Xavier game. A lot of players don't reach their aspirations to be starters on Division I teams, he said. "If I'm that dude, I've accepted it."
Maria Scurry was 38 when her physician asked her to get a mammogram. That's a couple of years before most women get one, but her doctor was especially cautious. The mammography indicated that one of her breast's did, indeed, carry a small tumor.
"I was very healthy," she said. "So it really was out of the blue."
Further imaging revealed that it wasn't such a small tumor.
"I was like, 'Oh, my god, how am I am going to do this?' " she recalled. "Can I keep my job?" Further, she had to maintain her poise for her boys at home.
The public relations representative knew that her treatments — chemotherapy, surgery and radiation — would last almost a year. They would sap her strength, cause her hair to fall out and make her nauseated.
About 12 minutes before the end of the game, thousands of fans stood and held signs with the names of loved ones who have suffered cancer written on them. Rachel Platten's "Fight Song" played throughout the "stand up to cancer" moment.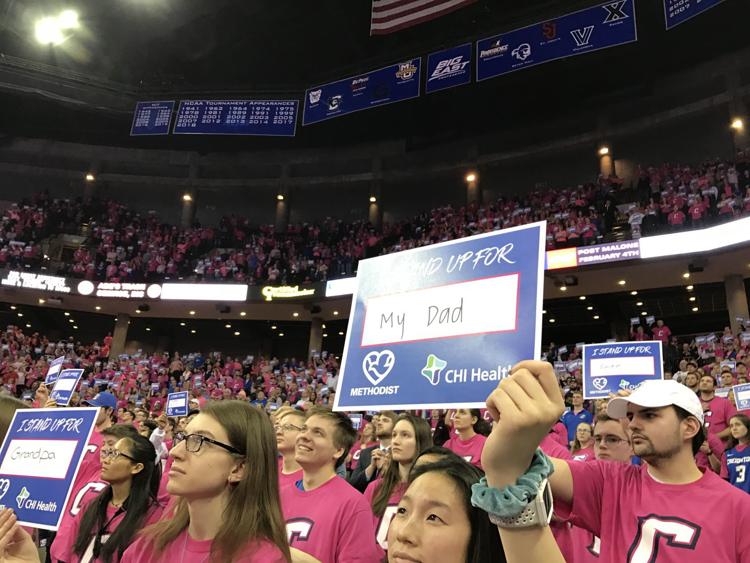 Maria Scurry remembered being so worn out and ill from cancer treatment that she and her boys would watch "American Idol" in her bedroom so she could lie down.
Scurry tried not to consider the worst scenario. She said to a friend early on: "Look, we're taking dying off the table."
Jordan Scurry, 12 when the diagnosis was made, said he was naive about the severity of the disease. But he worried about how sick the treatments made his mother and recognized that seeing her hair fall out would be hard on her.
"It wasn't so much how I felt," he said. "I was wondering how she was going to feel about it."
"He's a very sensitive kid," she said. "He has a very kind way about him."
While at Women and Infants Hospital in Providence, Rhode Island, she looked through a window at the children's wing, she said, and figured that she could endure anything that she herself had to face. But if it was one of her boys who suffered, that would be much worse, she said Saturday with tears in her eyes.
Breast cancer is the second-most common kind of cancer among women, behind skin cancers.
Gains have been made against breast cancer, Dr. Katie Mendlick said. Mammography has made a big difference in early detection, and imaging has improved.
One in eight women develop breast cancer, said Mendlick, a radiologist with the CHI Health system in Omaha.
The American Cancer Society said there were 19.8 breast cancer deaths per 100,000 women in the U.S. in 2017, down from 33.2 in the late 1980s. The society estimated that this year, 240 Nebraska women, 380 Iowa women and 42,170 American women will die of breast cancer.
"We still have a long way to go," Mendlick said.
Creighton's Pink Out game brings attention to all kinds of cancer. An auction of game-worn jerseys raised $31,803 for Hope Lodge in Omaha. The lodge is a cancer society facility that provides free housing to patients undergoing cancer treatment and their caregivers.
Maria Scurry has been cancer-free for more than 10 years. Now 51, she says: "Age is a great thing, right?"
"It's like every day's a gift," she said. "I probably spend less time worrying and more time being grateful. ... I realize not everyone gets this chance."
She has had the opportunity to see Jordan Scurry become a young man. When he was a sophomore, he was given a Creighton "cura personalis" award. That Latin term means care of the whole person, and the award goes in part to those who use their abilities to help others.
He soon will graduate from Creighton with degrees in journalism and public relations. He calls the Pink Out game "an awesome, awesome concept."
Jordan Scurry hasn't been the star of the Bluejays basketball team. Still, he is a member of that team, and he loves basketball, loves practice.
As a member of the scout team, he makes those around him better.
Be the first to know
Get local news delivered to your inbox!