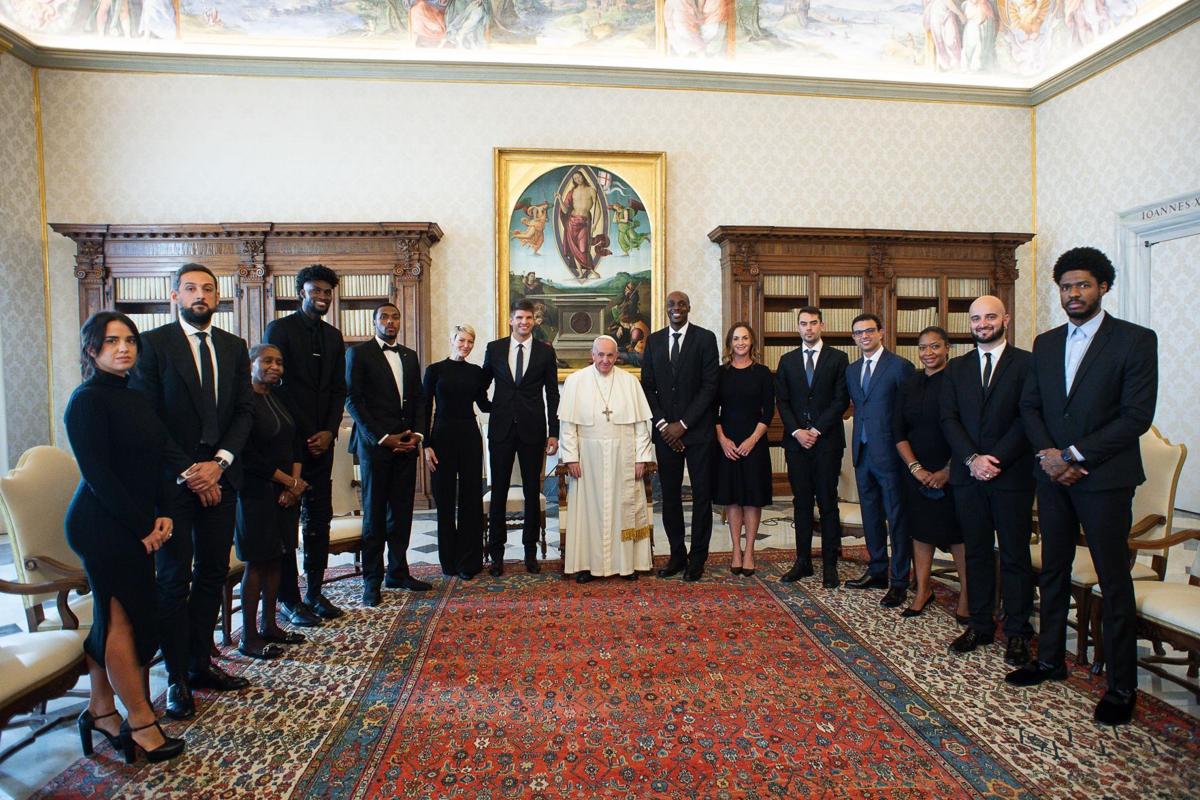 There assuredly were many connected to the Creighton community who reacted similarly to CU alumnus Josh Dotzler when he learned that former Bluejay basketball stars Kyle Korver and Anthony Tolliver were among a small NBA delegation that met with Pope Francis at the Vatican.
"Whhaaaaaaaat," Dotzler said by phone Monday morning, pausing momentarily to process the news while the turn signal of his car rhythmically clicked about. "Wow, that is big time."
It was just a few weeks ago that Dotzler shared a stage with Korver and Tolliver for two separate on-campus panels. They discussed racial equality and social justice while sitting at center court inside Sokol Arena. One video clip from Korver's talk went viral and logged more than 1 million views on social media.
But on Monday, Korver and Tolliver brought those same conversations to the papal library of the Apostolic Palace.
They were seated on either side of the pope. Tolliver presented Pope Francis with a golden basketball.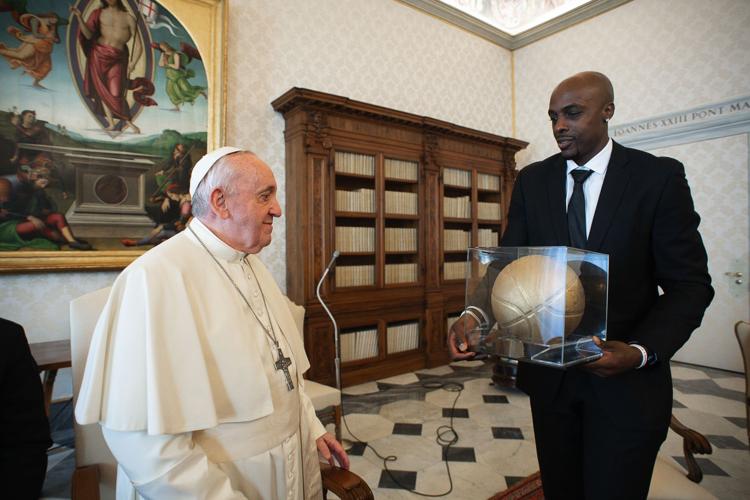 And Dotzler found himself — along with scores of Creighton alumni, supporters and students — beaming with pride while reviewing the accounts of Monday's meeting.
There were countless social media posts, on Twitter, Facebook and Instagram. Eileen Burke-Sullivan, vice provost for university mission and ministry at Creighton, said she had dozens of text messages Monday morning.
"There is a moment of pride in this — but it's also a tremendous challenge for us to continue to live up to what we teach," said Burke-Sullivan, who's worked on CU's campus for the past two decades and who introduced Korver as the keynote speaker at Creighton's commencement ceremony.
"I am thrilled for them, and I am thrilled for Creighton. It's just a wonderful synchronicity to get them together (with Pope Francis)."
CU representatives have certainly interacted with the pope before. Just last year, student A.J. Olnes had a photography internship at the Vatican and law professor Michael Kelly traveled to Rome as part of a group that met with Pope Francis.
But a sit-down like Monday's was believed to be unprecedented, at least in NBA circles.
It was reportedly arranged in a matter of days. The Vatican reached out to the NBA players association to set up the meeting, according to the Associated Press.
Korver and Tolliver were two of the five players who made the trip. Marco Belinelli, Sterling Brown and Jonathan Isaac were also on hand. They discussed their personal experiences with the social justice movement and the ways they've tried to make an impact in their cities.
Pope Francis, a Jesuit who was elected in 2013, reportedly plans to release a new book in which he offers support for recent protests for racial equality, particularly following the killing of George Floyd in May. The pope released an encyclical last month on the topic.
"You're champions," Pope Francis reportedly told the NBA players on Monday. "But also giving the example of teamwork, you've become a model, giving that good example of teamwork but always remaining humble ... and preserving your own humanity."
Korver has spent the past 17 years in the NBA after finishing up his All-America career at CU. Tolliver is a 12-year vet — he's also the players union's secretary-treasurer. They could not be reached for comment Monday.
While on Creighton's campus one month ago, both players spoke about the importance of using their status as professional athletes to address race-related problems that they believe society, in many corners, often ends up ignoring.
Dotzler, who played at CU from 2005 to 2009, was right there to hear the messages from Korver and Tolliver firsthand back on Oct. 25 and Nov. 1.
And while Dotzler couldn't have predicted they'd one day have an audience with the pope, he's known for some time that both guys were working to impact the movement for social change.
"To some degree, you might think they're two of the most unlikely to be in a position like that," Dotzler said. "But they've been so consistent and so faithful with the platforms they have, that it really has created a level of respect around the league, with their teammates and coaches, and obviously here in Omaha and in the Creighton community."
---
Meet the 2020-21 Creighton men's basketball team