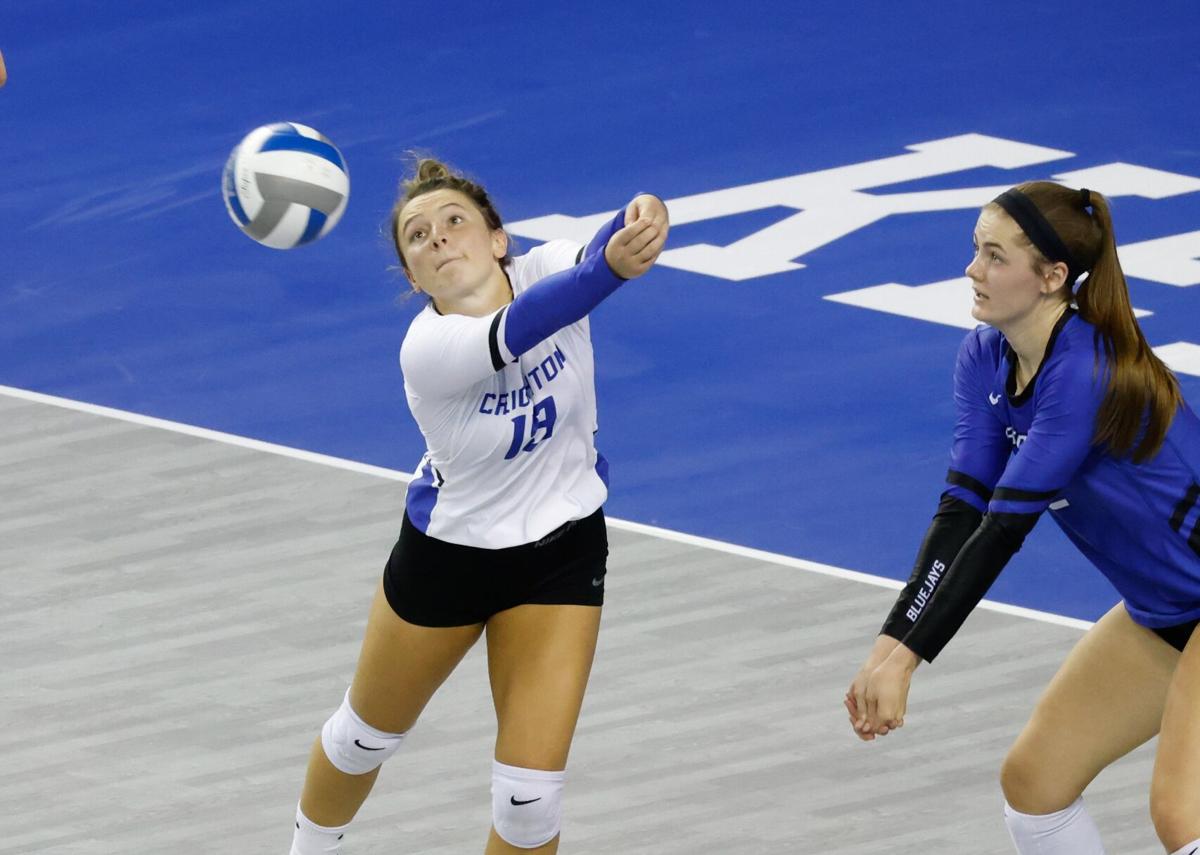 Creighton's new libero has faced off against Nebraska before, and the match did not go well for her former team that day.
Senior Abby Bottomley was suiting up for High Point two years ago when she took the court against the Huskers in Lincoln. NU finished off a sweep relatively quickly, putting away the Panthers with a decisive 25-8 Game 3.
But Wednesday, Bottomley hopes, will go much differently.
She's got the talented team around her to ensure that's possible — No. 19 Creighton (6-0) is off to its best start in program history and it just beat then-No. 3 Kentucky Saturday.
"It wasn't close, I remember that," Bottomley said of High Point's loss to Nebraska in 2019. "This year, we'll have a better chance. That is why I wanted to transfer, to be able to compete more against teams like this and to get a win like last weekend."
Bottomley has certainly been doing her part to help elevate the Jays' play since she joined the program as a grad transfer three months ago.
The former Big South player of the year started Creighton's first six matches at libero and is leading the team with 4.25 digs per set. She's also recorded seven aces, tied for the most among the Jays.
She has a 19-match streak, dating back to her time at High Point, in which she's finished with at least 10 digs. And she ranks second among Division I players in active career digs (2,243).
"We knew she was a great player," CU coach Kirsten Bernthal Booth said.
But you never know how long the transition process will last. New city, new campus, new way of life — Bottomley is an East Coaster from Virginia Beach, Virginia, who has an online-only graduate school course load and a set of high expectations for herself on the court.
"I always try to process, am I putting the transfer in a situation that she can be successful and will the team be receptive of it?" Booth said. "You do have to check those boxes. Fortunately all those boxes were checked, and we're really glad she's a Bluejay."
Bottomley's grateful, too.
She's been pushed on the court here from the start — which is exactly what she wanted.
A couple of days before the regular season began, Bottomley stayed after practice for more serve receive reps. She was lunging and diving across the court as her teammates were filing out of the gym for an evening meal and study hall.
"It's not like I slacked off at High Point, but if I wasn't 100% in practice, it was not as noticeable," Bottomley said. "But here? If you're not at 100%, it's noticeable."
It'll be clear, too, on Wednesday if Bottomley and her teammates aren't at their best.
A match against No. 3 Nebraska (5-0) does not allow for much margin for error.
But this is the type of moment that Bottomley's been looking forward to. The NCAA gave athletes an extra year of eligibility because of the pandemic, so she's taking one last ride with the Jays. She's ready to see what they can do together.
"If I have this year that was given to me, I might as well try something new," Bottomley said. "Live a new life. See if the grass is greener on the other side. And if not? I'll have fun experiences with this team."
More than 8,500 tickets have been sold for Wednesday's Creighton-Nebraska match, according to a CU spokesman. Fans in attendance will be required to wear face masks. The game will be televised on FS1.
---