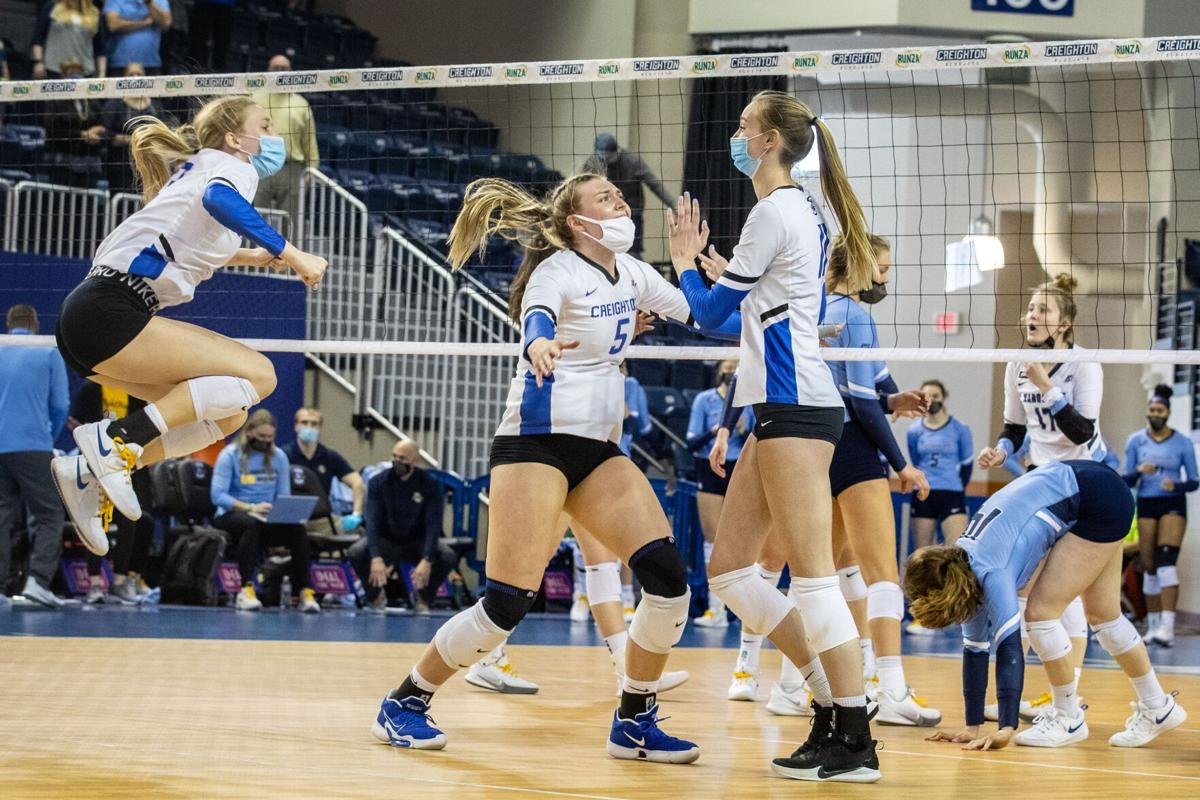 It was just one day earlier that Creighton suddenly flipped a match's momentum with a successful late-set rally, and Kirsten Bernthal Booth reminded her team of that while it faced a critical moment during Saturday's Big East title game.
But Booth is a coach. And coaches tend to mentally process a range of potential outcomes and scenarios at all times.
So amid the tension of that third set, Booth found herself thinking tactically about ways to later counter a talented Marquette squad — even as the Jays tightened the score despite facing a 22-16 deficit, and even as they held off three straight set points to tie it at 24-all, and even as they kept battling and battling.
Then suddenly it was 28-28.
That's about when Booth admittedly felt the stress.
"Up until then, I was like, oh, this is icing," Booth said with a smile. "I thought we were gonna be (down) 2-1 at this point. That's probably not what a coach should say, but that's kind of what I was feeling — how are we going to be ready to move into the next game?"
Instead, Creighton stunned Marquette and charged into Game 4 in full control. CU did indeed complete the third-set comeback to secure a thrilling 31-29 victory.
That was undoubtedly the turning point of the league championship match, which CU won 18-25, 25-19, 31-29, 25-22 to clinch a sixth Big East tournament title and a ninth straight NCAA tournament berth.
The Jays (13-3) ended up fending off seven set points during the third. They were on the wrong end of a 6-1 Marquette run midway through — that's what stretched the Golden Eagles' lead out to 20-13. It was 22-16 a few moments later. But after Marquette (10-4) went ahead 29-28, CU scored the next three points to win it.
Creighton jumped out to a 5-0 lead in the fourth set and held off the Golden Eagles' rally from there.
"We played a really good match," Booth said.
The Jays had to be at their best because Marquette is worthy of an NCAA tournament spot, according to Booth. Plus, the Golden Eagles swept CU in Omaha earlier this season, controlling that match with their potent serving game.
There were reemerging signs of that Feb. 6 defeat early Saturday.
But Creighton's passers, particularly the versatile Keeley Davis, started to settle in. CU's at-the-net defense stiffened — freshman Kiara Reinhardt led the way there with 11 blocks.
And the Jays' setters found their groove within a balanced attack, spreading the ball around to keep Marquette guessing. Junior Jaela Zimmerman had a team-high 16 kills. Junior Annika Welty added 12. Senior Naomi Hickman, the tournament's MVP, finished with a .579 hitting percentage (12 kills on 19 swings).
"Just staying locked in and focused," Hickman said of the keys to the win. "And (us) believing in ourselves that we could come back, even in that third game."
The Jays had a similar rally against UConn on Friday, when they turned a 21-16 deficit in the second set into a 25-23 win. They've handled adversity throughout a strange season full of disruptions.
Now they're rewarded with a conference championship and a relaxing viewing experience on Selection Sunday as the sport's 48-team postseason field is revealed.
"To be able to go to the NCAA tournament and have it here in Omaha just means the world to us," Hickman said.
The NCAA's selection show is set to begin at 3 p.m. on ESPNU. The entire tournament will be played inside a bubble-like environment in Omaha.
---
Creighton takes on Marquette in Big East final