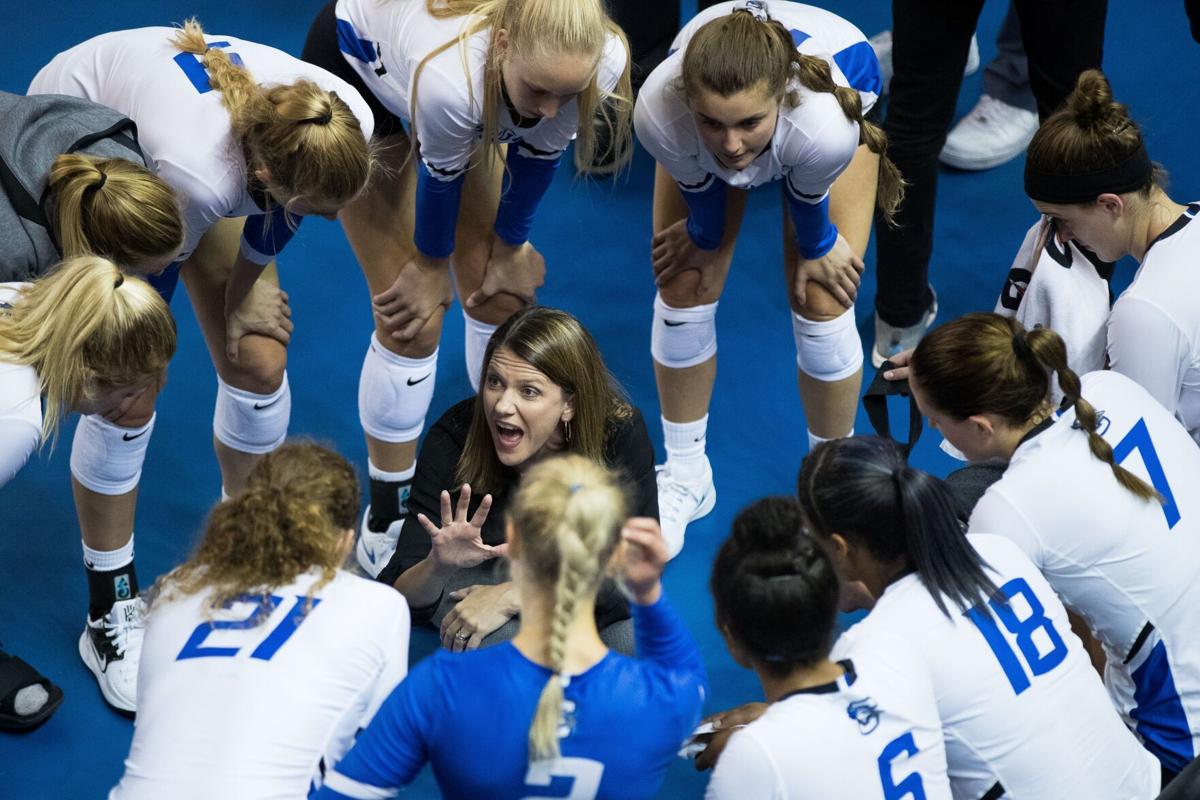 Creighton has to replace veterans at setter and libero, and its coach isn't sure who would occupy those positions if the season began today.
Kirsten Bernthal Booth can't say for certain that she and her staff will have it sorted out by the first match later this month, either. It might take several weekends.
"Since we didn't play anyone on the other side of the net, I don't feel like I've got a guess at our lineup at this point," Booth said a day before the Bluejays started preseason practice Tuesday. "Which I know sounds crazy. Because you think, 'Oh, you've worked with them for three months.' But I'm always amazed at how our lineup can change once we have someone on the other side of the net."
The good news is, she likes her options. And the team's potential.
Creighton is coming off a 2019 season when it won a sixth straight Big East title and reached the second round of the NCAA tournament. It returns many of its offensive weapons, including junior Jaela Zimmerman and sophomore Keeley Davis. And it landed at No. 15 in this week's preseason Top 25.
But this year will be unlike any other.
The pandemic forced college volleyball to move its fall season to spring. No sport thus far has been immune to disruptions and postponements related to COVID-19, so it's likely that more adjustments will be needed.
The Big East hasn't released a schedule yet, though CU plans to play nonconference games.
But so far, the Jays are handling the uncertainty well, Booth said.
"All things considered, they seem to be doing great," she said. "They're pretty resilient young women who have been able to weather this."
And they get to embrace competition now. Especially at two key spots.
CU has to make up for the loss of setter Madelyn Cole, who earned honorable mention All-America recognition in both of her seasons at Creighton. Sophomore Ally Van Eekeren, freshman Katie Maser and Arizona transfer Mahina Pua'a are battling for that spot.
At libero, the Jays no longer have the program's all-time digs leader, Brittany Witt. Senior Grace Nelson, sophomore Makenna Krause and freshman Ellie Bolton are the three listed as full-time defensive specialists on the roster.
"Both of those positions are still up for grabs," Booth said.
The evaluation process is ongoing. The coaches will track stats and monitor impact during practice. They have workouts from the fall to reference, too.
But one of the challenges about this preseason is that the Jays can't follow their normal practice routine, Booth said.
Ahead of the traditional fall season, they'd typically break for a week after spending most of the summer conditioning together. Then they would open preseason camp.
But this time? They haven't trained together as a team since November. A few players were on campus before Christmas, but not everyone. CU's first semester ended before Thanksgiving.
"We always try to watch our bodies in preseason but I think we're going to have to be more cognizant of that," Booth said. "It's a huge, huge difference."
Creighton will have three weeks of practice before the season begins Jan. 22.