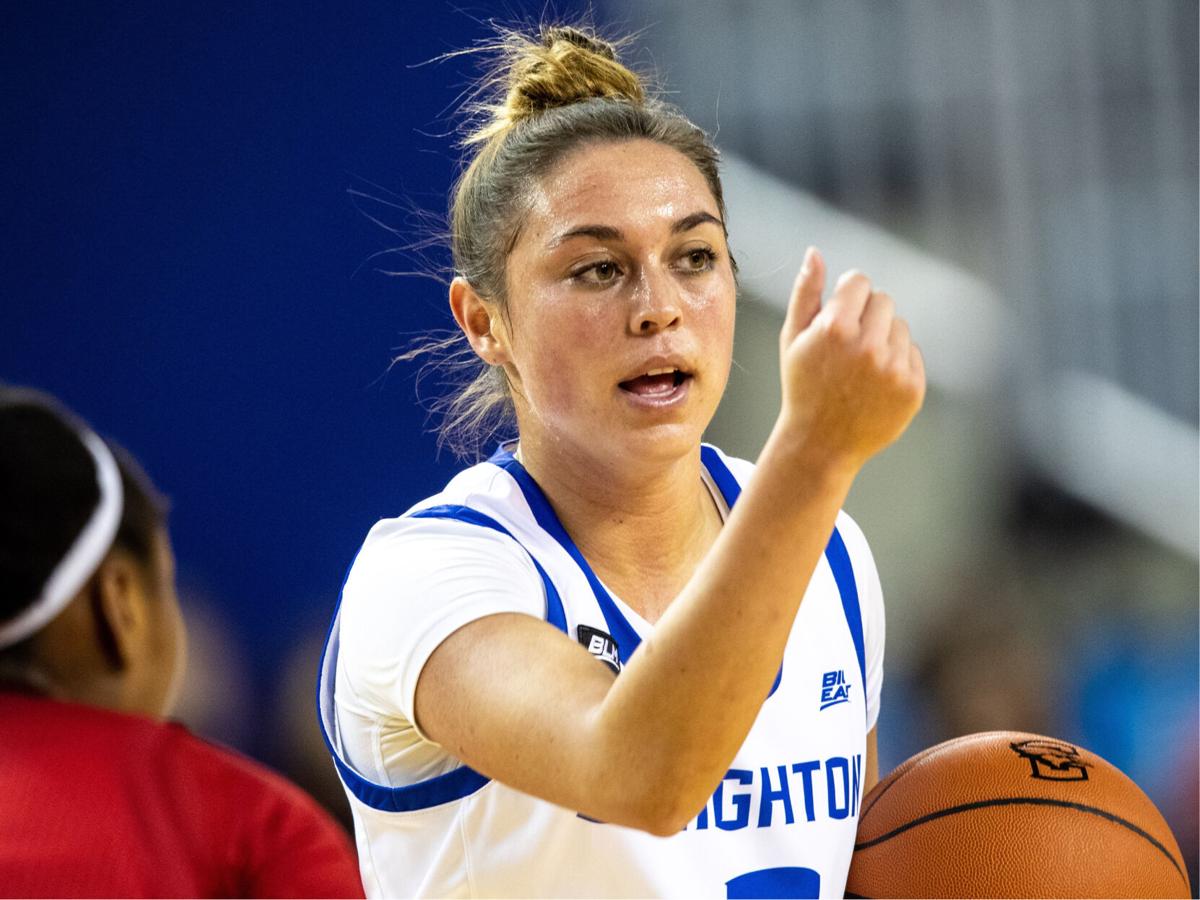 Creighton sophomore Emma Ronsiek knows a Division I basketball practice isn't supposed to be fun.
She and her teammates suit up during the preseason to push one another and get critiques from their coaches. They sprint and jump for two hours. Then they do it all over again the next day.
But Ronsiek is smiling when it's over. Everybody is.
"You come into the gym and you know you're going to sweat, you're probably going to get yelled at, you're going to do some things wrong — but then you're laughing in between drills and having fun," Ronsiek said. "It definitely makes a big difference being really close with your teammates."
Perhaps that's the edge these Jays have going into the 2021-22 season.
It's a tight-knit squad, particularly after it battled through adversity for much of last year. The pandemic forced the cancellation of several games and practices. The players had to wear masks when they were together pretty much the entire year. There were key injuries and tough losses.
Yet CU won six of its final 10 games in February and March — and three of the four defeats were against NCAA tournament teams UConn and Marquette. The Jays reached the WNIT despite starting the year 4-8.
They carried the momentum into the offseason.
"We came back here in June, and everybody was so excited to get back to it," senior guard Tatum Rembao said.
Creighton returns six of its top seven scorers from a year ago. There are only two newcomers on the roster.
Jim Flanery said he and the other coaches were so encouraged about their depth — the number of potential contributors — that they didn't want to fill their full scholarship allotment. They'll have a 12-player roster. Smaller than normal.
But there's potential all over the place.
Rembao is a veteran at point guard, and sophomore Molly Mogensen averaged 4.7 points at that spot last year. Ronsiek (11.6 points, 5.1 rebounds) and fellow sophomore Morgan Maly (7.7 points, 3.9 rebounds) could be versatile options at the 5 position since both shot 36% from 3-point range last year.
Junior Carly Bachelor combined for 31 points in two WNIT games after dealing with an injury for much of the season. Seniors Chloe Dworak, Payton Brotzki and Rachael Saunders have all played meaningful minutes in their careers.
"We're different, but I've seen a lot of good stuff," Flanery said.
There's more length on the roster. Defensive pass deflections are up in practice, and the Jays look like an improved rebounding team, according to Flanery.
But there could be issues defending quicker guards. CU does have to replace last year's top scorer, Temi Carda. And the coaches do have to figure out a lineup.
So there are questions. Surely more adversity is on its way, too.
But the Jays believe they've developed a strong team bond to handle it all.
"The proof will be in November or December when we lose a game or two," Flanery said. "But in general, Tatum and Rachael, those two are high-energy kids and that'll help us because they're our two captains and they've both been around. I feel pretty good about where we are."
The Jays will host an intrasquad scrimmage at noon Sunday at Sokol Arena. Admission is free. Their regular season begins Nov. 10 at Drake.
---