Forward Lea Hoiness sprinted down the middle of the field until her elated teammates wouldn't let her run anymore, and she had to join them for hugs and high-fives.
What wound up being the winning goal had just landed in the back of the net. And when you're rewarded for your hard work, you celebrate accordingly.
These Bluejays, at least recently, know all about that.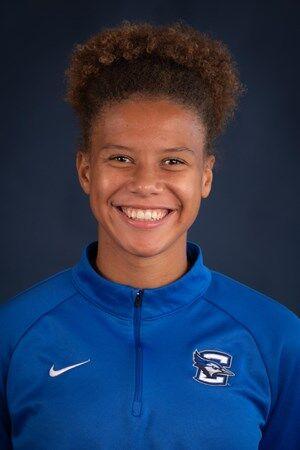 Their 2-1 victory over DePaul on Sunday stretched their Big East winning streak to four consecutive matches — the longest conference winning streak in 11 years. They've moved into second place in the Big East's Midwest Division and are on the verge of qualifying for their first conference tournament since 2012.
It's why they spent all those hours on Zoom together in fall and why they pushed through strenuous workouts during a disjointed preseason. And why they shook off the disappointment of a 2019 campaign when they regularly played hard but fell just short. They were picked to finish last in their division this season, but that didn't impact their vision of this team's potential.
All so they could have moments like Sunday's scene.
"Having us get a result out of that is really gratifying," junior midfielder Ansley Atkinson said. "We're kind of hot right now. We're on a roll."
The season didn't start this way, though.
Winter weather forced a cancellation of Creighton's season opener. Then the Jays dropped four straight — plus a 3-1 exhibition defeat to Minnesota State-Mankato.
But coach Ross Paule insisted to his club that a breakthrough was possible — that the group was carefully assembled to accentuate each individual component. It just needed time to fortify its on-field connections. And maybe a little momentum.
Creighton handled Marquette 3-0 for its first win of the season March 21. The Jays haven't lost since, and they've been enjoying every minute of it.
"That's why you coach, to see the joy in your players, to see their hard work paying off," Paule said. "They've been giving their best. They believe in what we're doing, and they believe in each other."
Now they have to finish strong.
A win or draw against the best team in the division, Butler (8-1, 5-1), would secure a postseason spot for Creighton. The Jays (4-4, 4-3) can also make the four-team Big East tournament if Xavier loses or ties in either of its final two matches.
CU would like to control its fate. That won't be easy, though.
The Bulldog squad that Creighton will face at 11 a.m. Thursday defeated CU 4-0 in Omaha last month.
But the Jays aren't planning to back down.
"We have all the confidence in the world that we can win every game, and we're going to try our best," Atkinson said.
Creighton sophomore Aida Kardovic earned the Big East player of the week award Monday. Maddie Radke was the league's defensive player of the week and its freshman of the week.