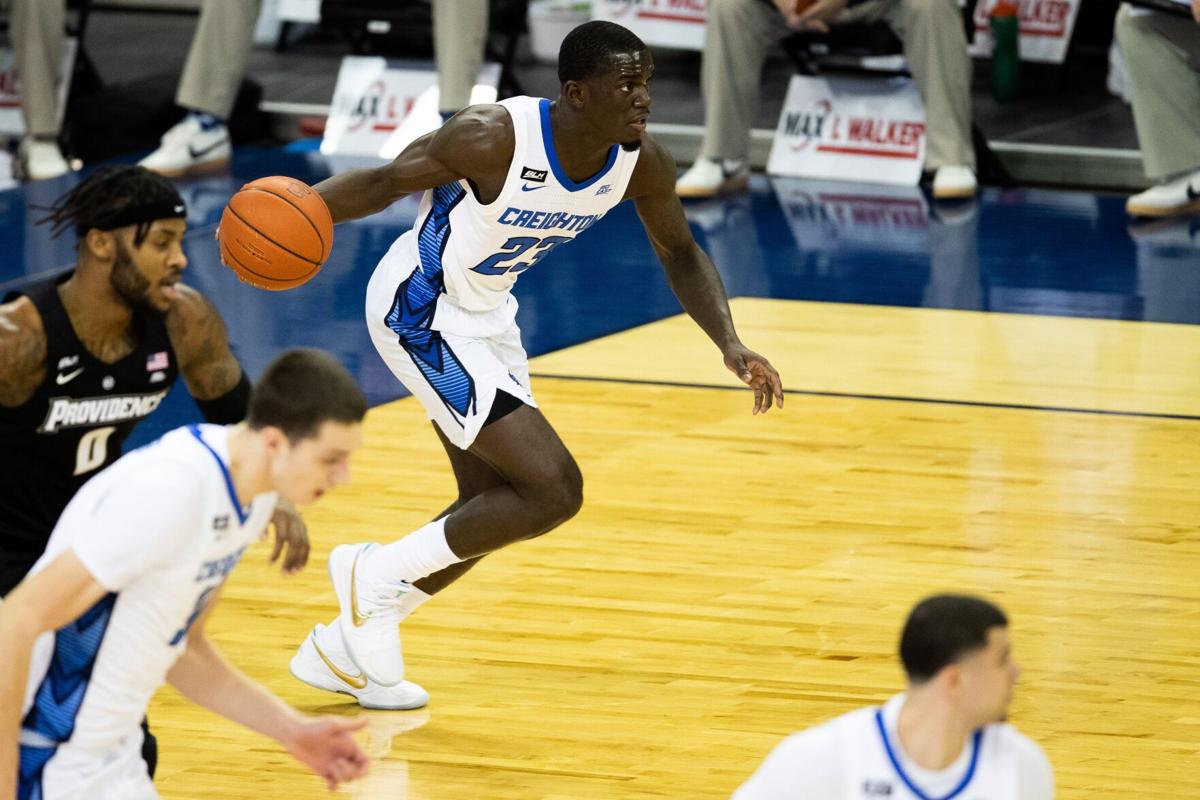 Creighton senior Damien Jefferson will forgo his extra year of eligibility and start his pro career.
The second-team All-Big East pick this past season announced his decision on Twitter Friday, expressing gratitude in the social media post. He thanked God, the entire CU coaching staff, his family, teammates and Creighton fans.
"Forever thankful," Jefferson tweeted.
Jefferson becomes the second Bluejay to turn pro this offseason — Denzel Mahoney did the same Monday.
Both were fifth-year seniors who experienced a sit-out transfer season. And both declared for the NBA draft last summer but decided to return to school.
So neither decision was a surprise, though the NCAA is allowing college basketball seniors an extra year of eligibility due to the pandemic.
The departures come during a time of transition for Creighton's program, though.
Another starter from CU's Sweet 16 team, Christian Bishop, announced that he entered the transfer portal. Senior Mitch Ballock is graduating and likely turning pro. All-Big East point guard Marcus Zegarowski will have to decide whether he wants to enter the 2021 NBA draft or stay in school.
Additionally, assistant Paul Lusk is leaving to take a similar job at Purdue.
So the Jays will look different next year. And they'll miss Jefferson, who made the most of his final year at CU.
The East Chicago, Indiana, product averaged 11.9 points per game, scoring in double figures in 16 of Creighton's 20 regular-season Big East games. He ranked seventh in the league in field goal percentage (51.2%) and 10th in steals (1.2 per game).
Among his highlights last year was his performance against St. John's on Dec. 17, when he finished two assists shy of a triple-double. Three days later, he forced overtime with a bucket at the buzzer in Creighton's win at UConn.
But beyond the statistics, Jefferson's leadership stood out.
Coach Greg McDermott said last month that Jefferson was the "heart and soul" of the team. Jefferson often provided a spark with his encouraging words and energy plays.
One of his iconic career moments came during Creighton's 2020 Big East championship run, when Jefferson created a turnover by racing down the court and diving on a loose ball at Seton Hall. The play helped change the momentum during a key road win.
Senior Alex O'Connell joined the team this year and said during a midseason interview that Jefferson's work ethic made an impression right away.
"He does some hard-work stuff," O'Connell said. "He's more like what we call a junkyard dog where I'm from. He's definitely a guy that if he plays hard, the rest of the guys will follow in those footsteps."
O'Connell is projected to return for the Jays, along with several other wings — including sophomore Antwann Jones and redshirt freshmen Rati Andronikashvili and Modestas Kancleris. CU will also add 2021 recruits John Christofilis and Mason Miller, who might compete for playing time on the wing.
The Jays are pursuing other offseason additions within the transfer portal, as well.
---