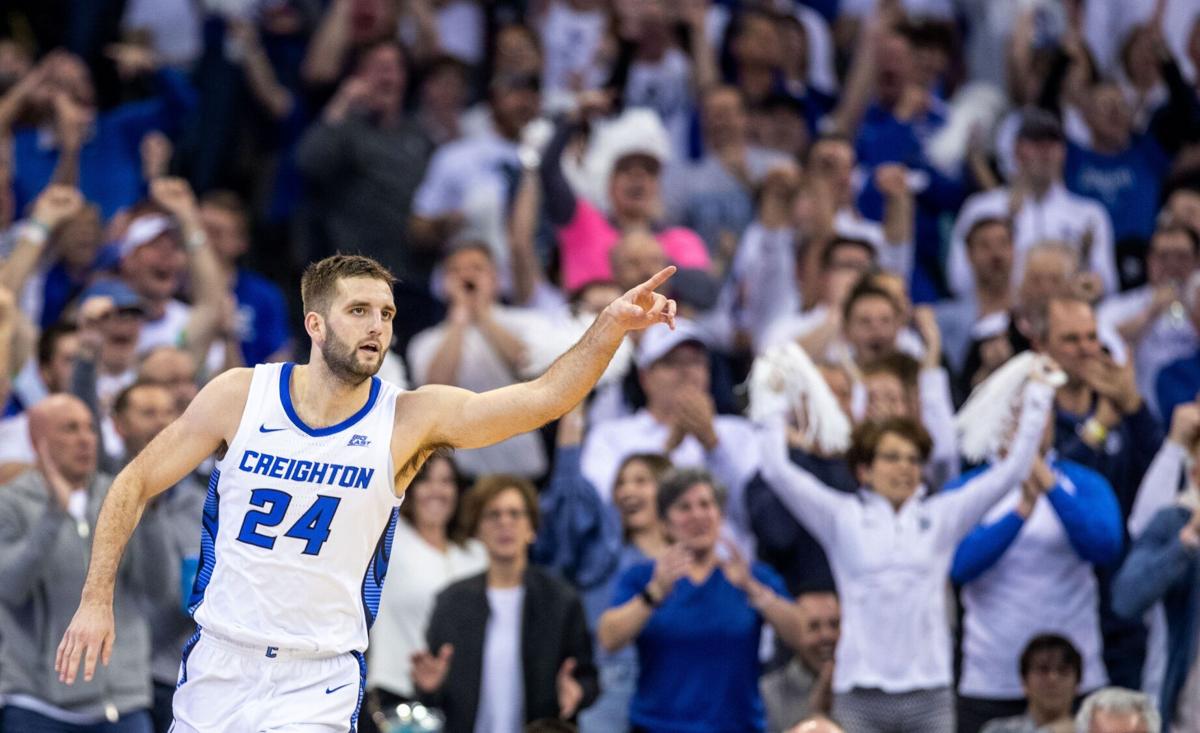 Creighton senior Mitch Ballock confirmed Thursday that he's signed with an agent and will not return to the CU basketball program.
Ronnie Zeidel, of RZA Sports, will represent Ballock as the 6-foot-5 shooting guard looks to begin his professional career following four years of college ball with the Bluejays.
The decision affirms what's been expected for several days — Creighton will have an entirely new starting lineup next season.
Ballock, Damien Jefferson and Denzel Mahoney, the three seniors, have declined to use the option of an extra year of eligibility, choosing instead to turn pro. Junior Marcus Zegarowski said Tuesday that he's declaring for the NBA draft and ending his CU career. Junior Christian Bishop entered the transfer portal two weeks ago.
Those five players combined to account for 79% of the Jays' points during their 2020-21 season, when they finished second in the Big East, reached the Sweet 16 for the first time since 1974 and spent the entire year ranked in the AP Top 25.
But now those veterans are all moving on. And they'll be difficult to replace.
Ballock was one who undoubtedly had an impact both on and off the court throughout his time with the Jays.
He never missed a game in his Creighton career, and he started 97 of them as a sophomore, junior and senior. He set a Big East record by starting 74 conference games.
Ballock goes in the books as one of the best shooters in school history, ranking third behind Kyle Korver (371) and Ethan Wragge (334) in career 3-pointers made (308). He knocked down a program-record 11 triples during a win over DePaul in 2019. And he's 20th on Creighton's career scoring list at 1,304 points.
His most impressive shooting performance of this past season came during CU's 16-point rally at Seton Hall. Ballock went 4 of 5 from 3-point range in the final 10 minutes — he made the game-winner with 41 seconds left to clinch the Jays' largest comeback in eight years.
But how he carried himself off the floor — his selfless personality, his leadership skills and his engaging interactions with the community — will always be what stands out most to Greg McDermott. The 11-year coach reflected on Ballock's career in February.
"He's the type of person that you want to have part of your organization because he brings the best out in people," McDermott said.
The Big East coaches named Ballock the winner of the league's 2021 sportsmanship award, which was the first time a Creighton player had received that honor since the program joined the conference.
Ballock ended up averaging 9.9 points per game this season while shooting 38.6% from 3-point range and recording a 2.4 assist-to-turnover rate.
He said after the Bluejays clinched their Sweet 16 berth — a personal and team goal for several years — that he was actually thrilled most for the CU fans, who'd also been longing for a breakthrough.
"I've been here for four years and obviously not making a Sweet 16, it hurts," Ballock said. "But some of these people have been fans for 50 and 60 years.
"It's a special moment when you look up into the crowd and you see so many of the boosters and the people who've been lifelong Jays fans finally see that moment. And then you get to social media, and everybody's excited about it. It means more to me that they were excited."
---