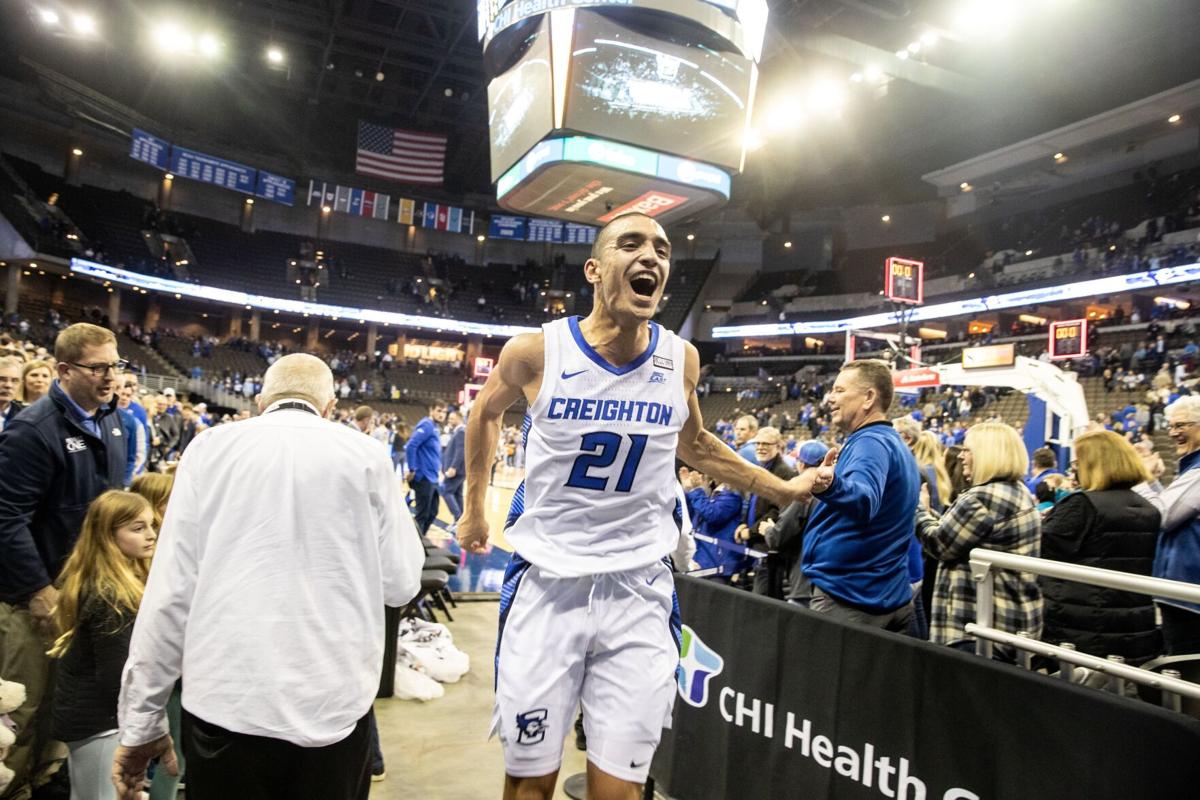 Well after his second-ever Creighton game concluded, freshman Rati Andronikashvili remained on the CHI Health Center court to fire up some extra jumpers.
He'd only attempted one field goal that night. A 3-point miss from the corner. There was also a turnover on an offensive foul, and a foul on a jump shooter 11 seconds later.
But beyond his own individual game, Andronikashvili and the entire Jays squad were disappointed with their overall performance that night in a closer-than-expected 51-44 win over Kennesaw State.
So as the arena workers folded up courtside chairs and picked up trash in the stands, Andronikashvili worked off some of the lingering angst by working up a sweat and getting some shots up for a half hour.
"I just wanted to relieve my stress and at the same time, the shot that I missed, I wanted to make sure that I make it — five in a row, 10 in a row," Andronikashvili said. "I think a lot of players do that. It's a good way to help yourself out."
Andronikashvili's definitely not turning down any opportunity to get some additional reps right now.
The drill work in practice. Some competitive one-on-one sessions with teammates. Extra shots after practice.
Anything to help him regain the timing, the feel and the flow that all seemed second nature to him before he suffered a season-ending ACL tear last year.
Andronikashvili has displayed glimpses of his old self so far, certainly.
He helped provide a spark in Creighton's win over Villanova on Dec. 17, playing the final nine minutes of that game and finishing with a career-best eight points. He had a career-high six assists and the win-sealing bucket during Saturday's double-overtime victory at Marquette.
His role continues to increase without junior guard Shereef Mitchell available. Mitchell (groin) hasn't played in a month and might not fully recover before the end of the season. The Jays (10-3, 2-0) face No. 19 Villanova (9-4, 2-1) Wednesday.
But there's so much more that Andronikashvili can show.
"He's not close to where he's going to be," coach Greg McDermott said.
Part of that can be traced to the injury — Andronikashvili spent a full year rehabbing. But even before the ACL tear in October 2020, COVID was disrupting Creighton's workout schedule and limiting his time in the gym. Andronikashvili, who's from the country of Georgia, didn't even join the CU team until after classes started back in fall 2020.
So Andronikashvili is still adjusting to the style of American basketball and adjusting to the intricacies within CU's system, according to McDermott. That process takes time, McDermott said.
And Andronikashvili knows that.
It's why he wasn't overly discouraged by that lone missed shot against Kennesaw State. And why he wasn't upset after Creighton's trip to the U.S. Virgin Islands, when he played seven total minutes in three games. He had moments in other games where he's made mistakes, heard an earful from the coaches and bounced back with impact plays.
"I've told myself that coming back from the ACL is a big, big process," Andronikashvili said.
He just wants to maximize the chances he does get.
He's tried to keep it simple so far, focusing on staying poised when he has the ball and bringing energy when he's playing defense. Limit the mistakes. Help the team.
The 6-foot-4 guard played 20 minutes and 23 minutes in Creighton's past two outings, his two highest minute totals of the season. He contributed a combined 10 points and nine assists in those games.
As the weeks progress and the reps pile up, perhaps Andronikashvili settles in and shows even more of what he can do.
"We'll see about that — I don't really think about it a lot," he said. "The coaches talk to me and cheer me up — they're doing a good job. And I'm going with a good flow, making sure I work after practice, and that really helps my confidence."
---