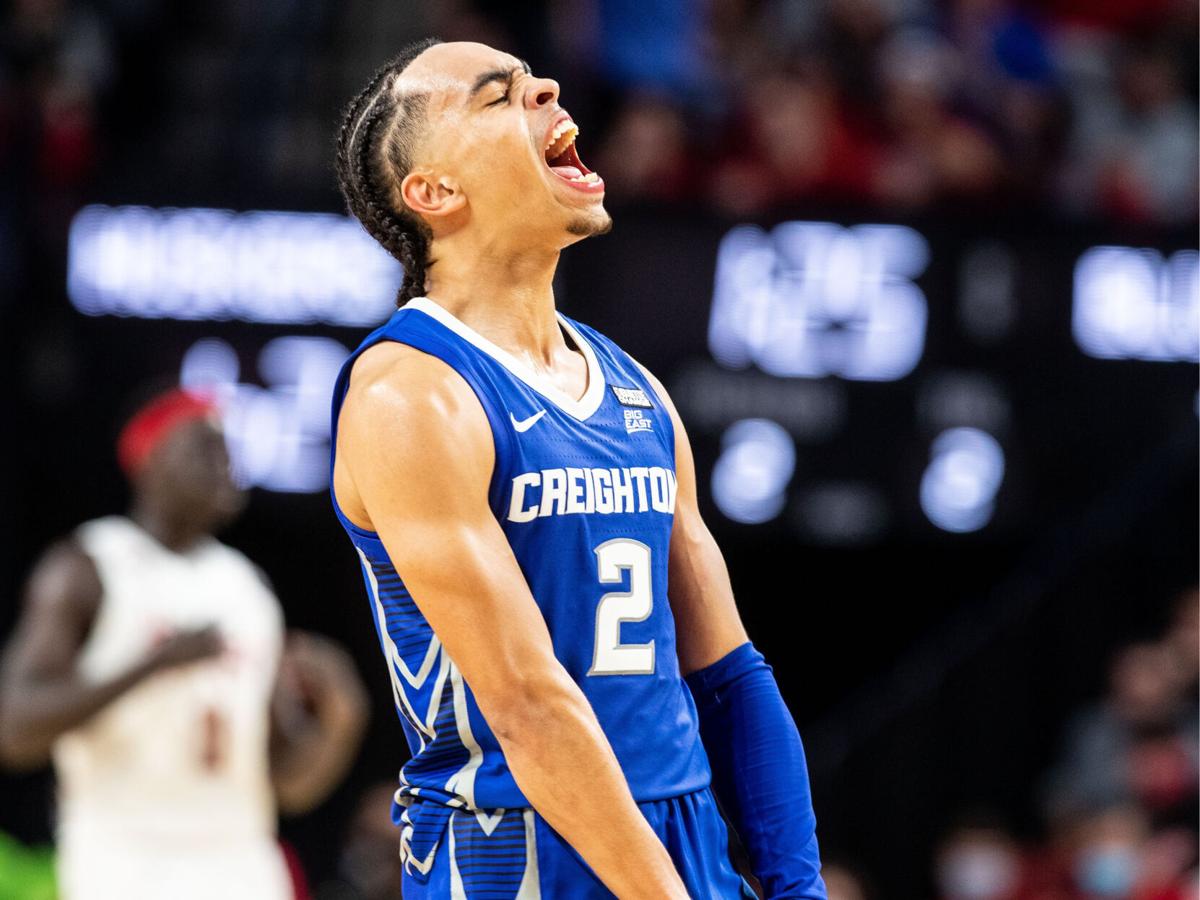 Creighton freshman Ryan Nembhard thought back on the turnovers and shook his head.
He'd just produced the best game of his young career on a national stage in a rivalry showdown — 22 points, five rebounds, five assists. He expertly throttled the Jays back and forth between their fast-paced transition attack and their well-organized half-court collaborations.
Admiring shout-outs poured in on social media. His teammates and coaches complimented his poise and playmaking ability during postgame interviews.
Nembhard, standing outside the visiting locker room at Pinnacle Bank Arena, was indeed thrilled to help his team pick up a 77-69 win over Nebraska.
But he wouldn't completely disregard his mistakes.
The time he got stripped of the ball just past half court. The offensive foul. He lost the ball a couple of times and had a pass intercepted.
"I still need to learn a couple things," Nembhard said Tuesday. "I'm turning the ball over way too much. Five turnovers. That's not great. ... But we're learning every single day."
The evolution as a decision-maker will be an ongoing process for Nembhard. That'll be his focus behind the scenes.
But on game days, as Nembhard introduces himself to Creighton fans and college basketball, you can expect his dazzling talent to capture the attention of most while it changes the course of the Jays' contests.
Nembhard followed up his Nebraska performance with another tone-setting afternoon in Creighton's win over Brown on Friday at the Paradise Jam, finishing with 10 points, four assists and three steals.
Through four games, the rookie is second on the team in scoring (14.5 points per game), first in assists (5.3) and second in steals (1.5). He's 7 of 12 from 3-point range. He's adding 4.3 rebounds per game, too.
Nembhard is the third CU freshman in the past 27 years to reach double figures in his first four games (Doug McDermott and Justin Patton did it in eight straight).
"Ryan's a special player," coach Greg McDermott said. "He controls the tempo of the game for us. And defensively he does a solid job. He distributes, as well."
Those turnovers will dissipate over time, according to McDermott. Nembhard just needs more reps and experience, he said.
Nembhard had six more against Brown and he'll likely be challenged Sunday by Colorado State's veteran guards, who'll look to find ways to get him uncomfortable.
But Nembhard isn't one to back down.
He played on the biggest prep stage at Montverde Academy, practicing daily against guys who are already in the NBA. He led Canada's offense in the under-19 FIBA World Cup this past summer. His brother, Andrew, is the point guard for No. 1 Gonzaga.
The Jays definitely need him, especially during this early point in the year with veteran point guard Shereef Mitchell still working back into form after offseason injuries. Ryan Nembhard ranks third in the Big East in minutes per game (35.8).
Senior Alex O'Connell said Nembhard is off to a great start.
"He was ready for the moment (Tuesday), and I think that's going to be a big key for our team, how ready he comes out to play," O'Connell said. "He's leading our team, especially offensively. If he can continue to just be solid and play the way he has, we're going to be a really good team."
Projected starting lineups
G Isaiah Stevens, 6-0, Jr.
F Adam Thistlewood, 6-8, Sr.
F Dischon Thomas, 6-8, Jr.
G Ryan Nembhard, 6-0, Fr., 14.5
G Alex O'Connell, 6-6, Sr., 14.8
F Arthur Kaluma, 6-7, Fr., 8.8
F Ryan Hawkins, 6-7, Sr., 13.0
C Ryan Kalkbrenner, 7-1, So., 11.8
---