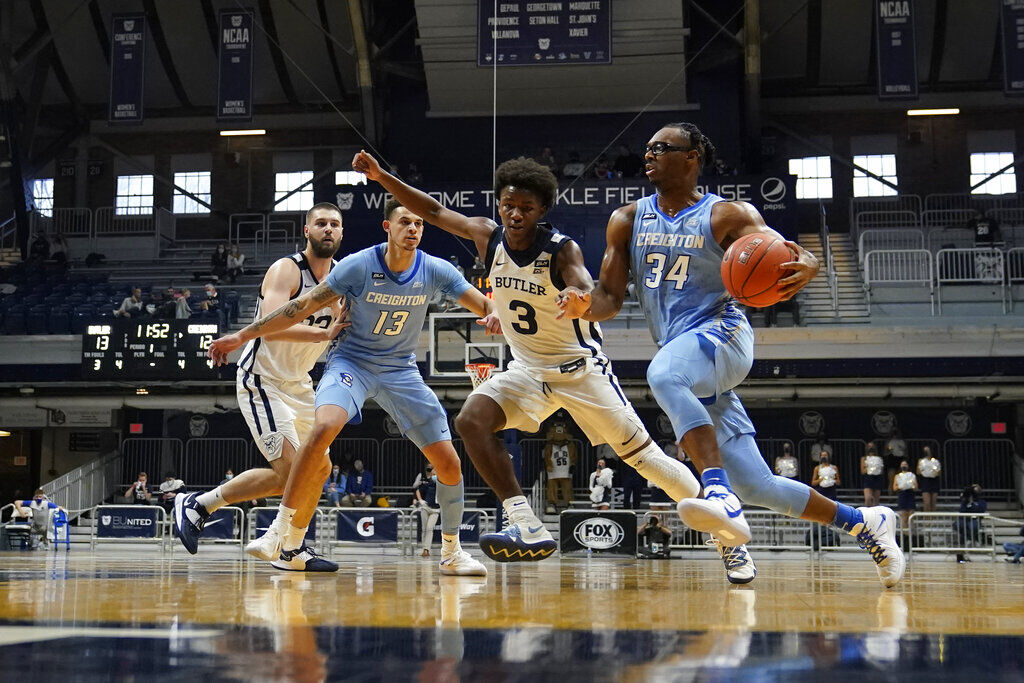 INDIANAPOLIS — Creighton's veterans had been thriving in the clutch during Big East play, but they couldn't produce similar late-game heroics Saturday after squandering a second-half lead.
The Bluejays (10-3, 6-2) managed six points over the final 11 minutes. And Butler, fueled by playmaking in the paint from point guard Aaron Thompson, never quit.
As a result, CU's double-digit advantage evaporated during crunch time and its six-game winning streak was snapped in a 70-66 overtime defeat by a Butler team that had lost four of its previous five games.
"Unfortunately, we couldn't finish it," coach Greg McDermott said.
It wasn't the first time against a conference opponent that the Jays had trouble finding the knockout blow.
They sputtered on offense late in three victories during their previous winning streak. Yet in each of those games, they had someone step up to produce a decisive score — whether it was Denzel Mahoney's three-point play late against Xavier, Damien Jefferson's overtime-forcing bucket at UConn or Christian Bishop's dunk to beat the buzzer at Providence.
But in the key moments Saturday, nothing was falling for No. 8 Creighton.
Jefferson got in close for a layup try with CU ahead 60-57 in regulation, but he couldn't finish. He also missed two free throws with the Jays trailing by one with 51 seconds left in overtime.
Mahoney couldn't connect on a couple of open 3s down the stretch. Mitch Ballock missed one, too. A few more shots were rushed, forced. And there were back-breaking giveaways — including two traveling calls and an inadvertent step out of bounds.
The final tally: Creighton went 1 of 11 from the floor with six turnovers over its final 17 possessions.
"I'll take the blame, being one of the seniors, just (not) knowing time and score," said Mahoney, who finished with a season-high 29 points. "We were up 13 and they ended up coming back and making some shots."
Thompson orchestrated much of it for the Bulldogs (4-7, 3-5). The 6-foot-2 senior is not a shooting threat, but he's crafty enough to work his way into the center of a defense and create havoc. Which he did Saturday. He was responsible for 21 of Butler's final 25 points, scoring nine and assisting on 12.
His efforts helped the Bulldogs put together a 15-2 surge late in regulation, when they scored on seven straight possessions to tie the game 60-60 with three minutes left.
Surrendering that run won't sit well with the Jays when they review this game, Mahoney said.
Same goes for the lapses on defense to open the game, when Butler scored on six of its first eight possessions. The Bulldogs' 7-0 spurt to end the first half proved costly, too, Mahoney said. He also thought he and his teammates weren't good enough on the glass — Butler was credited with 11 offensive boards.
"We knew we were better than what we showed in the first half, especially on the defensive end," Mahoney said.
Saturday was the second straight game for Creighton without All-American Marcus Zegarowski, who hasn't returned to practice because of a hamstring injury. Sophomore Shereef Mitchell delivered a "gusty effort" Saturday, but he wasn't 100% after spraining his ankle a week ago, McDermott said.
The Jays probably missed an element of quickness that those two provide when healthy, especially at the end. CU wasn't "passive" late on offense, McDermott said, but Butler's half-court defense made his team work.
More than anything, though, McDermott thought Creighton exhaled on defense.
Mahoney opened the second half by scoring 12 of CU's first 14 points, energizing his team after it trailed 32-25 at the break. His 3-pointer at the 15:55 mark put Creighton ahead for the first time in the game at 39-36.
The Jays soon stretched that advantage. It was 58-45 with just over seven minutes left. The Bulldogs only made two second-half field goals to that point and missed 15 straight shots.
But the Jays lost their edge. Butler took advantage, outscoring CU 25-8 the rest of the way while shooting 52.6% during that span.
"I thought we relaxed a little," McDermott said. "Things became too easy for them on the offensive end. And we had a lot of empty possessions."
---
Meet the 2020-21 Creighton men's basketball team