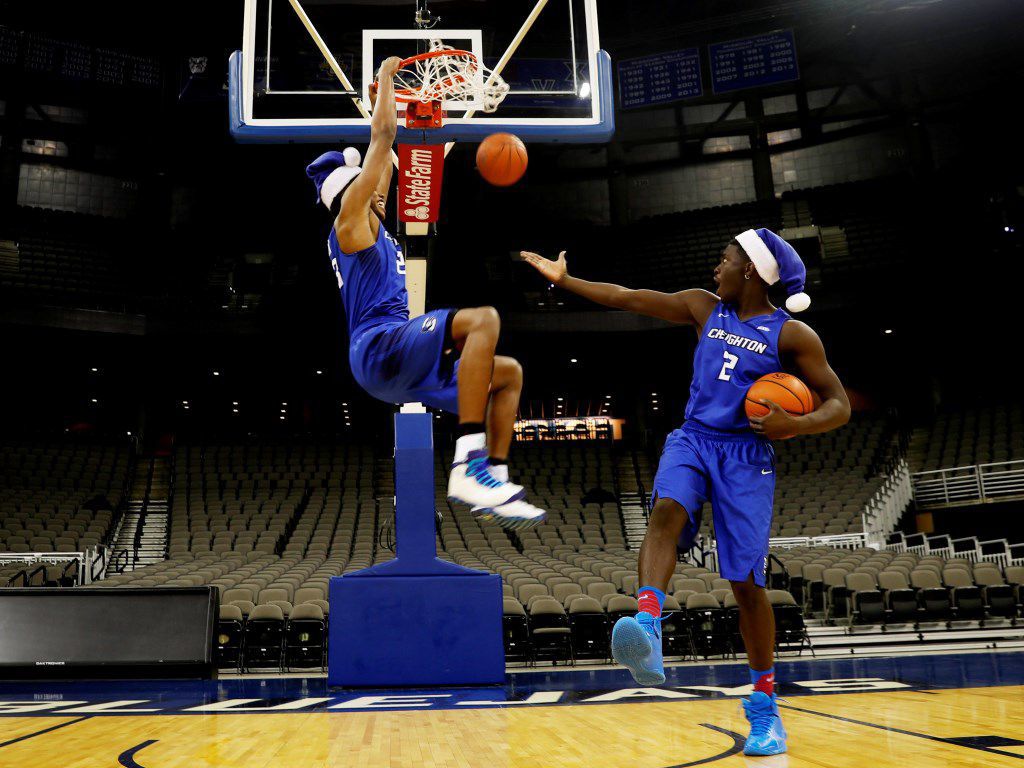 Former Creighton teammates Justin Patton and Khyri Thomas are on the same NBA roster.
That's unreal — even for two guys who used to let their minds wander about it.
They'd be staring at the ceiling in their dorm room at CU's Swanson Hall, winding down after a practice or a study hall. Then they'd toss the what-ifs back and forth like chest passes.
Maybe they'd both make the league. Maybe they'd win championships. Maybe they'd be teammates. Maybe they'd raise families in the same city, or even the same block.
They discussed it all. But how realistic was it?
"It's not going to click for me until we're in practice, when there's a coach yelling and I look over at (Thomas)," Patton said Thursday. "That's my brother. It's going to be crazy."
They hope the reunion will serve as some added inspiration. Both need to start bulldozing their way through the next stage in their basketball development very soon.
Multiple national reports have suggested the NBA is working on a bubble plan for the eight teams (including Detroit) that didn't qualify for the league's season restart in Orlando. So maybe Thomas and Patton will suit up for games in September in Chicago.
That could be key for Patton and Thomas, who are both eager to showcase recent improvement.
Patton signed a free-agent deal that's only guaranteed through the end of this season. Thomas is nearly finished with his original two-year rookie deal. The Pistons have the option to pick up Patton and Thomas for an additional season. But who knows what'll happen?
"Saying it's stressful, that's an understatement," said Thomas, an Omaha Benson product. "But it's part of the game. You're always weighing pros and cons but trying to stay patient and wait for your opportunities."
Thomas was the No. 38 overall pick in 2018 — the Pistons traded up to get him. But he's averaged 2.3 points and 7.5 minutes in 34 games with Detroit in two years. This past season, he missed three months with a foot injury.
He's healthy now, though, and desperate to play.
The Omaha North grad has appeared in nine NBA games since he was the No. 16 overall pick in the 2017 draft. He's dealt with multiple injuries. He's been traded and waived twice.
The 23-year-old admits, too, that he stumbled with mental discipline at times during his pro career. He credits his family for helping him move forward.
"I've grown a lot," said Patton, who became a dad earlier this year. "I had to find myself."
The March shutdown of sports due to the pandemic may have helped him, too. He didn't have an NBA home when the season was postponed. Thomas could just stay in Detroit, where he had access to his team's training staff and facilities.
But Patton? He had to push himself — and stay committed.
So he installed a hoop at his house in Minnesota. He bought weight room equipment. When he eventually tired of seeing all those Instagram posts of pros working out in gyms across the country, he took a trip to California to train. Last week, he and Reid Travis, who starred at Stanford and Kentucky, worked out together in Sioux Falls, South Dakota.
Patton wants to ensure he's at his best for this next chance. Thomas will have a similar mentality.
When they were at Creighton, the two spent two years motivating each other and leaving their marks.
Patton earned Big East freshman of the year in 2017. Thomas was a two-team Big East defensive player of the year. They were both second team all-league performers. They were on the CU squad that spent several weeks in the top 10, peaking at No. 7.
Those were good times. Those two were notorious for displaying their fun-loving spirit off the court. They'd known each other since childhood.
And they plan to enjoy what's next.
But there's no time to daydream anymore. They have to get to work.
"We're best friends, and all of that, but we've got a job to do," Patton said. "So our thing is, we're going to be on each other every single day to make sure we do what we've got to do."
Photos: Creighton's NBA draft picks
Check out photos of every Creighton player ever selected in the NBA draft.
Be the first to know
Get local news delivered to your inbox!