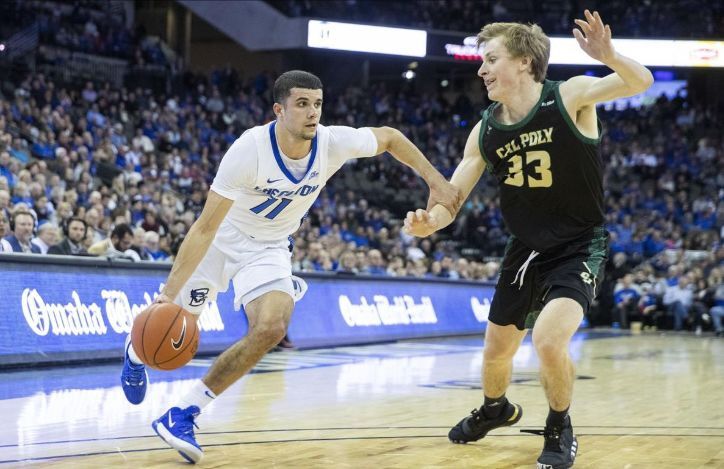 Marcus Zegarowski was asked about receiving the league's top preseason honor Wednesday, and he couldn't stop talking about his teammates, his coaches and his family.
The point guard knows he'll be in the spotlight heading into his junior year — he's the school's first Big East preseason player of the year since Doug McDermott — and he's likely to receive several All-America plaudits before the season begins.
But he wants everyone to know that he didn't reach this point alone.
"I would say this award, it's kind of like a product of my environment," Zegarowski said during the Big East's virtual media day Wednesday. "They make me look good out there."
That said, Zegarowski is the league's top returning scorer (16.1 per game). He ranked third in the conference in assists (5.03 per game) and third in 3-point shooting (42.4%) last year.
He'll lead a team that was picked to finish second in the Big East by league coaches. It's the highest preseason ranking CU has had since joining the league — the Bluejays were picked third in 2013-14 and 2016-17.
Senior Mitch Ballock was also honored Wednesday, named to the preseason All-Big East second team.
Creighton is returning four more members out of its top rotation from a team that earned a share of the program's first Big East regular-season championship and finished No. 7 in the final AP Top 25. Zegarowski's the headliner, though.
And he admits that's not a position he's used to. But he's ready to embrace the moment.
"We have unfinished business," Zegarowski said. "And we're excited to take that challenge on."
Here's more that Zegarowski, Ballock and coach Greg McDermott shared Wednesday:
» McDermott and Ballock complimented freshman center Ryan Kalkbrenner's ability to take coaching. He has picked things up quickly. He's got a 7-foot-4 wingspan and good hands, so he's been an asset offensively, Ballock said. His presence makes him an impact player as a rim protector on defense, too, McDermott said.
» The energy that junior center Jacob Epperson brings is noticeable, Ballock said. Epperson missed all of last season with a leg injury. But he's back now and his team is benefiting. "It's just a joy to see him (on the court)," Ballock said.
» Antwann Jones is more athletic after his redshirt year, he's become a better shooter and he's capable of playing multiple positions, McDermott said. Plus, Jones' "ability to get to the basket is probably as good as anybody on our team," McDermott said. That's why he thinks the 6-6 sophomore transfer is going to play a significant role this year.
» Seeing the floor and playing in space are two of freshman Rati Andronikashvili's strengths, McDermott said. But the first-year guard, from the country of Georgia, is still making adjustments to college basketball.
» Ballock said he worked this offseason on building more consistency with his jump shot when coming off screens. It's about footwork, body positioning and his release. Ballock mentioned Miami Heat sharpshooter Duncan Robinson as an example for what he's aiming for. Ballock made 43.5% of his 3-pointers last year.
Big East preseason poll
1. Villanova (9 first place votes) 99 points
Preseason All-Big East first team
Marcus Zegarowski, Jr., Creighton
Collin Gillespie, Sr., Villanova
David Duke, Jr., Providence
Sandro Mamukelashvili, Sr., Seton Hall
Jeremiah Robinson-Earl, So., Villanova
Charlie Moore, Sr., DePaul
Preseason All-Big East second team
James Bouknight, So., UConn
Justin Moore, So., Villanova
Mitch Ballock, Sr., Creighton
Nate Watson, Sr., Providence
Paul Scruggs, Sr., Xavier
Preseason All-Big East honorable mentions
D.J. Carton, So., Marquette
Bryce Aiken, Sr., Seton Hall
Photos: History of Creighton men's basketball in the NCAA tournament
Creighton has made the NCAA tournament 21 times in program history. Here are some of the best photos taken in that time.