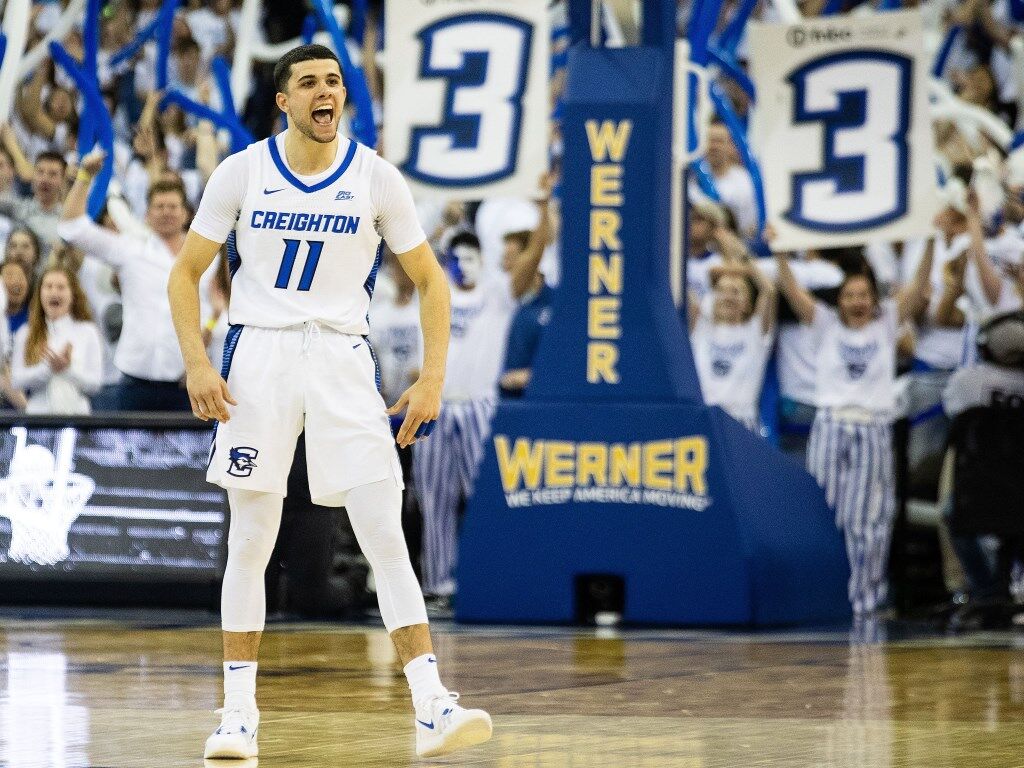 Creighton junior Marcus Zegarowski will enter the NBA draft and end his college career with the Jays, he announced Tuesday.
The first-team All-Big East point guard wrote on Twitter that he's had an "incredible experience at Creighton." He thanked the CU coaches, its administrators, his teammates and the fans. He also thanked his family for their support.
After taking time to reflect after the season ended last month, Zegarowski said he made his decision to turn pro.
"(I) look forward to continuing to work hard, chase my dreams and play the game I love," Zegarowski wrote on Twitter. "Thank you Creighton for making my college experience so special. I will forever be a Bluejay."
Zegarowski played perhaps the best basketball of his career down the stretch of this past season, helping guide the Jays to their first Sweet 16 berth since 1974.
He averaged 18.3 points (on 55% shooting), 3.5 assists and 1.4 steals per game during March. He became the first CU player in school history to score at least 17 points in his first three career NCAA tournament games. He was an AP honorable mention All-American.
Zegarowski ended up leading the team in scoring (15.8 points per game), 3-point shooting percentage (42.1%) and assists (4.3 per game) this season.
He's 22nd on Creighton's all-time scoring chart (1,293 points) and 10th in program history in career assists (389).
But he's long been in the NBA draft conversation, ever since he surged as a sophomore to help the Jays win their first-ever share of the Big East regular-season title.
ESPN's Jonathan Givony had Zegarowski as a second-round pick in a mock draft before the college basketball season.
And even though Zegarowski was slowed after offseason knee surgery to begin his junior season, he found his form by the end of it. Coach Greg McDermott said Zegarowski would have been a "slam dunk" candidate for a first- or second-team All-America spot if it weren't for the injury.
Zegarowski will surely have something to prove during the pre-draft prep process, though.
The NBA combine is set for June. The draft won't take place until July.
Zegarowski's Tuesday announcement made him the fourth member of Creighton's 2021 starting lineup to announce plans to leave the program.
Denzel Mahoney and Damien Jefferson both declared for the NBA draft. Christian Bishop is in the transfer portal. Mitch Ballock hasn't yet announced his plans — he's likely to turn pro, though seniors do have an extra year of eligibility due to the pandemic.
CU also has to replace two assistant coaches who are leaving for similar jobs at different schools, Paul Lusk (Purdue) and Terrence Rencher (Oklahoma State).
Zegarowski's departure, expected given his rising NBA draft stock, does leave the biggest hole to fill. And not just in terms of statistics.
He was a tone-setter with his work ethic and his competitiveness. He played through injuries. He devoted himself to a team-first approach.
Zegarowski has said his time at Creighton helped him hone those traits. The Hamilton, Massachusetts, product said after his final game this past season that Omaha is his second home.
"I wouldn't be the man or player today without this program," Zegarowski said. "I love everybody here. I love Coach Mac, I love the whole staff, all the players that came through here. I'll always have love for it."
Now Creighton will have to find a way to replace him. CU does have a couple options at point guard for next year.
The Jays are set to return junior Shereef Mitchell, the former Omaha Burke standout who was Zegarowski's understudy for the last two seasons. They're adding 2021 four-star recruit Ryan Nembhard, a point guard who just won a high school national title with Montverde Academy.
---