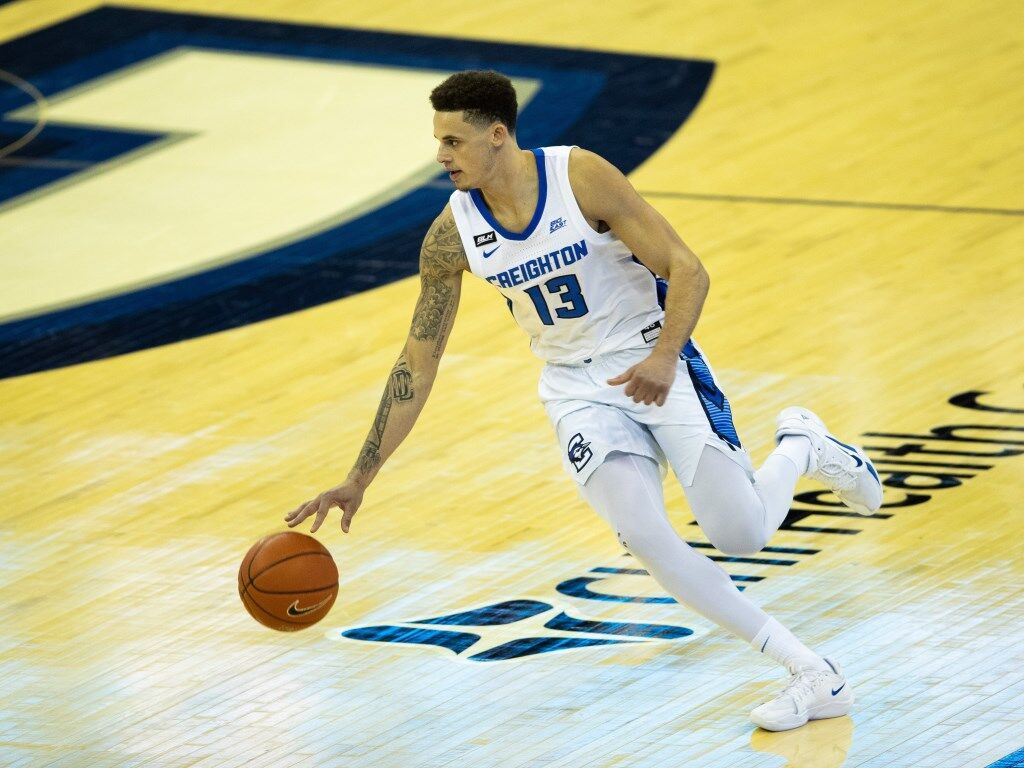 It all comes down to this. The veteran-led Jays (20-8) enter the NCAA tournament with hopes of making a deep run. But they'll have to get by the Gauchos first. And it won't be easy. Here's a breakdown of the matchup:
Where: Lucas Oil Stadium, Indianapolis
Westwood One: Sirius 135, XM 202
UC Santa Barbara info
2020-21 Record: 22-4, 13-3 (1st in Big West)
NET ranking: 54th (CU: 26th)
Coach: Joe Pasternack, fourth season
Offense ranking (KenPom): 66th (CU: 13th)
Defense ranking (KenPom): 82nd (CU: 40th)
Outlook: There's a reason why UC Santa Barbara is a trendy first-round upset pick this week. The Gauchos have several high-major transfers on their roster. They're the eighth-most experienced team in the field, according to Ken Pomeroy's data. And they're on fire (18-1 since Jan. 1). Perhaps the biggest question is how UCSB will handle the drastic jump in competition level. The best team it played all year probably was UC Irvine (ranked 104th in the NET), and it went 1-2 against the Anteaters.
Recent history vs. CU: These two teams haven't played since 1976. The all-time series is tied at 1-1.
Three players to watch
Senior guard JaQuori McLaughlin (#0) — Where do you start? The Big West player of the year can create his own shot, and he seems more than comfortable pulling up off the dribble for 3s and mid-range jumpers. He moves well off the ball, setting up defenders by timing his cuts to coordinate with a screening teammate. He plays with pace and poise. CU typically would try to hard-hedge (maybe even double-team) a guy like McLaughlin. But he's a such a good passer that perimeter pressure may not bother him.
JaQuori McLaughlin. UC Santa Barbara (#12 vs #5 Creighton, West Region)

Athletic guard, 3-level scorer who can play both with or without ball and excellent passing ability for a score-first type of player, unselfish with low TO rate. pic.twitter.com/U0pinY4uGb

— Lorenzo Neri (@lorenzoneri84) March 16, 2021
Junior forward Miles Norris (#5) — He has a guard's game in a 6-foot-10 frame. He'll put the ball on the floor and use his length to attack the rim. Or he'll bury open jump shots (38.% from 3-point range). Creighton's objective will presumably be to crowd him defensively and keep him from finding a rhythm. It's tough, though. He picks his spots well.
Junior forward Amadou Sow (#12) — A strong and bouncy big man who made 60.5% of his 2-point shots in league play. He scores well on the move, often catching the ball at the elbow and maneuvering toward the hoop. The biggest challenge? Don't foul him. Sow led the Big West in free-throw rate and shot 83.0% at the stripe this season. Something to watch on the other end: Can CU pull him away from the basket and test his lateral defense with ball screens and big-to-guard handoffs?
UCSB injury update: Sophomore guard Ajare Sanni injured his ankle in the Big West title game. His status for Saturday is unknown. He's the team's third-leading scorer and he's made 39.8% of his 3-pointers this year.
Three keys for Creighton
1. Protect the paint: On-ball defense will be key. Same goes for help-side rotations. And maybe the occasional aggressive double team. CU's best bet here is to keep the ball from penetrating the heart of its defense, whether it's Sow inside or McLaughlin out of ball-screen situations. A reserve to watch is guard Josh Pierre-Louis (#2), who has a quick dribble and can get to the hoop. When the Gauchos get downhill on you, good things happen for them. Either their guys finish themselves (53.4% on 2s this season) or they draw the defense and create a higher percentage look (36th nationally in assist rate).
2. Rebound: UCSB is 19-0 when it wins the rebounding battle. So obviously this aspect of the game will be something the Gauchos emphasize coming into Saturday. Creighton has to be ready to match that level of urgency on the glass. If it can, it might be able to steal a couple offensive rebounds with its athleticism. On the other end of the floor, the Jays will have to watch out for Sow and reserve Robinson Idehen (#24), who both pursue rebounds well.
3. Play with pace: This is tied to CU's ability to rebound. If it can grab defensive boards, it can attack before the UC Santa Barbara defense is set. The Gauchos are a little tougher to crack once they settle into their spots in the halfcourt (45.7 eFG% allowed in non-transition situations, according to Hoop-Math). But Creighton's pace isn't just a priority in transition. If the Jays can use quick ball reversals and hard cuts to keep the UCSB defense moving, they'll find more open gaps.
CU injury update: Sophomore Shereef Mitchell (head) did not play against Georgetown on Saturday. He did return to practice this week but he's still being evaluated.
Predictions
ESPN's BPI: Creighton's win probability is 78.5%
KenPom: Creighton wins, 74-68
Jon Nyatawa's take: This one might take the form of a grinder. Where every loose ball is a battle and every drive to the bucket is a challenge. UCSB has all these hard-nosed veterans that are looking to prove themselves. And Creighton's guys are just as hungry. It likely will come down to the wire. And since CU's won a few of these intensity-filled contests this year, I'll pick the Jays. 70-65.