Creighton's experienced starting five wasn't ready to match Providence's urgency Wednesday, and senior Damien Jefferson couldn't explain why.
He's not so sure the reason matters, though.
Fact is, the Bluejays didn't bring the focus or effort necessary to handle the determined Friars, who had the look Wednesday of a team entrenched in must-win territory after three straight defeats. Before CU could blink, it trailed 23-6.
And though No. 11 Creighton did fight back, pulling within one possession on multiple occasions late, it never was able to make up for that woeful start in a 74-70 defeat at the CHI Health Center.
"The first eight minutes, they punked us out," Jefferson said. "Whenever a team comes in your house and punks you out for the first eight minutes of the game, it's going to be hard to get back into the game. … It wasn't good enough."
That's a disappointing realization for Jefferson and his veteran teammates, who've dropped two straight contests.
They marched to a league championship last year by winning games with hustle and heart. Their activity and hustle helped them overcome their size disadvantage most nights.
But on Wednesday, at least for the opening eight minutes, the Jays were the ones getting outworked.
"It goes without saying, the start of the game was the difference in the game," coach Greg McDermott said.
The Friars (8-6, 4-4) scored on 11 of their first 15 possessions, taking advantage of a few defensive breakdowns inside and beating Creighton down the floor for a couple of easy ones.
A dunk by A.J. Reeves in transition made it 13-2 at the 15:38 mark. CU called a timeout, but still gave up buckets on Providence's next three trips down the floor.
Big man Nate Watson slipped out of a screen, rolled to the rim — like he did on the first play of the game — to put his team ahead 22-6 with 13 minutes left before halftime. He added a free throw two possessions later.
The Jays (10-4, 6-3) had to climb uphill from there.
And it was a rather arduous ascent without their normally potent long-range shooting to rely on.
Creighton's four made 3-pointers were a season low. Its percentage behind the arc (17.4%, 4 of 23) matched its third lowest single-game rate in three seasons.
The only long-range shot CU knocked down after halftime (missing eight) was Marcus Zegarowski's desperation heave with five seconds left. Seniors Mitch Ballock and Denzel Mahoney couldn't connect on eight combined tries from deep on the night.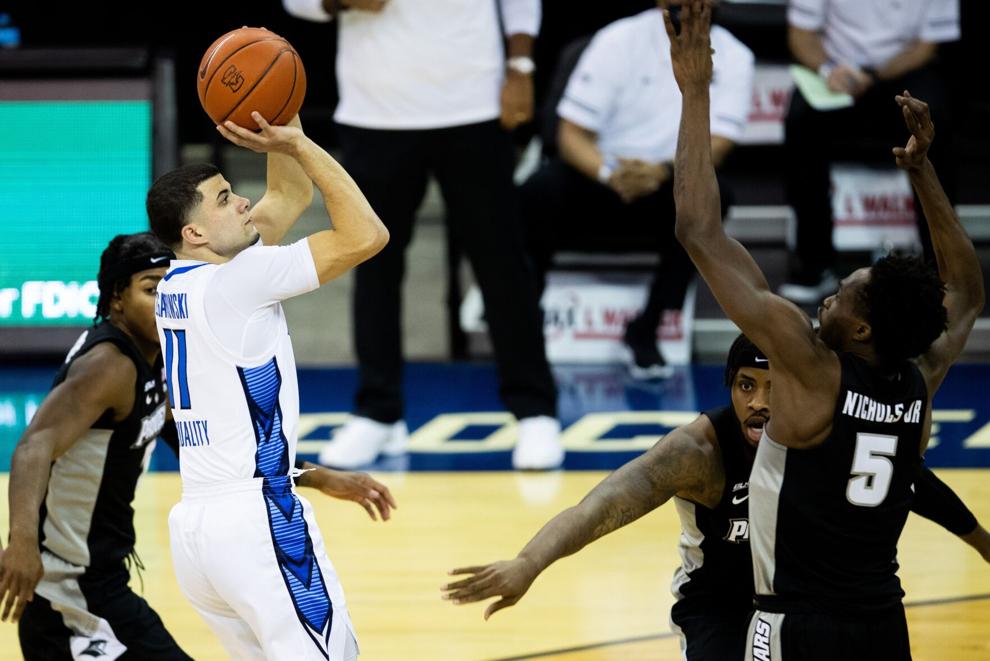 "In a game like this when you're not making shots and you're playing a team that plays the physical nature of play that Providence does, mistakes are magnified," McDermott said.
And the Friars did their best to make CU pay, most often by feeding Watson.
The 6-foot-10 center, who scored 29 points, made quick moves to get buckets on the block. He caught lob passes over the top and avoided rotating defenders to finish. Watson had two dunks in the final five minutes to ensure the Friars never gave up the lead.
"He's a load," McDermott said. "He's a really, really good player, and had a heck of a game. Especially once we got some guys in foul trouble."
Still, Creighton had a chance at the end.
Zegarowski scored 17 points in his return to the lineup after missing two straight games. Jefferson added a career-high 26 points, putting together a 7-0 spurt that brought the Jays within striking distance at 56-52 with seven minutes left.
But Providence never gave up the lead.
Junior David Duke had the biggest shot of the night, banking in a fall-away 3-pointer with 28 seconds left and the shot clock running down to stretch the advantage to 70-65 and ice the win.
Now the Jays have to regroup. And fast. They host No. 23 UConn at 11 a.m. Saturday.
---
Creighton basketball takes on Providence