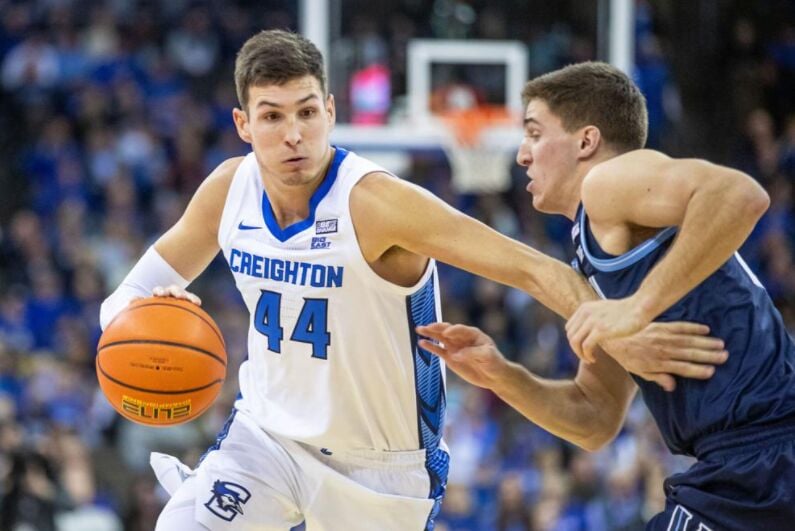 It's been more than two weeks since the Jays (9-3, 1-0) last took the court. Their opponent, Marquette, is coming off a long layoff (10 days) as well. So the action could be sloppy at times Saturday as both teams work off the rust. But they each want to start 2022 off the right way. Here's a preview of the match-up:
Where: Fiserv Forum, Milwaukee, Wis.
Marquette info
Record: 8-5, 0-2 (last in Big East)
NET ranking: 76th (CU: 56th)
Offensive efficiency (KenPom): 99th (CU: 50th)
Defensive efficiency (KenPom): 68th (CU: 66th)
Trending: The Golden Eagles have lost four of their last five games after starting the year 7-1. Some of that has been the challenging schedule. But this team is young and still figuring things out. Plus, new philosophies and principles are getting ingrained in Shaka Smart's first season. It's pretty clear that Marquette's going to improve as the season continues. The Golden Eagles are already a nightmare opponent for most, given how tenacious they can be defensively.
Last meeting vs. CU: The Jays won 71-68 on Feb. 6 in Milwaukee to split last year's season series (Marquette leads the all-time series 56-36)
Three MU players to watch
Sophomore forward Justin Lewis (#10) — You've probably seen his name on some NBA draft prospect lists. Lewis, at 6-foot-7, 240 pounds, has tons of potential. He'll step out and hit jumpers. He can beat guys off the bounce out of his face-up game. But he's most effective using his strength on the interior (he draws a lot of fouls, too).
Justin Lewis continued his hot start to the year last night. Career high 21pts and 5 3PM. If he can shoot mid 30s from deep on this increased volume (4.5 3PA vs 1.5 3PA last year) then he's a guy that could be a fringe 1st rounder. Legit NBA size at 6'7 235lbs w/ a 7'2 WS pic.twitter.com/nTMwZtFpYc

— Alex (Draft Film School) (@DraftFilmSchool) November 19, 2021
Sophomore guard Tyler Kolek (#22) — He was the Atlantic-10 rookie of the year at George Mason last season. And he's been an incredible offseason add for the Golden Eagles. Kolek ranks 16th nationally in assists per game (5.9). He knows how to move the defense and find the open man, particularly within ball screen situations. He's also averaging 1.69 steals per game.
Junior guard Greg Elliott (#5) — He'll be high on the scouting report Saturday since he's 9-of-14 from 3-point range in six games against Creighton in his career. The Jays know what he's capable of. He's got a quick trigger, but if you close out too aggressively, he's able to make plays off the bounce.
Roster update: Senior starter Darryl Morsell missed the Dec. 21 game against UConn due to COVID protocols so his status for Saturday is in jeopardy.
Three keys for Creighton
1. Attack with discipline: The Golden Eagles are going to try to make CU uncomfortable. They'll utilize a fullcourt press after most made shots, and at times trap aggressively to try for steals. They'll pressure ball handlers all game long. They'll try to block shots and send a message that way. But if Creighton can avoid getting sped up and manage to maintain its poise, it'll find holes in Marquette's aggressive defense.
2. Get back on defense: The Jays like to play fast. They're known for that. But the Golden Eagles have been even faster this year. They rank second nationally in average length of possession (14.6 seconds), according to Ken Pomeroy's stats. They're on you in a hurry, after misses and makes. So Creighton has to be alert and focused, committed to stopping the ball and quickly identifying shootings in transition.
3. Seal off the paint: Marquette shoots a ton of 3-pointers — 44.2% of its field goals come from behind the line (third-most in the league). But don't let that fool you. The Golden Eagles are at their best when they're attacking first, either off the dribble or out of post-ups. They force the defense to react, then they start zipping the ball around. They assist on 64.2% of their field goals, the seventh-best rate nationally, according to Pomeroy. So keeping the ball out of the lane (preventing inside-out play) will be a key for Creighton.
Predictions
ESPN's BPI: Marquette's win probability is 61.9%
KenPom: Marquette wins, 74-73
Jon Nyatawa's take: How much have the Jays learned after struggling to find an offensive rhythm in losses to Iowa State and Arizona State? Those teams put CU under pressure. And they kept its ball handlers from settling in. Surely, Marquette will try to replicate that game plan. Creighton should be better prepared for it this time, though. I'll take the Jays in a slugfest, 60-55.
Creighton betting trends
Season ATS record: 5-7 (last five games: 3-2)
Season ATS record on the road: 1-0
Season SU record as the underdog: 3-1
Over/under: The under's hit in eight of CU's 12 games this season (the over hit in two of the last three games)