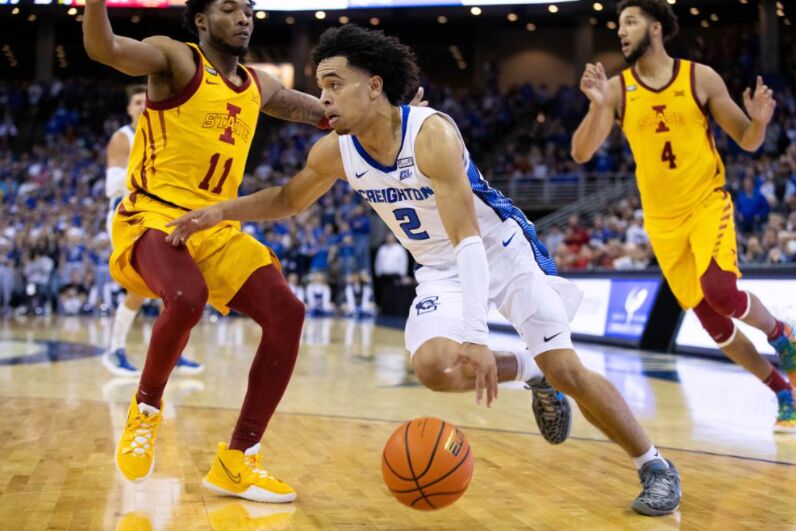 The Jays (10-4, 2-1) haven't played since last week's blowout loss at Villanova. So there may be some rust when they take the floor Saturday. They'll have to figure it out quickly though. A motivated Xavier team is up next. And CU has to play in an arena where it's won just once in its last four trips. Let's preview the matchup:
Xavier info
2021-22 record: 12-3, 2-2 (T-fourth in Big East)
NET ranking: 18th (CU: 63rd)
Offensive efficiency (KenPom): 23rd (CU: 69th)
Defensive efficiency (KenPom): 32nd (CU: 54th)
Trending: Xavier brought back seven of its top eight scorers from last year, a mix of proven playmakers and promising young talents. So expectations are high for this group. And for the most part, the Musketeers have lived up to the hype. They'll be fired up to play Saturday after dropping a tough 64-60 defeat to Villanova at home on Wednesday.
Last meeting vs. CU: Xavier won 77-69 last season in Cincinnati (The Musketeers lead the all-time series 18-16)
Three XU players to watch
Senior guard Paul Scruggs (#1) — The defensive game plan has to start with Scruggs. The veteran point guard will have the ball in his hands more than anyone. You have to keep him out of the paint. Scruggs is averaging 11.1 points, 4.7 rebounds, 4.1 assists and 1.5 steals per game.
Sophomore guard Colby Jones (#3) — He's in a bit of a mini-slump, totaling just 16 points in his last three games. But he's a budding star. Jones' length and athleticism at 6-foot-6 aids him when he's maneuvering inside — he's able to back down defenders and finish creatively. He draws a lot of fouls. He hustles after rebounds. And he creates for others.
Junior forward Jack Nunge (#24) — He's been one of the top transfer additions in the league this year, particularly with starting center Zach Freemantle hurt early and still working to find his rhythm. Nunge is a force on the glass (7.1 rebounds per game) and an efficient scorer inside (65.0% on 2s). He's always on the move, so he'll be a tough cover for CU's bigs.
Three keys for Creighton
1. Rebound: Xavier isn't going to give up too many second-chance opportunities, ranking 32nd nationally and first in the Big East in defensive rebounding percentage, according to Ken Pomeroy's data. So it'll be imperative the Jays do whatever it takes to avoid letting the Musketeers extend possessions with offensive rebounds on the other end. Jones and Nunge are particularly good at crashing the glass. Better find them.
2. Defend in transition: The Musketeers get on you quick. Their outlet passes are fast, and they have so many ball-handlers and scorers who are confident making plays in the open court. Their possessions last just 16.1 seconds on average, the 46th-fastest in the country, according to Pomeroy. The Jays will have to work hard to get back on defense, stop the ball, communicate effectively early in the possession and make Xavier work for everything.
3. Stick to the scouting report: The Musketeers might be the most balanced offensive team in the Big East. Eight different players average at least six points per game — and seven of them have dropped 19 or more in a single outing. So many guys are capable of beating you. But they don't all shoot it well, they aren't all iso/off-the-dribble creators and they all can't beat you inside. For Creighton, it'll be about focusing on tendencies and maintaining player-specific strategies. What the Jays try to take away from one guy, they might give to another.
Predictions
ESPN's BPI: Xavier's win probability is 88.1%
KenPom: Xavier wins, 77-69
Jon Nyatawa's take: Hard to know what you're going to get from Creighton. They started strong the first time they came off a long layoff, then ran out of gas but still somehow pulled out a double-OT win at Marquette. They'll have to be at their best for 40 minutes to pick up another road win. I think they can hang with Xavier for stretches, but ultimately the Musketeers' length may end up causing enough problems for CU and preventing it from keeping pace. Xavier wins, 78-71.
Creighton betting trends
Season ATS record: 6-8 (last five games: 3-2)
Season ATS record on the road: 2-1
Season SU record as the underdog: 4-2
Over/under: The under has hit in 11 of CU's 14 games this season
---