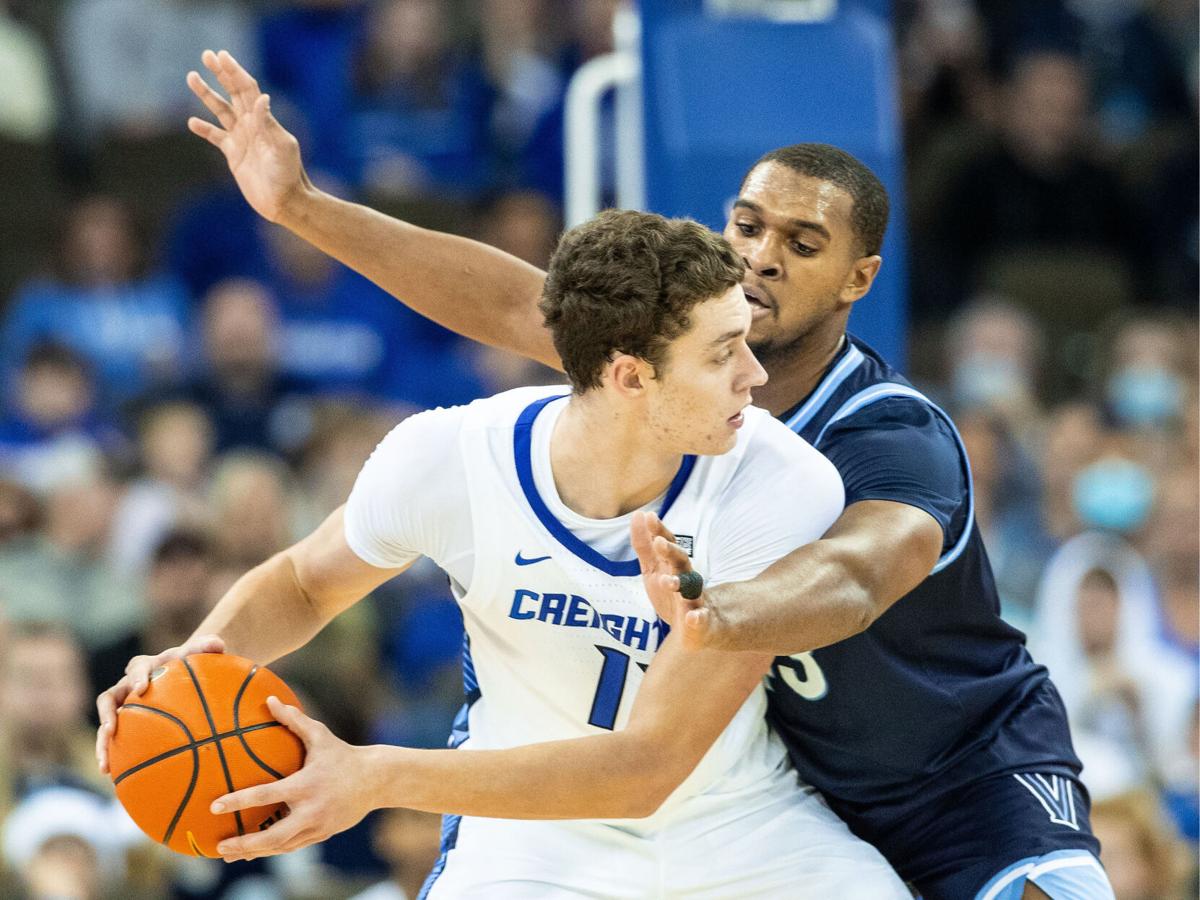 Run it back. The Jays (10-3, 2-0) beat Villanova less than three weeks ago. Now they're set to play again. This time it'll be on the Wildcats' home floor, and they'll certainly be looking for some revenge. Can CU replicate its game plan on the road? Here's a preview:
When: 7:30 p.m. Wednesday
Villanova info
2021-22 record: 9-4, 2-1 (fourth in Big East)
NET ranking: 10th (CU: 55th)
Offensive efficiency (KenPom): 10th (CU: 58th)
Defensive efficiency (KenPom): 28th (CU: 57th)
Trending: There were some bumps in the road for Villanova during November and December, and the Wildcats might still be sorting a few things out. But they returned four of their top five scorers from a Sweet 16 team. So they have the talent to be elite once again. This is about the time when they start to hit their stride too. Villanova's 26-1 in January since 2018.
Three VU players to watch
Senior guard Collin Gillespie (#2) — He's just 6 of 26 from 3-point range (23.1%) in his last four games against Creighton. Is that just bad fortune or have the Jays figured out how to take away his best looks from distance? Either way, he'll be motivated to play well and lead the way for Villanova. He's third in the Big East in scoring (16.5 points per game).
Junior guard Justin Moore (#5) — He's strong, patient and smart with the ball in his hands, often looking to take advantage of mismatches by working inside and finishing in close. He can beat you from deep as well (37% on 3-pointers). The Jays held Moore to six points on 3-of-10 shooting (with three turnovers) on Dec. 17.
Sophomore forward Eric Dixon (#43) — In the first matchup, Dixon took advantage of some extra space provided to him when CU's big men tried to provide help on Villanova's drivers. He had 15 points (including two 3-pointers) and five offensive rebounds. Presumably he'll look to do even more this time around.
Injury update: Senior guard Caleb Daniels (9.5 ppg) missed Saturday's win at Seton Hall due to COVID protocols.
Three keys for Creighton
1. Defend with discipline: This is how the Jays won the first game. They didn't fall for pump fakes. They stayed home on shooters. They played tough one-on-one defense (without fouling). They held Villanova to just four assists and 33.3% shooting. "It was a lot of contested shots," coach Jay Wright said afterward. Credit CU's effort and focus. The Wildcats feast on your mistakes and Creighton didn't make many. Now the Jays have to do it again.
2. Control the interior: Following its loss to CU, Villanova seems to have made a more concerted effort to attack inside. It attempted just 21 3-pointers in a win over Xavier and only 20 3s in a victory at Seton Hall, the two lowest totals of the season so far. The Jays need to be ready for that. And on the other end, Creighton should look to ignite its offense by scoring inside first, whether that's playing through its bigs, finding cutters or attacking downhill in transition. The Wildcats don't have a rim protector. They've been vulnerable there. CU was plus-18 on points in the paint against Villanova on Dec. 17.
3. Win the hustle game: There was a loose ball on the second possession of the game in the first meeting, and a diving Ryan Nembhard got there first, tapping the ball to a teammate and just edging out two Villanova players who'd also hit the floor. Nembhard's extra effort kept Creighton's possession alive and led to a bucket. Those are the kinds of winning plays you need against the Wildcats, who play hard at all times. Keep an eye on the chases for long rebounds too. Those 50/50 balls could decide the outcome.
Predictions
ESPN's BPI: Villanova's win probability is 94.1%
KenPom: Villanova wins, 70-60
Jon Nyatawa's take: As Creighton proved in the first meeting, this matchup might actually be more favorable for CU than many others in Big East play. Villanova traditionally does not use aggressive ball-pressure tactics and it has struggled in recent seasons to adjust to the Jays' pace. But here's the thing: The Wildcats are probably going to play angry and motivated after losing that first one to Creighton. They haven't been swept in a Big East season series since Butler beat them twice in the 2016-17 campaign. They've also won 28 in a row inside the Finn. I'll take Villanova, 71-66.
Creighton betting trends
Season ATS record: 6-7 (last five games: 3-2)
Season ATS record on the road: 2-0
Season SU record as the underdog: 4-1
Over/under: The under has hit in nine of CU's 13 games this season
---