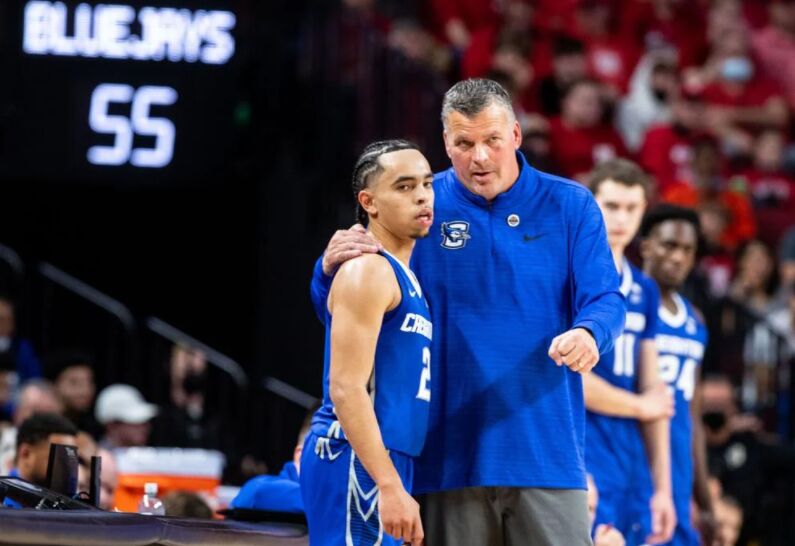 Just three days removed from their rivalry game win on the road, the Jays will take the court again. And twice more in the following three days. It's the Paradise Jam. The early season tournament is going to be another learning experience for a young CU team. Here's a preview of the opening game:
Where: UVI Sports & Fitness Center (St. Thomas, U.S. Virgin Islands)
Paradise Jam schedule: Creighton/Brown winner plays Colorado State/Bradley winner on Sunday (losers play Saturday) | Full bracket
Brown info
2020-21 record: Did not play last year (15-12 overall in 2019-20)
Offensive efficiency (KenPom): 254th (CU: 78th)
Defensive efficiency (KenPom): 197th (CU: 47th)
Season outlook: COVID kept the Bears from competing last year. None of the Ivy League teams played. So they're hungry, and that showed last week when they pushed North Carolina to the limit in a 94-87 defeat. Brown had the ball, down three points, with 2:30 left in that game. Just came up short. The Bears surely will be fired up again Friday.
Only meeting vs. CU: Brown won 80-79 on Dec. 28, 1991 in the Tribune Classic in Tempe, Ariz.
Three players to watch
Sophomore guard Dan Friday (#1) — He makes strong drives to the rim and can finish in many ways (although he seems to prefer a smooth floater, when available). Just eight of his 38 field goal tries have come outside the arc. So you know he's looking to attack. Friday also leads the team in assists (16) and steals (eight).
Freshman guard Kino Lilly Jr. (#10) — A spark plug off the bench. He leads the team in scoring (13.3), he's made 12 of his 21 3-point tires (57.1%) and he has a 15-to-2 assist-to-turnover ratio. Not bad for a start to his college career. Lilly brings some quickness on the ball and he can spot-up for jumpers while playing off the ball.
Freshman forward Nana Owusu-Anane (#31) — He actually seems the most comfortable operating out on the perimeter, spotting up for jumpers or attacking in face-up situations. So the 6-foot-8 big man has some versatility. He'll be a tough match-up for Creighton's bigs. Owusu-Anane played with CU freshman Ryan Nembhard on Canada's under-19 team in the FIBA World Cup this summer.
Nana Owusu-Anane not a particularly inspiring ball-handler but swished his 1st 3 so far, attacks the closeout and finds Meren cutting with a nice pass. pic.twitter.com/PREEOtMqLI

— Will Smith (@ddiop) November 14, 2021
Injury update: Brown's Tamenang Choh, a two-time all-conference performer, has missed the last three games.
Three keys for Creighton
1. Take care of the ball: Brown isn't going to waste possessions. It's averaging just 10.8 turnovers per game. So the Jays better make sure that they're not giving the ball away too often. It's been an issue so far (16.3 per game). CU wants to move fast and that'll surely be an emphasis in this one. But the decision-making will be critical.
2. Protect the paint: Brown has averaged 43 points in the paint per game. Its guards get in the lane and finish creatively or make key passes (inside and/or back out) to set up their teammates. Once they get downhill and into the lane, they can really break you down. It starts with guarding well on the ball and cutting off those driving lanes. But the bigs will have to be ready to help inside, too.
3. Turn the page: Creighton's coming off an emotional road win over rival Nebraska. The Jays had to be feeling good when they boarded their flights Wednesday. And now they're steps away from the beach. But they have to refocus. There's not much time to prep for this Brown squad and CU better be ready to bring its A-game against a motivated opponent.
Predictions
ESPN's BPI: Creighton's win probability is 74.0%
KenPom: Creighton wins, 75-62
Jon Nyatawa's take: Judging by Brown's approach to its game at North Carolina, this one could be a shootout. The Bears weren't afraid to run with the Tar Heels. To score with them. To attack. So you'd think they'll be open to an up-tempo game with the Jays, too. That obviously plays to Creighton's favor. CU's potency in early-possession offense was a major reason why it knocked off Nebraska Tuesday. I'll pick the Jays, 84-73.
---