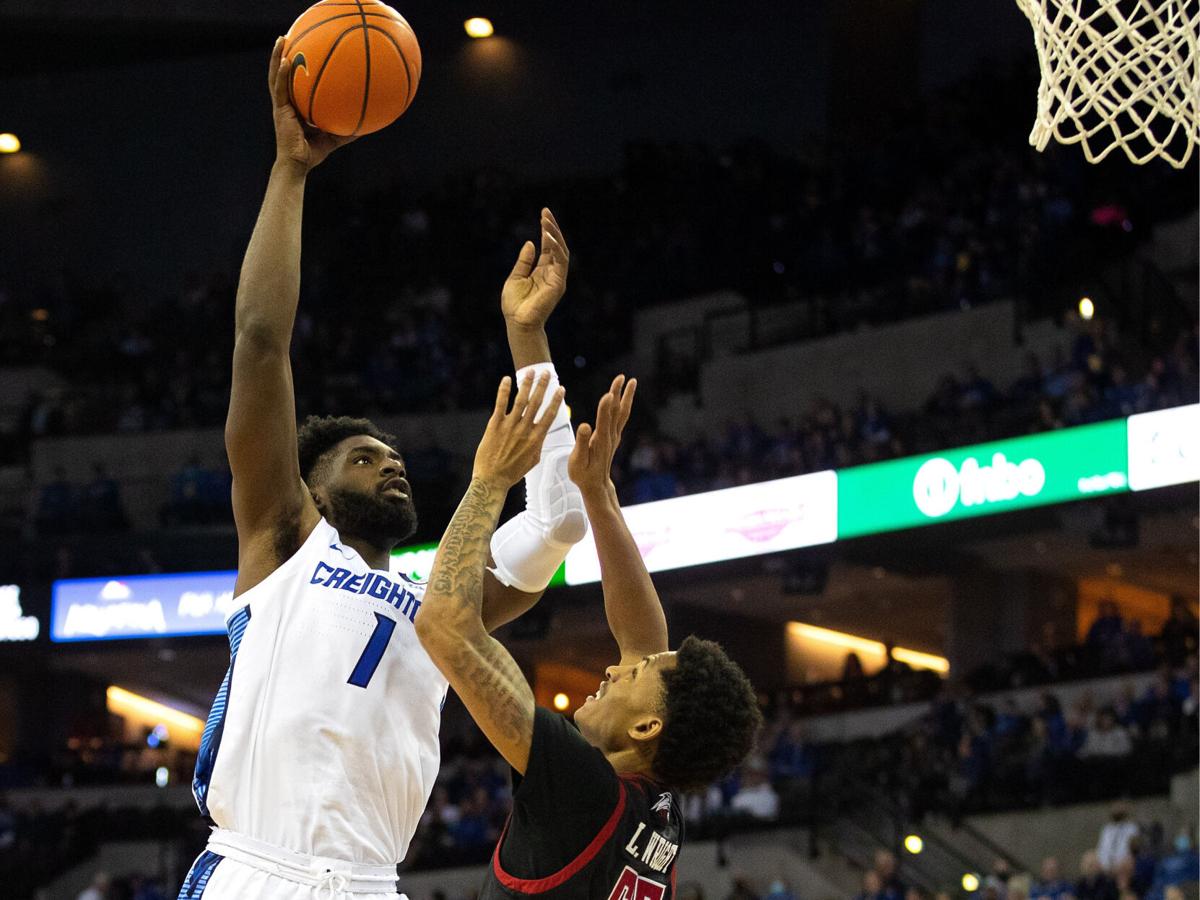 Believe it or not, these up-and-down Jays are actually one win away from their best starting record in five years. They could be 7-1 after Tuesday. They'll have to beat an experienced North Dakota State squad to do that. Here's how the match-up breaks down for CU:
Radio: 1620 AM KOZN, 101.9 FM KOOO
North Dakota State info
2020-21 record: 15-12, 11-5 (Summit League)
Offensive efficiency (KenPom): 152nd (CU: 80th)
Defensive efficiency (KenPom): 163rd (CU: 81st)
Season outlook: The Bison finished third in the Summit League last year and made a run to the tournament title game (they lost to eventual Sweet 16 participant Oral Roberts). So they're motivated. They returned basically the entire roster from that team. NDSU hasn't been incredible to start 2021-22 though, particularly on offense (shooting 29.1% from 3-point range). But it may have found its groove with a 90-point outing in a win over Idaho on Saturday.
Last meeting vs. CU: The Jays won 69-58 in Omaha last season (Creighton leads the all-time series 10-0)
Three NDSU players to watch
Senior forward Rocky Kreuser (#34) — The versatile big man is always on the move. Whether he's picking-and-popping or screening-and-rolling. It'll be difficult for CU's centers to stick with him. But they have to be alert. He made 36.6% of his 3-pointers last year. And at 6-foot-10, he can take over inside too.
Junior guard Tyree Eady (#3) — The last time out he erupted for a season-high 17 points (including 7 of 8 at the free-throw line). He's had the ball in his hands more often so far this year. But he's a good passer. And he'll make strong drives and finish through contact, especially when he's moving downhill off his right hand.
Sophomore guard Jarius Cook (#11) — The sharpshooter knocked down big triples in crunch time during NDSU's close win over Tarleton State last week (he went 5 of 10 from deep in that game). He's at 39.3% from 3-point range on the season.
NDSU injury update: Former Lincoln East standout Sam Griesel, a key playmaker within this offense, hasn't played since the season opener. He had surgery on an abdominal issue.
Three keys for Creighton
1. Rebound: North Dakota State was the top rebounding team in the Summit League last year, according to Ken Pomeroy's stats. Kreuser cleans up on the defensive end. The 6-foot-10 Grant Nelson and the 6-foot-7 Maleeck Harden-Hayes can go create second-chance opportunities on the offensive end. Creighton had been good here — until last week. The Jays were even on the boards with Southern Illinois and then got out-rebounded by SIU-Edwardsville.
2. Take care of the ball: The Bison are not a team that forces a lot of turnovers. But here's the challenge for CU — because NDSU can move methodically on offense and slow down the pace of the game, there will be some urgency for the Jays to move fast and dictate tempo. They just have to be smart about it. They've been turnover-prone this year. Giving away extra possessions could be costly in a matchup like this.
3. Bring the energy on defense: The Jays were flat-footed in the first half against SIUE. They got beat down the floor in transition. They gave up easy driving lanes. They didn't pressure the opposing ball-handlers to make them uncomfortable. When CU has been locked in defensively, it's been really good. As proven by Saturday's second-half comeback. That effort just hasn't been consistent.
CU injury update: Junior Shereef Mitchell missed Saturday's game. He's been in and out of the lineup this year.
Predictions
ESPN's BPI: Creighton's win probability is 81.5%
KenPom: Creighton wins, 73-64
Jon Nyatawa's take: The game script at home for Creighton so far has been to start strong for five minutes, slip into a funk for the rest of the first half and then seize control after halftime. The inconsistency has led to some dramatic finishes. And because the Jays have been so up and down, it's hard to imagine they'll convincingly pull away from a seasoned opponent. I think CU wins, but again, it won't be easy. 76-68.
---