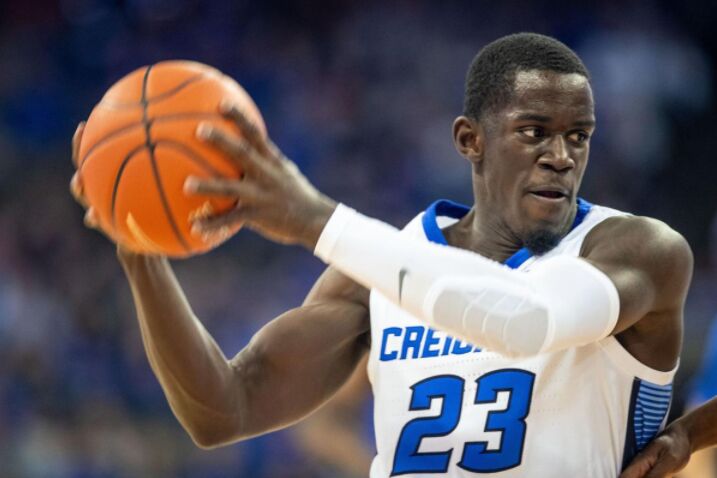 Creighton's back in action after an 11-day break, looking to extend its three-game winning streak. It's hosting last-place DePaul. But nothing's been easy for the Jays this year. Even the Blue Demons pushed CU to the brink back in January. Here's a breakdown of the rematch:
Radio: 1620 AM KOZN, 101.9 FM KOOO
DePaul info
2020-21 Record: 4-10, 2-10 (11th in Big East)
NET ranking: 160th (CU: 25th)
Coach: Dave Leitao, sixth season
Offense ranking (KenPom): 236th (CU: 12th)
Defense ranking (KenPom): 43rd (CU: 49th)
Outlook: Creighton will see a different DePaul team than the one it faced last month. It starts with personnel: All-Big East guard Charlie Moore, guard Oscar Lopez and rookie wing David Jones were not on the court for that first game. They're in the rotation now. And the Blue Demons are coming off their best performance of the year: an 88-83 win over St. John's. So they should be fired up for Wednesday's showdown.
Players to watch
Senior guard Charlie Moore (#11) — There was no sign of injury Saturday in the St. John's win. He scored 24 points and dished out eight assists. The 5-foot-11 point guard is a tough guy to keep out of the paint, and he can finish in different ways or create for others when he gets there. He's especially lethal in transition.
Senior guard Ray Salnave (#10) — He definitely caught the Jays off guard in the first meeting, dropping 21 points on 8-of-13 shooting. There were a few tough jumpers in there for the Monmouth transfer. But clearly, CU's going to have to make some adjustments. He's averaging just 5.6 points per game.
Senior forward Pauly Paulicap (#33) — He's a 6-foot-8 forward who uses his athleticism well. He lives around the rim. He can make finishes difficult as a defender (1.3 blocks per game). He's recorded the best offensive rebounding percentage in league play. He's making 58.3% of his shots on the year.
Injury update: Guard Javon Freeman-Liberty (concussion) missed the last two games. He had 13 points, five assists and three steals against CU in January.
Three keys for Creighton
1. Don't settle offensively: The Blue Demons have the look of a menacing defense. They have length at nearly every position. They can jump passing lanes, close off paths to the rim and redirect shot attempts. They can show some disruptive zone too. Considering all that, you could be tempted to play it safe. To avoid risking a turnover or a blocked shot. Creighton can't fall for that. It has to attack, like it did in the second half of the first meeting (29 of its 40 post-halftime points came inside the paint or at the free-throw line).
2. Get back on defense: Kind of the same principles that the Jays make opponents think about every night. Creighton can score fast, after misses and makes. DePaul's the same way. Both teams have actually averaged 15.9 seconds per possession this year, trailing only St. John's (14.9) in the Big East. The main difference, though, is that the Blue Demons aren't efficient in the halfcourt. So if CU can retreat back defensively, get organized and limit the easy looks early in the shot clock, it has a much better chance of consistently getting stops.
3. Protect the paint: DePaul attempted just eight 3-pointers in its win over St. John's on Saturday. That's the fewest long-range tries in a game by any Big East team this year. The second-fewest? Nine, by this very same DePaul team on Feb. 13. At least lately, the Blue Demons appear to be ultra-committed to attacking inside. There was a moment in the first half Saturday when they held a 20-0 edge in points in the paint. CU better be ready for that. It starts with guarding the dribble well. But the help defenders have to be on alert, too.
Predictions
ESPN's BPI: Creighton's win probability is 92.3%
KenPom: Creighton wins, 78-64
Jon Nyatawa's take: How will the long layoff impact CU? That's the million-dollar question. DePaul's in a rhythm. The Jays have to find theirs again. So it might take 10 minutes or so for Creighton to settle in, and even then, it may not fully regain the form it had the last time it took the court (the big win over Villanova on Feb. 13). CU should have enough firepower to beat DePaul. But it may not be comfortable. I'll pick Creighton, 80-70.
---
Photos: Creighton vs. Villanova