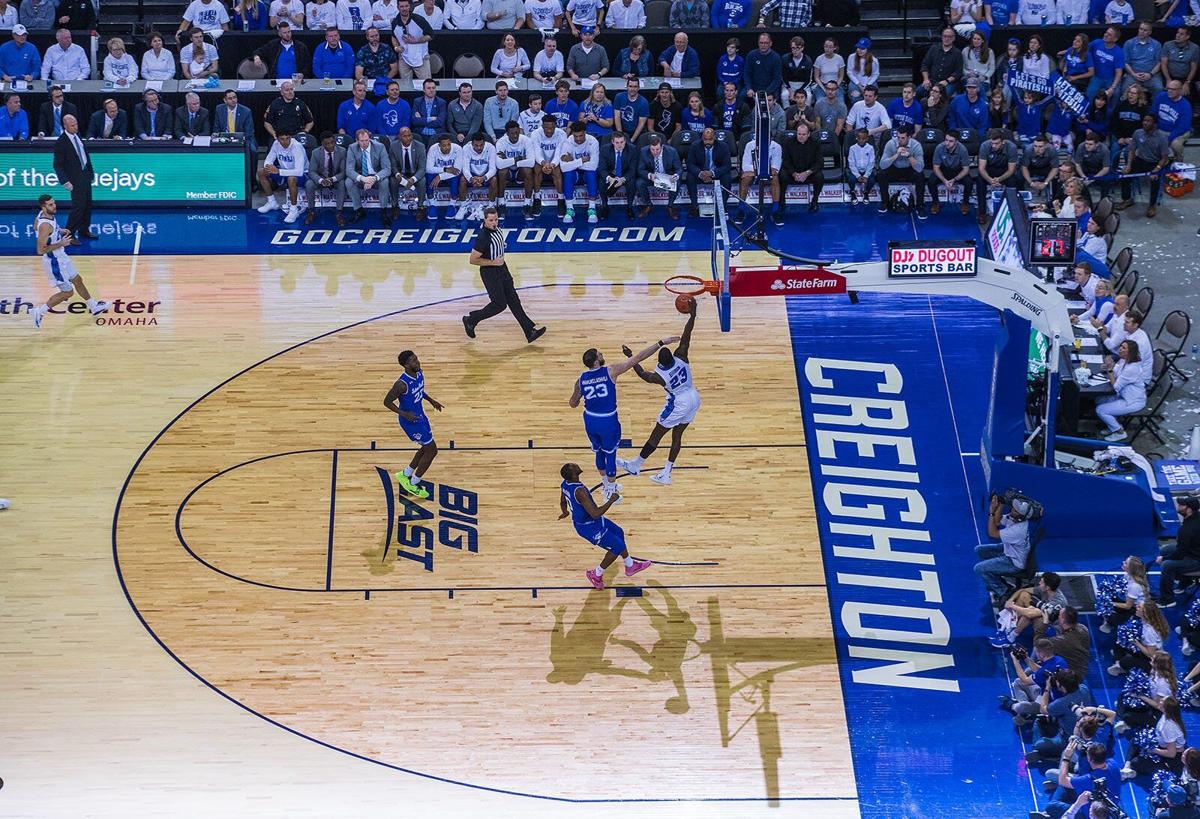 The Jays (8-2, 4-1) return home for a much-anticipated game that already has Big East title implications this early in the year. Seton Hall is coming to Omaha. These two teams (plus Villanova) shared the regular-season conference championship last year. They both have their eyes on the crown again.
Radio: 1620 AM KOZN, 101.9 FM KOOO
Seton Hall info
2020-21 Record: 8-4, 5-1 Big East
NET ranking: 41st (CU: 29th)
Coach: Kevin Willard, 11th season
Offense ranking (KenPom): 19th (CU: 10th)
Defense ranking (KenPom): 55th (CU: 37th)
Outlook: Seton Hall lost three of its first four games to start the year. But the Pirates were then still working to find their footing following a November COVID-19 pause. Their prized transfer guard, Bryce Aiken, played just eight total minutes until he got healthy in mid-December. So Seton Hall is a different team now. Much improved. In the early going in Big East play, the Pirates rank second in both offensive and defensive efficiency. They defend without fouling, share the ball on offense and don't back down to a challenge.
Three players to watch
Senior forward Sandro Mamukelashvili — He's elevated his game. He can score on the block, face up against a defender and make a move, or knock down a jump shot. He's one of the best in the league at drawing fouls. And this year, he's creating for his teammates more often (3.4 assists per game). He's a tough matchup for CU.
Seton Hall's Sandro Mamukelashvili, the 6-11 F who's putting up 19 & 7, has also doubled his per-game assists average this year (3.4). He's grown his game in a lot of areas but this is most noticeable. pic.twitter.com/iBfJj1YZzV

— Jon Nyatawa (@JonNyatawa) January 5, 2021
Senior guard Shavar Reynolds — He orchestrates things offensively (4.9 assists per game). He defends with tenacity (1.8 steals per game). He makes big shots when he's called on (14 of 27 from 3-point range). The veteran guard isn't always flashy, but he'll find a way to leave his mark on the game.
Junior wing Jared Rhoden — Creighton coach Greg McDermott thinks Rhoden is a candidate for the league's most improved player award. He's second on the team at 15.8 points per game (9.1 last year). At 6-foot-6, Rhoden is good on the glass and lethal from long range.
Three keys for Creighton
Rebound: The Pirates are the third-tallest team in the country, in terms of average height, according to KenPom's database. Creighton is 170th. So Seton Hall will have an edge when shots go up. The statistics don't indicate the Pirates have been a dominant rebounding team this season. Which is a little bit scary for the Jays. Because Seton Hall clearly doesn't need a ton of second-chance opportunities to produce an efficient offensive attack. So CU has to be locked in. It can't afford to get crushed on the glass.
Make the bigs work: Seton Hall's big men, especially Mamukelashvili and 6-foot-10 Tyrese Samuel, are pretty agile for their size. But how comfortable are they when they're moving from the arc to the paint (and back) while defending in the halfcourt? And can they guard out along the perimeter? And do they want to run, all game long? This is where Creighton's small ball offense has to test them. Neutralize the Pirates' height advantage with speed and movement.
A few examples from last year of some different ways that Creighton tried to engage Seton Hall's bigs, pulling them out of the comfort of the paint & making them move and guard along the perimeter.
It'll be a key again for the smaller #Jays on Wednesday pic.twitter.com/j5TGILlrxB

— Jon Nyatawa (@JonNyatawa) January 5, 2021
Start the second half strong: The first four minutes after halftime. Seton Hall has won that segment of the game each time out in Big East play. And you might think, what's four minutes? We're just talking about seven or eight possessions, right? Is it really that big of a deal? Well, yes. If you seize momentum right out of halftime and put your opponent in an early second-half hole, you change the trajectory of the game. You're the aggressor, the tone-setter. The Pirates have been good at this. Additionally, note that they're averaging 1.33 points per possession in the first four minutes of the second half during league play. Impressive.
Predictions
ESPN's BPI: Creighton's win probability is 72.8%
KenPom: Creighton wins, 77-72
Jon Nyatawa's take: It's a big game for both teams. Seton Hall is looking for a statement victory, and some revenge after last year. Creighton has already dropped a league game in Omaha — and it's hard to win a title if you're not protecting your home court. So there's plenty on the line. It should produce a thrilling showdown. I'll take the Jays, just because their small-ball style twice created issues for the Pirates last year. But it'll be close. 74-70.
Photos: Creighton faces Seton Hall for 2019-20 Big East crown