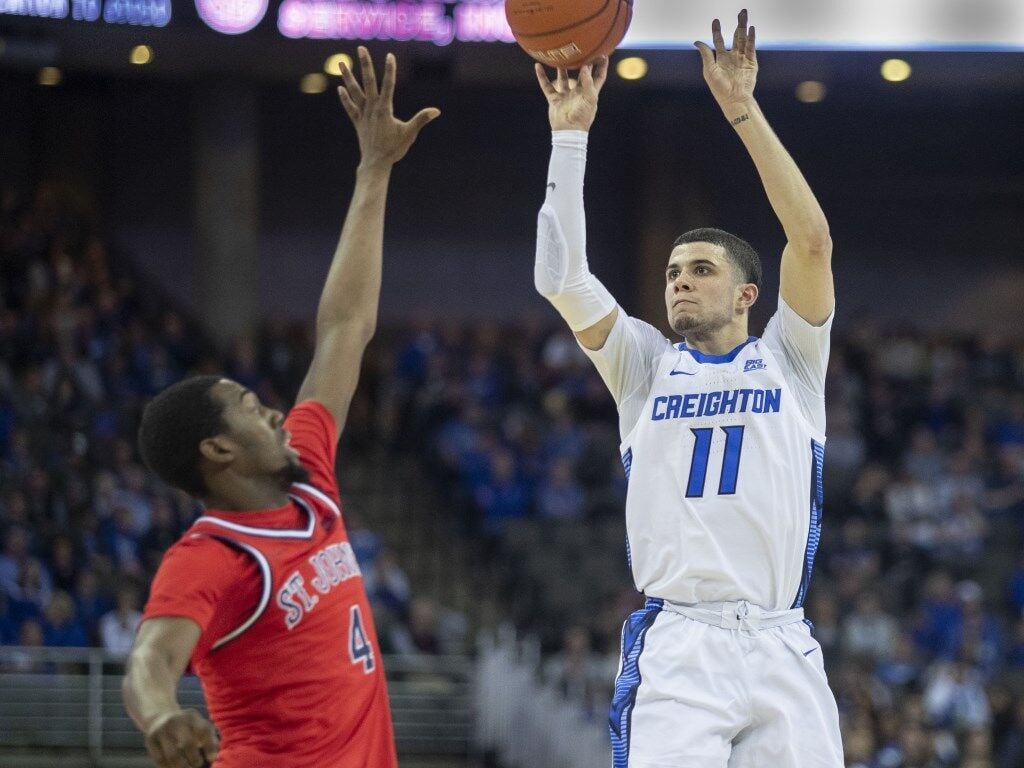 The Jays (9-2, 5-1) are riding a five-game winning streak. They'll finish up the week with a second home game, this time against St. John's. Can Creighton continue its run? CU has never won six consecutive Big East games in the same season before.
Radio: 1620 AM KOZN, 101.9 FM KOOO
St. John's info
2020-21 Record: 6-5, 1-4 Big East
NET ranking: 109th (CU: 15th)
Coach: Mike Anderson, second season
Offense ranking (KenPom): 75th (CU: 8th)
Defense ranking (KenPom): 114th (CU: 27th)
Outlook: St. John's appeared to be showing signs of progress during Wednesday's game at Xavier, but it stumbled into a second-half scoring drought and lost 69-61. The Johnnies have intriguing pieces, but they haven't formed it all together yet. Some of this is expected. The nine-man rotation features five newcomers. You'd assume improvement is coming. But how long will it take?
Three players to watch
Sophomore Julian Champagnie (#2) — He's one of the best second-year guys in the league. He likes to spot up from long range (37.0%), but at 6-foot-8, he's capable of beating you inside too. He's money from the free-throw line (38 of 42). His versatility will be tough for CU to defend. He had 17 points in Game 1.
Junior guard Greg Williams, Jr. (#4) — He's been the Johnnies' best shooter this year (43.3% from long-range) and he's got a 1.9 assist-to-turnover rate. In the last game before Christmas, Williams erupted for 26 points on 7-of-12 shooting. 
Freshman guard Dylan Addae-Wusu (#5) — St. John's has several guards who can create off the dribble and finish inside. The 6-foot-4 Addae-Wusu is one. And he took advantage of some openings against Creighton in the first meeting, scoring 12 points in 22 minutes. The last time out, at Xavier, he contributed four points and six assists. He's a potential spark off the bench.
Three keys for Creighton
1. Take care of the ball: The Jays held a 52-50 lead at St. John's at the 14-minute mark of the second half last month. They committed just one turnover the rest of the way (had 13 before that). As a result, they out-scored the Johnnies 42-26 and won comfortably. St. John's plays aggressive, in-your-face defense — and it thrives on your mistakes (ranked 31st nationally in opponent turnover rate). CU has to be smart. It can use the Johnnies' attacking mentality against them, so long as Creighton's decision-makers are under control.
2. Set the defense: The Johnnies rank eighth nationally in average possession length (14.3 seconds), according to KenPom's data. They're on the attack the instant they gain control of the ball. So the Jays can't exhale. They'll have to sprint back on defense and get organized quickly. If they're able to do that, they could even force St. John's to rush into some ill-advised decisions — a team conditioned to play fast may settle for jumpers or force the issue simply out of habit, even if the circumstances call for patience.
3. Turn the page: The Jays are coming off their best game of the season, an 89-53 demolition of Seton Hall. They were clicking on all cylinders. And every guy produced at least a couple highlights to feel good about. Will the good vibes linger? To the point where it prevents Creighton from preparing the right way for a team that CU already defeated and is currently sitting in 10th place? The Jays need to build off Wednesday's win, not get caught relishing it. We'll see how they handle the success.
Predictions
ESPN's BPI: Creighton's win probability is 89.2%
KenPom: Creighton wins, 87-73
Jon Nyatawa's take: It's an interesting matchup because the Jays' small-ball approach, which can torture traditional lineups, fits well with how St. John's is built. Both teams like to use pace to generate easy looks. And they each hope their quickness can disrupt teams defensively (although the Johnnies are much more of an attacking defense). The game should be fun to watch. But Creighton has more experience and more weapons. I'll take the Jays to win 88-74.