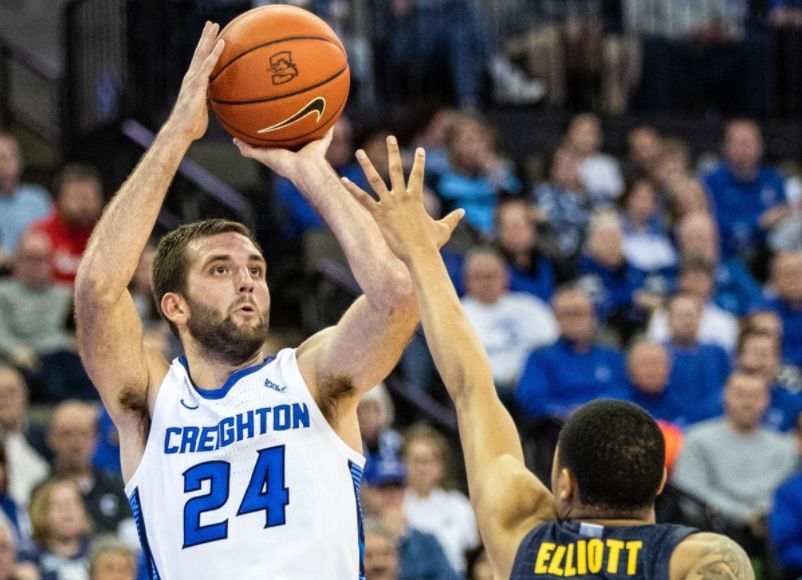 Big East play is here. The league doesn't have as many elite teams as a year ago and it's not quite as deep. But successfully navigating through a 20-game schedule will still be a demanding grind. The Jays (4-1) open their conference season with a home game against Marquette.
Radio: 1620 AM KOZN, 101.9 FM KOOO
MU info
Coach: Steve Wojciechowski, seventh season
Offense ranking (KenPom): 51st (CU: 3rd)
Defense ranking (KenPom): 34th (CU: 78th)
Outlook: The Golden Eagles no longer can build their offense around elite scorer Markus Howard. But they still return several playmaking guards. And they have size. Lots of it. Marquette's actually playing more through its posts now. The Golden Eagles have a win over No. 13 Wisconsin and losses to Oklahoma State and UCLA.
Recent history vs. CU: The Jays have won three straight games against Marquette.
Three players to watch
Senior guard Koby McEwen (#25) — He definitely has the potential to get hot. McKwen dropped 28 in a win over Green Bay last week. He's especially dangerous when he's attacking downhill at full speed. He can finish at the rim or work his way to the line. And you have to respect his jump shot (43.3% from 3-point range).
Freshman forward Dawson Garcia (#33) — The Big East preseason freshman of the year. Garcia is listed at 6-foot-11, 235 pounds. He can shoot and post up. He's good on the glass. He'll be a difficult match-up for Creighton when he's playing the stretch-4 role.
Senior center Theo John (#4) — It has been a challenge for the bruising 6-foot-9 forward to stay on the floor in this unconventional match-up with Creighton, which plays small, with pace and often attacks with ball screens. And John's been banged up lately. But last year, in the final meeting against CU, John played 31 minutes, made all six of his shots, grabbed 10 rebounds and blocked two shots.
Injury update: Starting guard Symir Torrence (toe) did not play at UCLA.
Three keys for Creighton
1. Rebound: Fact is, the Golden Eagles are likely going to win the rebounding battle Monday. Their bigs track down boards well. So do wings Justin Lewis and Jamal Cain. Marquette's ranked 39th nationally in offensive rebounding percentage, according to KenPom. What's important for Creighton is to keep things from getting out of hand here. And even if CU surrenders an offensive rebound, it has to quickly reset and stay solid defensively to limit high-percentage looks in those second-chance situations.
2. Move the defense: Marquette has length, so it will presumably try to use that length to press up on shooters along the perimeter and eliminate CU's preferred passing lanes. But are the Golden Eagles quick enough to stick with the Jays? That's where Creighton will look to test this opponent. The ball has to move, but timing and pace (especially in the halfcourt) will be important. Last year, CU used off-ball screens to free up guys, then immediately attacked a scrambling defense.
No one steals from the NBA better/more than Creighton's Greg McDermott. Here are the Blue Jays crushing Marquette with D'Antoni's "Flip" screen in Tuesday's second half pic.twitter.com/Gtulmk711l

— PickandPop (@PickAndPopNet) February 20, 2020
3. Stay active defensively: Creighton has not been known for its turnover-forcing capability under coach Greg McDermott. But because this year's team has savvy veterans who anticipate well and can move quickly, CU has created issues for opponents. The Jays had 16 steals against Nebraska on Friday. They'll need more of that in Monday's game since Marquette has been mistake-prone at times this year. Creighton has to be careful, though. If it's too aggressive, it could get whistled for fouls — which is exactly what the Golden Eagles want.
Predictions
ESPN's BPI: Creighton's win probability is 77.9%
KenPom: Creighton wins, 76-71
Jon Nyatawa's take: Creighton and Marquette have had some thrilling shootouts over the years. But the Golden Eagles appear to be transitioning into a new brand of ball. They want their defense to set the tone. The Jays will have to match the physicality and the toughness. Monday could be a slugfest. But I'll pick CU to survive with a 73-64 victory.
---
Photos: Creighton and Nebraska match up in men's basketball