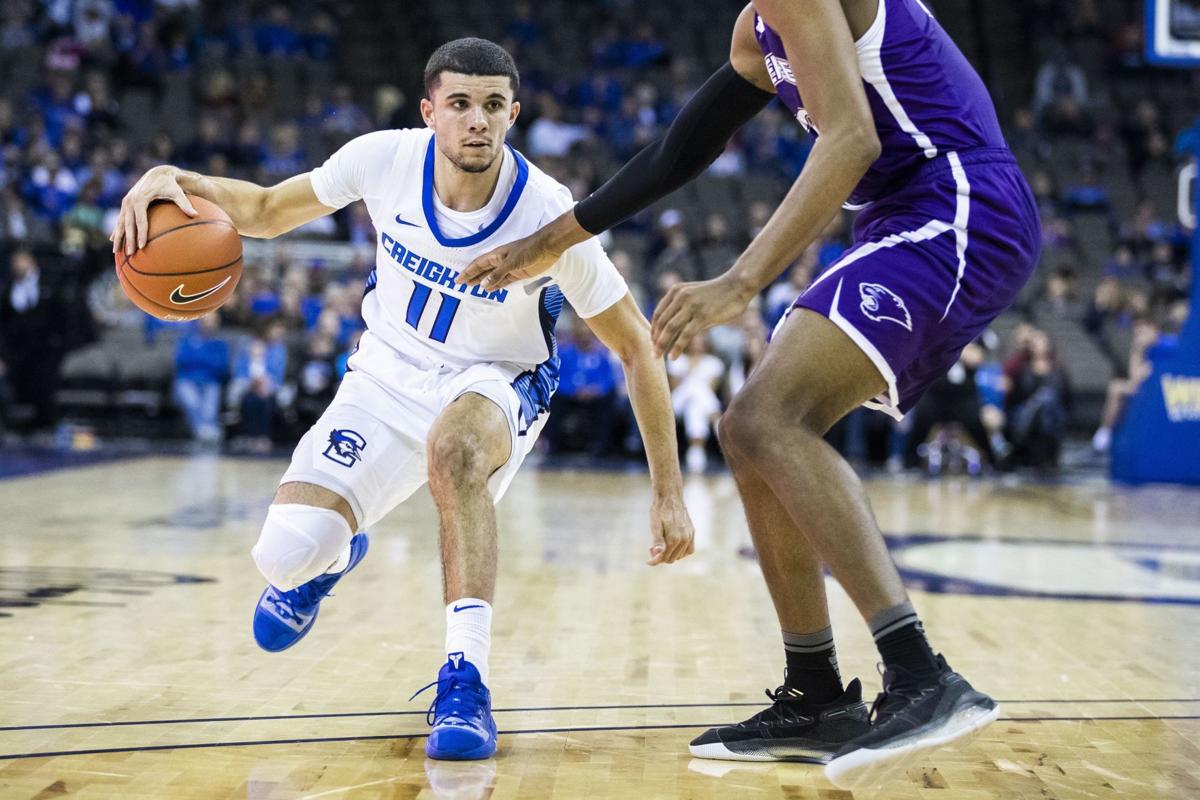 Marcus Zegarowski is a Massachusetts kid. And a New England Patriots fan.
To him, Danny Woodhead is more than a former running back. He's a celebrity. A Patriot. When he met Woodhead, he was star -struck.
But he couldn't have known Woodhead once was the state's high school basketball scoring leader. Or that Woodhead once knocked down 47 points in a game.
So when the 34-year-old Woodhead challenged the Creighton point guard to a game of H-O-R-S-E after a recent Bluejays practice, what harm could it do?
Old man wants to play? Sure.
Then Woodhead started to shoot.
He made it from 21 feet. Then 25. Zegarowski would match the shot, then Woodhead would catch the ball, spin and throw in another bomb. Swish.
Woodhead forced the point guard to dig deep into his arsenal of moves to finally put the football guy away.
"Danny can shoot," Zegarowski said. "I didn't know he could shoot like that. But, not good enough."
Meanwhile, as those two shot, Creighton guard Mitch Ballock and former Navy SEAL Jack Riggins sat against the wall behind the basket and talked about anything but basketball.
"Jack was talking about perspective," Ballock said. "We're talking about walking into the training room with a tweaked ankle or bum knee. In his line of work, those guys don't have a leg or a foot.
"You just have to kind of get over yourself, because people are dealing with more than you."
Welcome to Creighton basketball 2019-20, where class is always in session. Call this one Leadership 101. Or Toughness 101.
The professors are Riggins, a Fremont, Nebraska, native and NU alum who has worked with Husker football and volleyball teams and was helping Tim Miles' basketball team last year until the athletic department pulled the plug on his involvement.
Assisting Riggins is Woodhead, the 5-foot-8 running back from North Platte, Nebraska, who molded his talent, toughness and desire into a 10-year NFL career.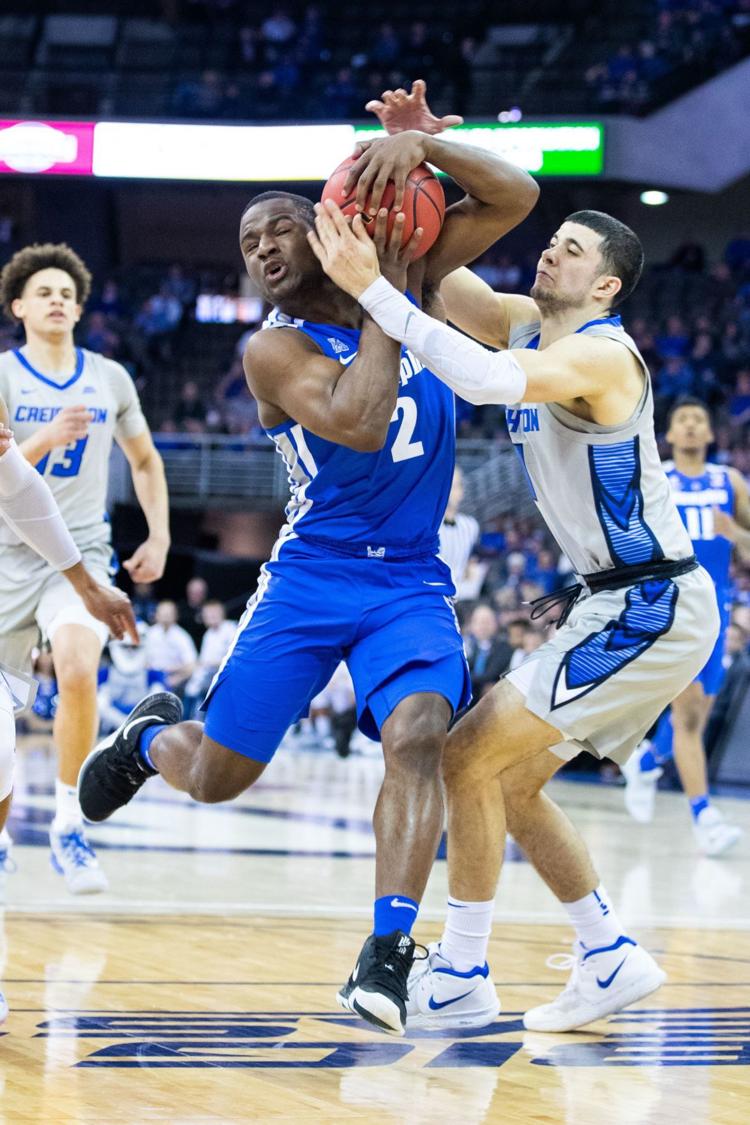 They join sports psychologists Jack Stark and Larry Widman, who also have worked with NU teams — and Riggins — in the past.
Riggins and Woodhead declined interviews for this column, saying they wanted the focus on the players, not them.
That's a lot of voices talking to the Jays. But Stark says it all works and the leadership coaches complement the work Stark and Widman do. Also, there's a lack of the kind of politics that bumped Riggins out of NU, where he worked with Bo Pelini and John Cook.
"Creighton has the best culture I've been around, from the president on down," Stark said. "They are always looking for something that can make it better. The thing about (coach Greg McDermott), he's evolved.
"Think of it as the cherry on top. We don't have a single stinker on the team. Good kids, good families."
But does that lend itself to being passive or comfortable? That's been a question with Jays hoops.
McDermott's teams have had leadership. And occasional toughness. But never enough or on a consistent basis.
A former Navy SEAL and NFL player can't take the place of a 6-8 rebounding power forward. But they can fill in a space, something that has been missing.
Meanwhile, the timing of Riggins and Woodhead indicates Mac's feeling about his current nucleus. He thinks they're special enough to make that deep NCAA run — this year or next. And Zegarowski has three years left to evolve as a team leader.
"It's a relatively young group," McDermott said. "Marcus is only a sophomore. Ty-Shon (Alexander) and Mitch act like seniors, but they're not. You want to try to give them all the resources you can to help them on this leadership path that we expect from them."
Zegarowski and Woodhead have spent a lot of time together, and not just so the Patriot fan can hear stories about his heroes. Though they do come up.
"Danny has been telling me how (Tom) Brady was in the locker room after wins and losses, how (Bill) Belichick was different from any other program he was with," Zegarowski said. "He's trying to mold that into our system here."
The Woodhead Way? Be positive.
Sign up for World-Herald daily sports updates
Get the headlines from Creighton, Nebraska, UNO, high schools and other area teams.
"He wants me to show the love," Zegarowski said. "Love my teammates, love my coaches, breathe that energy into the program. Danny texts me every other day. I talk to Jack a lot.
"It's about positive energy, clapping, be loud, bring people together. And in games, body language is important. Try to be there for your teammates at all times. It's a work in progress. It won't happen overnight."
That was evident with this Jays team — which has played with more of an attitude than others — when it got outplayed by Villanova in the final minutes at home.
Riggins and Woodhead were in the arena and immediately talked with the Bluejays after the game.
The lessons of leadership and team-building helped CU win the next game at Xavier. Then came another loss at Georgetown.
Creighton's success is often predicated by how the Jays shoot the ball. The Riggins-Woodhead work is more about big-picture stuff, but that's working, too.
"We had a bad one (at Georgetown)," Ballock said Thursday. "We watched film and learned from it. And I had a nice conversation with the coaches.
"Last year, I wouldn't have even come over here after a loss. Just a bad vibe. Now, I'm at the point, talking to those guys, where I'm learning to be proactive and be assertive about what you want."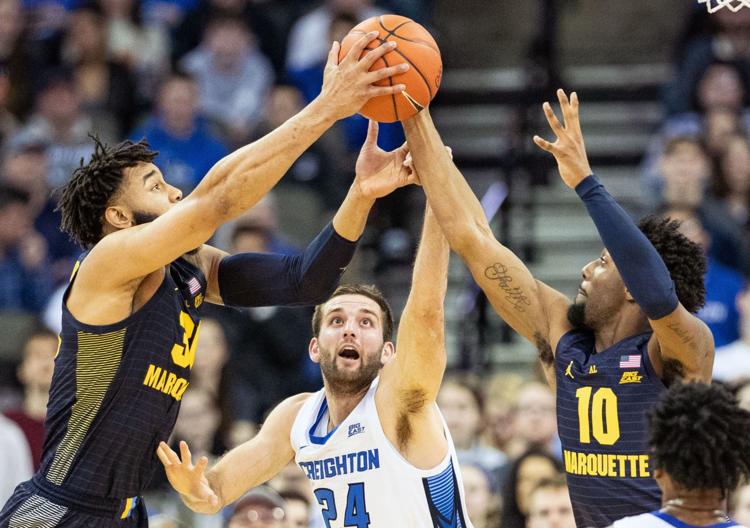 Ballock added: "It's definitely been a good element to add to the team. It's helped me to be more straightforward with guys. If I have a problem, I can say something or other guys can say something to me.
"Before, it might have been like, you're saying something under your breath to a teammate or guys are clashing for some reason. But then when you approach them and see where their head is at and see what they see, you figure out the situation before it escalates and eliminate mistakes.
"It helps you realize that everyone is different. It helps Mac as much as it helps us. Mac's not perfect, we're not perfect. But when we put it together, we're pretty good."
For a program like Creighton, trying to get to the next level, it can only help. In fact, McDermott might want to look at one more option.
Does Woodhead have any Division I basketball eligibility left?
---
Meet the 2019-20 Creighton men's basketball team