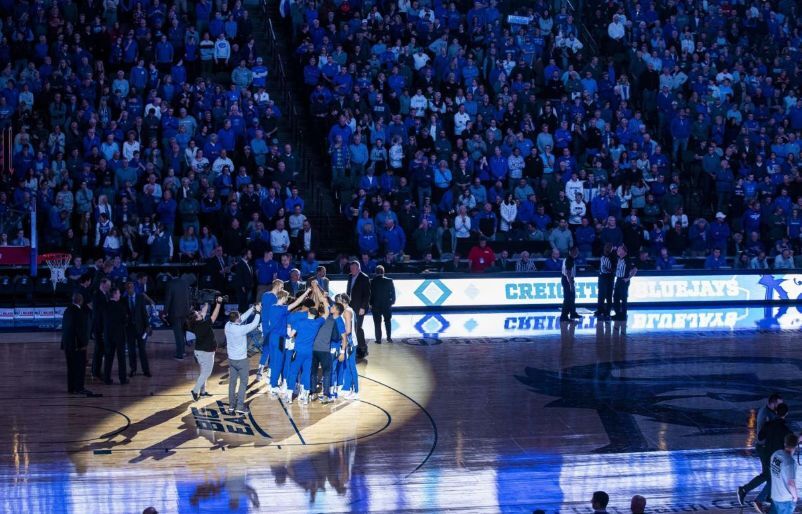 If college coaches were permitted to leave campus to evaluate recruits, you can bet at least one representative from Creighton's staff would have been sitting courtside at noon Saturday inside the Iowa West Field House.
That's where OSA Adidas 3SSB matched up against KC Run GMC for an AAU showdown.
Translation: Wings Hunter Sallis and Tucker DeVries suited up together for a game against wing Tamar Bates and a talent-filled roster. That's three of Creighton's top targets for the 2021 class on the court together — in a gym just across the bridge from the CU campus.
And on Saturday, those three again did not disappoint, especially late in the game.
Here's how the final two minutes went down:
Sallis and DeVries combined on a two-man action — DeVries posted up and fed a cutting Sallis, who scooped in a layup to give OSA (which trailed by 15 in the first half) a 68-66 lead.
Moments later, Bates had the response. He pulled up and banged in a 3-pointer to put KC ahead 69-68.
After an empty OSA possession, DeVries deflected a pass that led to a steal and two free throws for a teammate. OSA went back up by one.
But Bates answered again. His layup with about one minute remaining put KC in front for good at 71-70.
OSA did have one last chance. But DeVries missed a long 3-pointer at the buzzer. That could have forced overtime. Instead, 73-70 was the final.
Beyond the obvious (Sallis has an insane highlight reel; DeVries can really shoot; Bates scores at all three levels), here are a few observations about the trio:
Sallis: It's hard not to marvel at the athleticism. Everything is just so effortless with him. How he glides down the court on the break, or how he rises up to volleyball-spike a shot attempt into the stands, or how he sizes a guy up and bolts baseline for a layup. If you exhale for a second, Sallis makes you pay. And there's just so much room for him to grow.
DeVries: He has incredible basketball instincts. There was a play in the first half when a teammate fired up a long jumper and DeVries saw an open lane to the rim, so he raced around two opponents to the hoop, grabbed the offensive board and guided in a layup. He created a couple turnovers in the second half by alertly pressing up on guys who'd given up their dribbles. One defensive possession must be noted as well: DeVries twice stopped two drive attempts by Mark Mitchell and then denied post entry passes to the 2022 five-star prospect. DeVries is a well-rounded prospect.
Bates: He's supremely confident. First off, he guarded Sallis the whole game. He embraced that challenge. And on defense, Bates was the loudest one on the court, calling out switches and directing traffic. There was a two-possession sequence in the first half when Bates buried a 3-pointer and elevated for a one-handed dunk. A heckler from the bleachers had something to say as a celebrating Bates made his way back down the court. Bates looked right at the guy, nodded, and said: "Tamar Bates. Google me."
Creighton has been recruiting all three of those guys for a long time. They've each taken several visits to CU's campus. They each have traits and skills that would ensure they'd fit well within the Jays' system.
But lots of other teams are interested, too. So we'll see how the recruiting process plays out.
Creighton currently has one commit its 2021 class: point guard Ryan Nembhard.
Rounding up CU's recent 2021 offers
The coronavirus has torpedoed the traditional college hoops recruiting calendar. Coaches haven't been allowed to go on the road since the season ended.
Creighton coach Greg McDermott said he and his staff are prepping for the possibility they'll remain in a recruiting dead period through the November early signing period (and maybe even beyond that date).
"We talked to (2021 recruits) about preparing for the worst, in case you don't have an opportunity to visit," McDermott said. "Hopefully, things open up, we're able to get guys on campus, and we can get out and get some home visits and school visits."
But in the meantime, the Jays are still sending out scholarship offers and engaging with new targets.
Here are the still-available 2021 recruits who've recently announced a CU offer:
Guard C.J. Noland | 6-3, 215 | Waxahachie, Texas | 247Sports composite: No. 246 (Rivals: Not rated)
Wing Lucas Taylor | 6-6, 185 | Wake Forest, North Carolina | 247: No. 107 (Rivals: No. 128)
Mason Miller remains a name to watch
Mason is the son of former NBA star Mike Miller, who was previously serving as an assistant coach under Penny Hardaway at Memphis. The natural assumption was that Mason would ultimately end up signing with the Tigers (and his dad).
But this summer, Mike took the head coaching job at Houston High School in Memphis.
So what's next for Mason?
Mason has said that Indiana, Ohio State and Creighton were the three schools recruiting him the hardest this summer, according to multiple reports.
The Jays offered him a scholarship back in April 2019. They've been interested for a while. For good reason. Miller is a 6-foot-9 forward with a smooth jump shot and a high basketball IQ. He's ranked No. 60 on the 247Sports composite.
It's possible a decision will come soon.
Big recruiting summer for Big East
The Big East, as a whole, might just be putting together its most highly-regarded recruiting class since realignment.
The 11-team conference has combined to secure commitments from 12 four- and five-star prospects, according to the 247Sports ratings. That's the already the most in four years.
In the past two weeks alone, 11 different 2021 recruits have committed to Big East schools.
Consider that much of the success this league has enjoyed over the past several seasons has been a result of player development. Turning underrated recruits into superstars.
But now these Big East coaches have more talent to work with. Look out.
The conference's recent recruiting wins might also put just a little more pressure on Creighton's staff to ensure its 2021 class allows it to keep pace.
Rivals 2021 national team rankings: 2. Villanova (4 commits), 4. UConn (2), 12. DePaul (3), 22. Georgetown (3), 27. Marquette (2), 28. Seton Hall (2), 34. Butler (3), 41. Creighton (1), 59. Xavier (1), 61. St. John's (1)
247Sports 2021 national team rankings: 2. Villanova, 4. UConn, 14. DePaul, 17. Georgetown, 22. Butler, 23. Marquette, 24. Seton Hall, 47. Xavier, 51. Creighton
Photos: Creighton's NBA draft picks
Check out photos of every Creighton player ever selected in the NBA draft.
Omaha World-Herald: Local Sports
The latest sports headlines from Omaha.com.