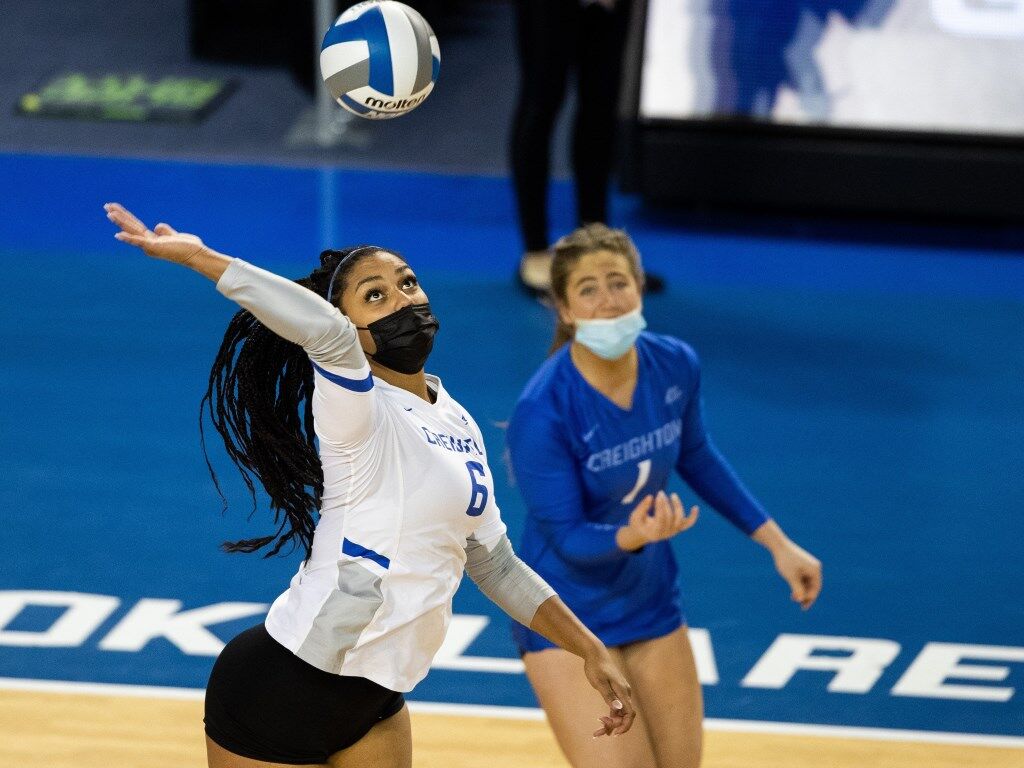 Creighton sophomore Keeley Davis raised her right arm and swung it down to her side as her elated teammates huddled around her to celebrate the set-sealing kill.
The Jays still had work to do right then.
But they made sure to enjoy the moment Friday — because their resolve, which has enabled them to navigate a disruption-filled season so far, made the difference during a second-set comeback win in their Big East tournament opener. Creighton ended the second set with a 9-2 run and ultimately earned a 25-20, 25-23, 25-18 sweep over UConn.
"We were very resilient," Davis said. "We're a type of team that never gives up, on any point. And once someone gets a kill or a block, we all get so excited. It's the momentum of it."
Plus, in this particular season, those sequences just seem to carry more significance.
CU's already experienced a COVID-19 pause during this reconfigured campaign. It's had cancelations and last-minute scheduling changes. The Bluejays spent much of the season's early weeks tinkering with roles as they tried to identify their best lineup.
But the postseason's here, and they're still getting the chance to play.
So they might as well have some fun with it, Davis said.
Perhaps that's why Creighton, trailing 21-16 in the second set, was able to put together arguably its best stretch of the day when it seemed like UConn had seized control.
Junior Jaela Zimmerman kept UConn (4-7) off balance and out of system with her serves. Junior Annika Welty finished off one of her 12 kills to trim the UConn lead to 22-20 and force a timeout.
Freshman middle blocker Kiara Reinhardt had a diving dig on a setter dump that led to a kill from Davis, who blasted a shot down the line to give her team its first lead of the set at 24-23. Davis' kill ended it on the next rally.
"We're just blessed to be able to play our game and make it all the way here," said Davis, the All-Big East outside hitter who had 12 kills Friday. "I think that's a big motivation part of it. It's super exciting to actually play volleyball."
Creighton (11-3) will need to bring that same enthusiasm into Saturday's championship match. The Jays will face Marquette at 11:30 a.m. at Sokol Arena. The game will be televised on FS1.
Creighton is presumably in the hunt for an at-large berth in the NCAA tournament, which will take place inside a controlled environment in Omaha this month. But the event will feature a trimmed-down field (from 64 to 48) — that will create a tense Selection Sunday experience for any squad without an automatic bid.
So the Jays don't want to take any chances. They have to treat Saturday's match like their season is on the line.
"We know that (Saturday) is our way into the NCAA tournament, and that's a different pressure than this team has felt in a long time," coach Kirsten Bernthal Booth said. "But they've handled pressure situations so I'm confident that they will show up and play a good match."
Creighton's won five Big East tournament titles since joining the league and it's qualified for eight consecutive NCAA tournaments.
---
Photos: Creighton vs. UConn