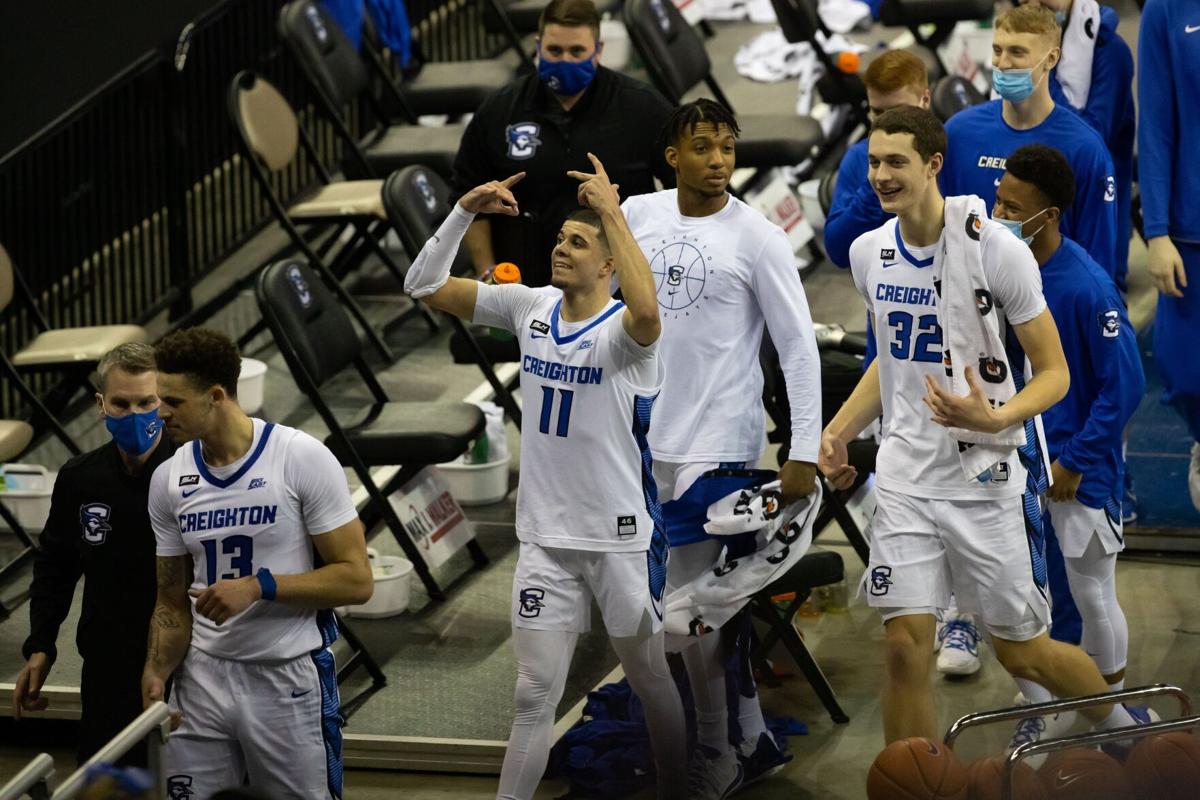 Mark it down. There was 2:50 left in the first half on Saturday when the play of the year happened for Creighton.
Except, well, it wasn't really a play.
Marcus Zegarowski had just drilled a 3-pointer that gave the Jays a 42-32 lead over Villanova at the CHI Health Center. As he settled back on the other end for defense, that's when Zegarowski flashed it.
Remember the kind of party Creighton put on the Wildcats on Saturday?
Remember that junior point guard, the one who played like the best player on the court, like a Big East player of the year?
Remember that Creighton team, the one that outclassed the 'Cats, beating them inside and out and forcing the Creighton style of basketball down their throats?
Yes, that same Jays team that entered this pandemic hoops season with the specific charge of making second-week history in the NCAA tournament.
That goal is still very much there. So, too, is the team.
They've been there all along, through the loss at Kansas with the missed free throws and chances at Allen Fieldhouse.
They were there for the forgettable losses and stumbles, the overtime game at Butler, the slow starts against Providence and Georgetown at home.
And that was most certainly them a couple of weeks ago, in that players-only meeting, baring their hoop souls to one another, because the weight of program expectations had let doubt enter the room and had pushed those smiles into frowns.
Their coach, Greg McDermott, tried to remind them they were 15-5. Tried to get them to smile.
But that wasn't what they needed.
What they needed was Villanova.
What do you give a veteran club that has already won a share of a Big East title? Not a grind of a season where everyone is out to get them.
And certainly not one in the middle of a pandemic.
You give them a challenge, something to put their competitive juices on boil. You give them the gift of being able to call themselves underdogs.
You bring them Jay Wright, Collin Gillespie and the perennial kings of the Big East.
This was the only team meeting that Creighton needed.
Goodness, what a day. The flashbacks came back in waves of white and blue.
The Jays took 'Nova's early haymakers, the baskets and offensive rebounds. Then they stuck to the game plan and landed their own.
Don't go for those shot fakes. Do go for the paint. Villanova is one team that CU can hurt inside, and so Christian Bishop spent the day flashing his junior year progress. The Jays won points in the paint, 36-20.
But the box score was anywhere Zegarowski was going. And that was everywhere. Again.
He led with a season-high 25 points, his most since 22 against Nebraska. He made a trio of 3-pointers, and suddenly it was contagious.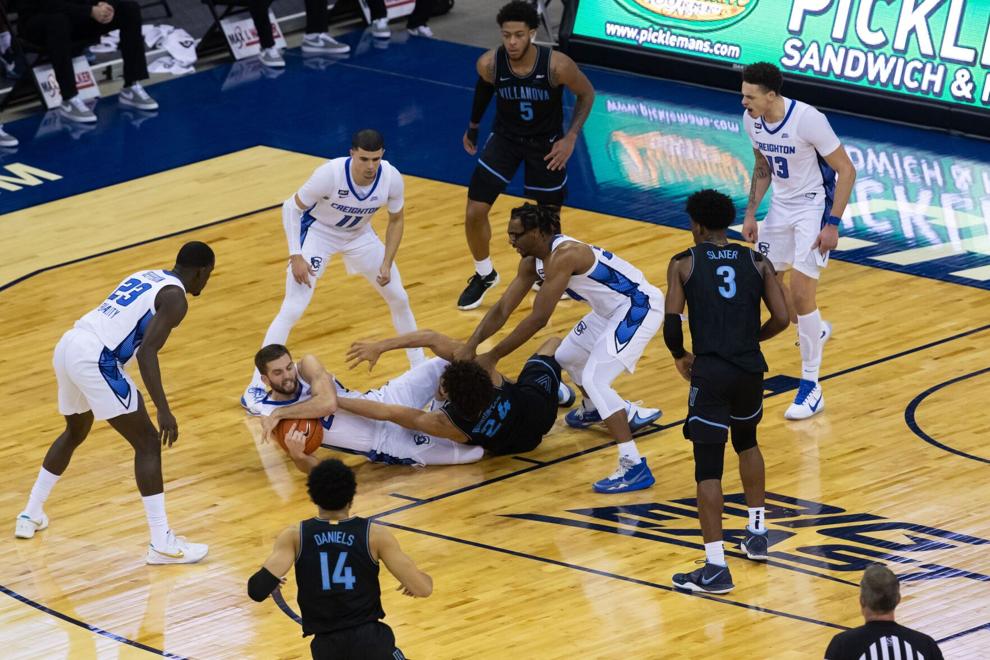 Mitch Ballock, the mad bomber, drilled 6 of 8 from way out, including one that can only be described as socially distant.
When the shot arched in from 30-plus feet, the 2,544 in the crowd either roared or laughed, and all Ballock could do was shrug.
Creighton has shown flashes of this, including a couple of fireworks shows against Seton Hall — another opponent that regularly gets CU's attention.
What we saw on Saturday was reminiscent of that Seton Hall game last March 7. The 2,544 made the loudest noises of this strangest of seasons.
It was the most normal anything has felt all season for Creighton.
And that was reason enough to smile.
"You gotta enjoy it," Zegarowski said. "We're really lucky we're playing right now. My twin brother's season just got canceled.
"When we play and are enjoying and smiling, that's when we are at our best. That's what you saw tonight."
Why can't it happen more? Hey, they're only human.
Returning a large core of a championship team brings no guarantees. Every year is different. Chemistry. Leadership. Everything.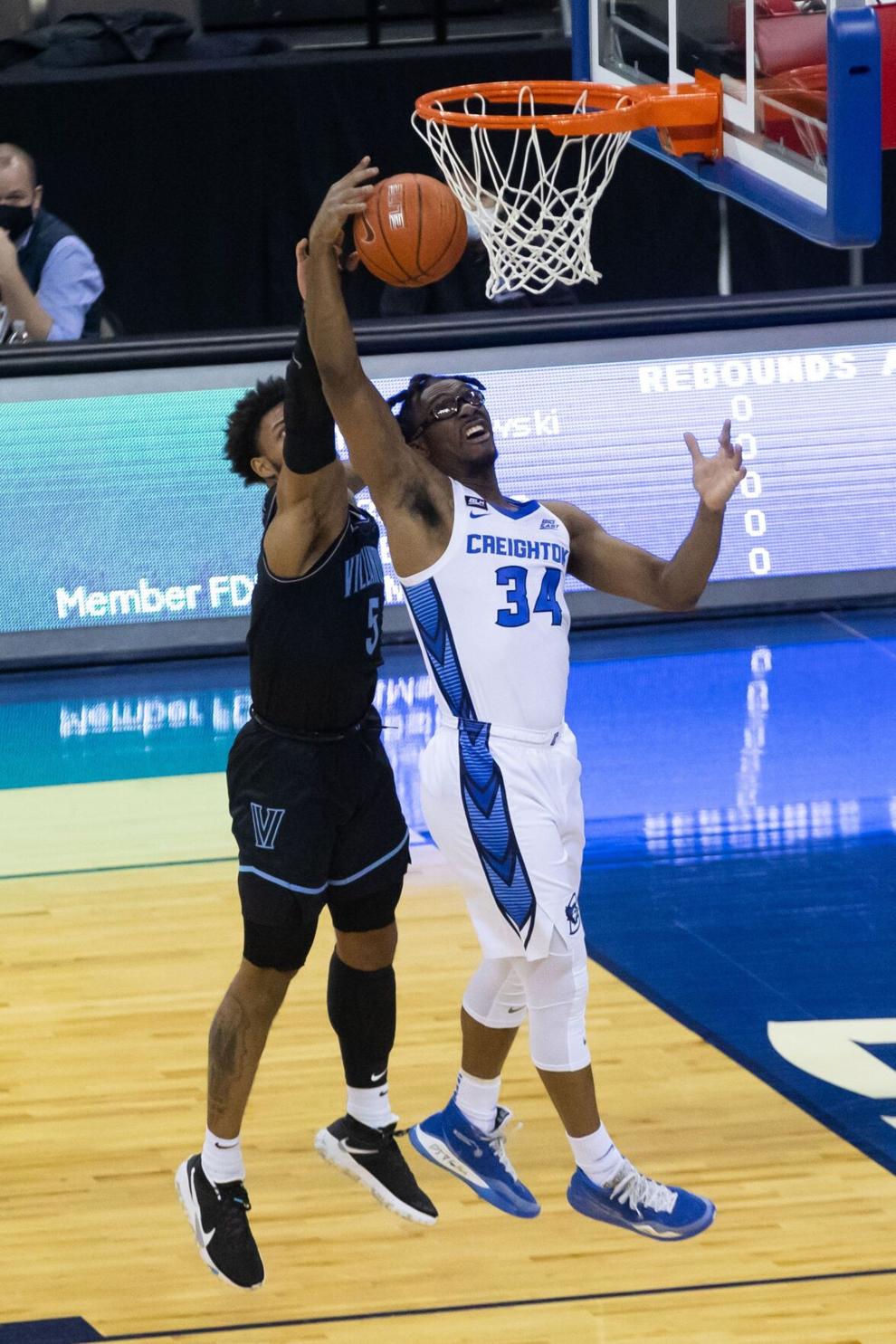 You lose Ty-Shon Alexander, the defensive stopper and a master of creating baskets. In steps Denzel Mahoney, who has found out just how tough Alexander's dual roles were.
Take the Big East preseason player of the year. Put Zegarowski through knee surgery last spring. He missed several weeks of practice in the fall with what McDermott called "issues" and then developed a hamstring problem.
He's just now getting the "pop" and "sea legs," according to Mac.
Now throw in all those Big East teams who know McDermott's pace and want it more and you have a Jays season that becomes a grind.
Villanova understands that. The sharp-dressed man runs a machine.
The Jays got a lesson in how that works this season. But the Creighton machine showed up on Saturday.
"I'm really proud of the guys," McDermott said. "We've been the hunted for a month, probably been the favorite in every game. We've been ranked, so everybody has a little motivation in a year where it's kind of tough to find motivation to play us.
"Today we got to play a top-five team in the country. It gave us a little more juice."
The timing couldn't have been better.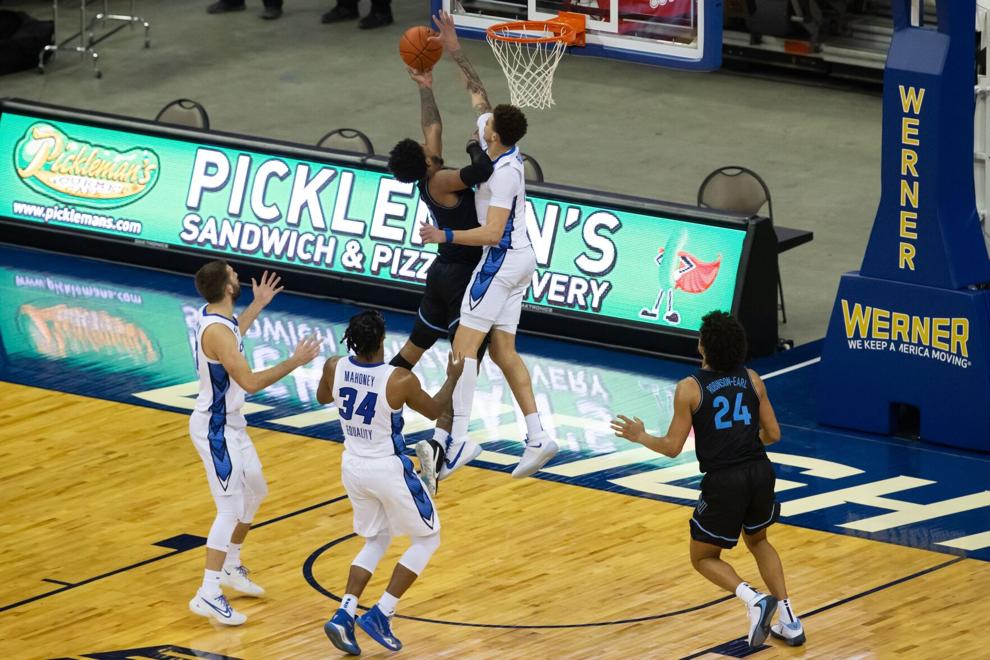 The Jays' win was the main hoop event on Fox. And it came hours after the NCAA Division I Basketball Committee released its early top 16 teams.
None of whom were named Creighton.
There's no telling where the Jays will land. Various online brackets projected them from a No. 5 seed to a No. 8. But that was before Saturday.
CU's KenPom ranking was at 15 following the 16-point win over 'Nova, and last week's NCAA NET rating (29) is sure to elevate.
But Saturday's reminder is a lot more meaningful than any data point or projection. It was real.
It was much needed. Not just for the nation to see. For Creighton to see.
McDermott has kept a close eye on his players through these isolated times. His veteran team loves its interaction with fans and students. That's been missing.
Well, except for hearing about the concerns for Zegarowski and Ballock's consistency and the lack of defense and urgency and so forth. Social media cut through a pandemic.
McDermott could see the boulder resting on his team. They set a standard last season. They're expected to meet it.
And, let's be honest: This season is about going deep in the NCAA tourney — which will be its own unusual challenge this season.
That's why a team that was 15-5 and second place in the Big East has a team meeting.
"Certainly there's pressure because there's a level of expectation in the program," McDermott said last Thursday. "So I think they feel bad."
There should be only good vibes now. And now the Jays have 10 days before the next game, allowing time to chill and work on things before the stretch run.
They know what's at stake. But it was the other reminders on Saturday that will serve them well.
That was Creighton's best game of the season. And it came with the muscle memory of that team that was supposed to go far last March, the team with all the high hopes of this season.
The Jays reminded the rest of the country that, no matter where the NCAA seeds them, they just whacked a 'Nova team projected as a No. 2 seed. Imagine what they might do to teams that don't play them or know their style or Ballock's range.
They need to work on bringing this "A game" when they are favored, too. But a good sign for March is that this team is inspired by an important moment and big game.
They have a Feb. 13 reference point now, and with it comes the most important lesson you can have playing in a pandemic with expectations.
---
No. 5 Villanova travels to No. 19 Creighton