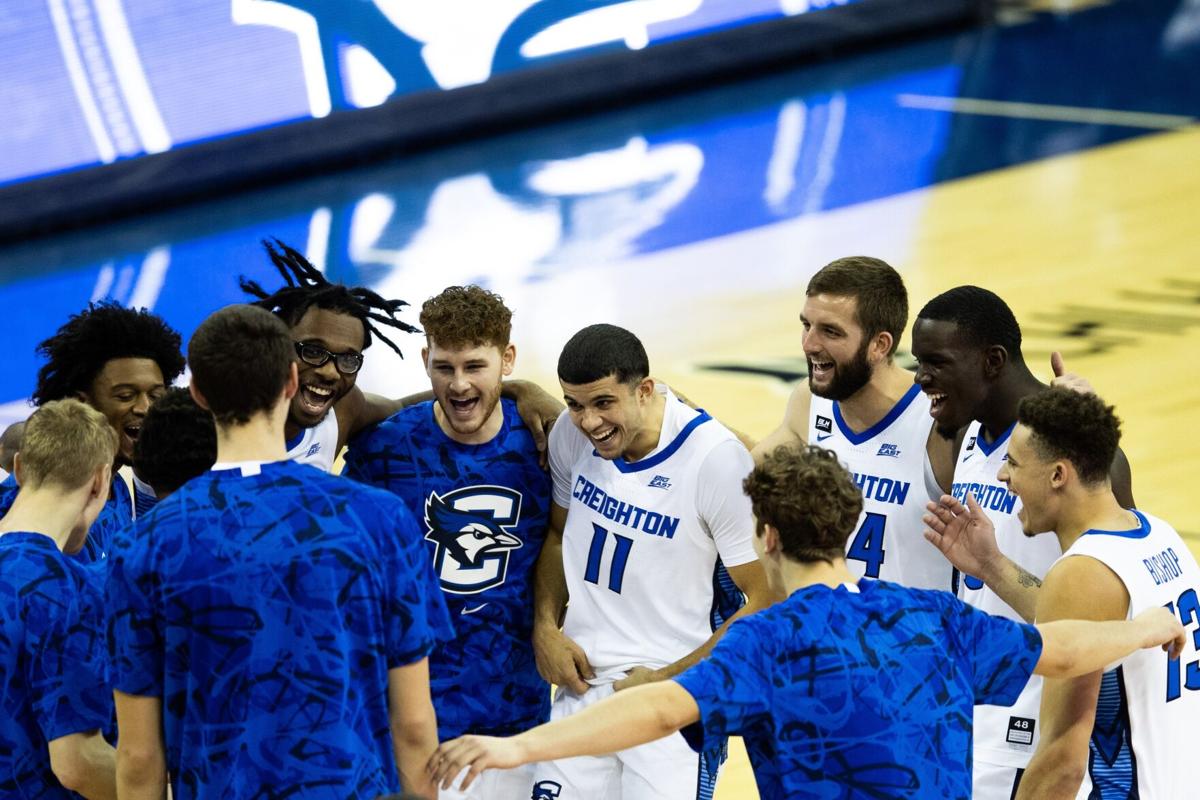 They had just taken care of Xavier on Dec. 23. And now the Creighton men's basketball team gathered in their team room to open presents.
Christmas morning, two days early.
A Big East celebration? A little late.
The Jays each opened a box and pulled out shiny silver and blue, diamond-filled Big East championship rings.
The understated ceremony wasn't in front of a sold-out CHI Health Center, with each player walking to midcourt to accept his ring to thunderous cheers.
It wasn't what it could have been, but in this upside down year, what is?
"It was almost like a Christmas present," CU coach Greg McDermott said. "It was a nice send-off before they went home and shared it with their family.
"We have a lot of great memories of what transpired last year. We never got an opportunity to celebrate. No banquets. No coming back to campus wearing Big East championship T-shirts or caps.
"To kind of reflect and go back and celebrate what happened last year was pretty cool for them."
Rings are cool. But the Jays don't need reminders that they were co-champs just last March.
The reminders come every time they walk onto a Big East court.
It comes in the little extra effort from opponents. The new looks in guarding Marcus Zegarowski. The added attention given Mitch Ballock, making him work all the way out to his downtown shot locations.
Heavy is the crown. And the ring.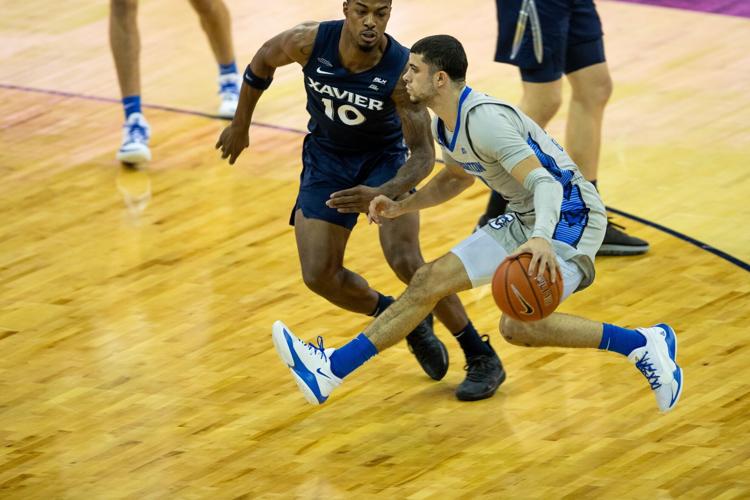 You saw it right out of the gate, when Marquette won on CU's court in the Big East opener. The Golden Eagles were on fire. The Jays blinked.
They've won four straight since, but the last three have come with margins of victory of two, five and two. The Jays won at Providence on a last-second fast-break dunk by Christian Bishop.
As cool as that looked, it will put gray hairs on the top of McDermott's noggin.
The season after a championship is an obstacle course. Especially for a team with the majority of players back.
Especially for a team aiming to make school history in the NCAA tourney. Can we hurry up and get there already?
The expectation is that everything is supposed to be smooth, everything is supposed to come easy. And when it doesn't, you wonder what's wrong.
But now here comes the 2020-21 season, and expectations are all upside down. Or gone for the winter.
How can you keep track of a Big East hoops race when nearly half of the teams have hit pause because of COVID-19?
Tonight, Creighton (4-1) plays Seton Hall (5-1) for second place behind Villanova (3-0).
Meanwhile, the Wildcats have hit their second pause of the season and will miss their next three games.
There have been pauses from 'Nova to UConn to Seton Hall to Xavier and DePaul. And there are bound to be more.
What kind of Big East race is this going to be?
Will there even be a Big East tournament this year? Hard to imagine missing another one, right? But would you really bring all of the league teams to New York City at this point?
Now, about the NCAA stuff, the things that all good Bluejays would have one eye focused on during the season.
CU was ranked 30th in the initial NCAA NET rankings earlier this week. A bit low for a team ranked seventh in the Associated Press poll.
But with minimal nonconference résumés this year, and so many pauses around the country, what will the NET mean?
Bracketology? Joe Lunardi might as well take a winter trip. I'd suggest Maui.
The NCAA tournament figures to look a little like the NBA postseason bubble tournament. It will be about whomever handles the month in Indiana best, and who stays healthy.
In other words, stuff you can't worry about until you get there. If you get there.
"I don't think there's any question we're getting everybody's best shot," McDermott said. "I think that's what has transpired to this point."
But then Mac brought up the reason not to worry about it.
"This year, unlike any other, you really take things one day at a time," he said.
"It's coach speak, but this year, if you don't take care of today, off the floor, make good decisions, there may not be a tomorrow. You may not get to play this week.
"So we've taken a one-day-at-a-time approach. Let's make sure we get on the floor and get better today and get ready for the next game. And hope that we and our opponent will be available to play."
Lo and behold, this upside-down year might be the Jays' friend.
Having to focus on one game, and whether there will be a next game, puts a lot of potential distractions on the side.
What they're missing is the chance to defend their co-title on their home court in front of their fans, many in Big East champions gear.
And the beauty of going on the road in front of packed houses that are a little more raucous, a little more animated because the Jays won that share.
If you're a competitor, that's what you live for. That's why you want to win the league. For that respect.
The Jays will have to settle for getting it from opponents who work a little harder when Creighton comes around.
"It's definitely difficult to win, first of all," said Ballock. "To repeat is more difficult. When you start having that target on your back, you have to be better.
"We've been dodging some bullets and we have to fix those things up and move on to put away teams the way we have in the past. We don't think too much of it. As long as get that W."
Winning ugly, or different, isn't a bad thing. The opponents' best shot has helped the Jays expand.
Last season the Jays often overwhelmed teams with bursts of tempo, shooting and speed. This year, when that hasn't been the case they've won on defense, toughness and finding ways to win.
Damien Jefferson has stepped into a starring role and taken on an MVP quality. Denzel Mahoney has become a defensive stopper.
Antwann Jones and Ryan Kalkbrenner have added a size dimension to the mix, though that will be tested Wednesday by Seton Hall's considerable front line.
Then there's Zegarowski, the Big East preseason player of the year based on last season. This season? Z-Man has had his ups and downs, coming back from knee surgery last spring. Expectations and attention from opposing defenders are definitely up.
Would Zegarowski be putting extra pressure on himself? Could be. But he doesn't need to be player of the year for his team to win. He just needs to be himself.
If the Jays need a reminder of what that means, they can look on their ring finger.
"It was really cool," Ballock said. "Now that you have a taste of it, you just want more of it."
---
Meet the 2020-21 Creighton men's basketball team