Ryan Kalkbrenner is not going to claim that he's a next-level hoops savant, able to see the game in a different way than his peers and thus dominate play in the lane.
Really, he's not thinking much at all out there.
It seems that has been the key to his breakout sophomore season, when the 7-foot-1 center has emerged as the centerpiece to Creighton's defense and a go-to scorer for its offense. He's surging in confidence. Because he's trusting his instincts.
"When you're playing fun and relaxed, everything comes more natural," Kalkbrenner said. "You're not thinking about it as much. You just do things because you're playing the game."
Like, contorting your body around a screener and using your 7-4 wingspan to block a perimeter jump shot. Or identifying the right angle to cut off a quicker guard who's trying to beat you off the dribble. Or not falling for pump fakes — avoiding fouling all together. Or finding the right spots under the hoop to grab offensive boards. Or spinning off a defender in the post and dunking on his head.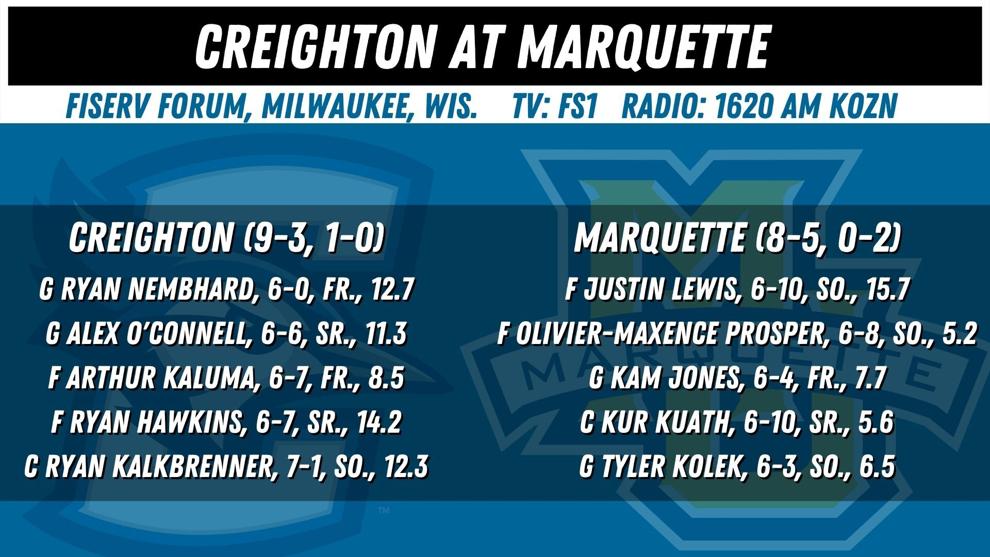 To Kalkbrenner, it's simple stuff. The basics of the game that he has practiced for years.
The fundamentals have been so effectively drilled into Kalkbrenner's mind that even he doesn't realize his in-the-moment decisions stand out as high-IQ plays.
Especially considering his age (19). And considering he's an old-school big man, who's not beating you with pick-and-pop jumpers or pure speed.
It's length. It's positioning. It's strength. And it's smarts.
"He's just so intelligent," Creighton coach Greg McDermott said.
Said Villanova's Jay Wright: "He's a smart player."
Said BYU's Mark Pope: "He's a load down there."
Opponents will have to adjust to the improved Kalkbrenner, but the Big East is so competitive that it has a tendency to expose flaws in even the league's best players.
So Kalkbrenner will have tweaks to make.
But to this point, he's been an elite game-changer at center in his first full-time run at this level. Here's how he has made his impact:
» He's second in Division I in field goal percentage at 72.6%. Pope mentioned after his ranked-BYU team lost to Creighton on Dec. 11 that Kalkbrenner was statistically one of the nation's most efficient post-up scorers. The top 99 percentile, Pope said.
» Kalkbrenner's second in the Big East (and 22nd nationally) in blocked shots per game (2.8). But that number doesn't account for all the close-range shots he alters or prevents altogether. Wright said after his team lost to CU on Dec. 17 that Kalkbrenner's presence down the stretch shut off the rim and forced the Wildcats to try 3-pointers (they missed 15 of their final 16 shots).
» Kalkbrenner's agility and versatility has allowed Creighton to utilize multiple defensive tactics against pick-and-roll actions. The Jays have switched all screens. They've hedged hard. They've dropped their big men into the paint and dared teams to shoot lower-percentage mid-range jumpers. The varying strategies are largely why CU is 14th nationally in opponent 2-point field goal percentage (42.4%), according to Ken Pomeroy's numbers.
» Kalkbrenner has the 17th-best individual offensive rebounding rate in Division I, according to Pomeroy. On the 38 possessions that Kalkbrenner secured an offensive rebound, Creighton has 48 second-chance points.
There's plenty of other ways Kalkbrenner has helped Creighton, too. McDermott said Kalkbrenner communicates better and he runs the floor more consistently. He has built more stamina so he can play for longer stretches.
In seemingly every area, Kalkbrenner has improved. And he's only scratching the surface, McDermott said.
"You hope that a guy makes a jump from his freshman to sophomore year," McDermott said. "He certainly has."