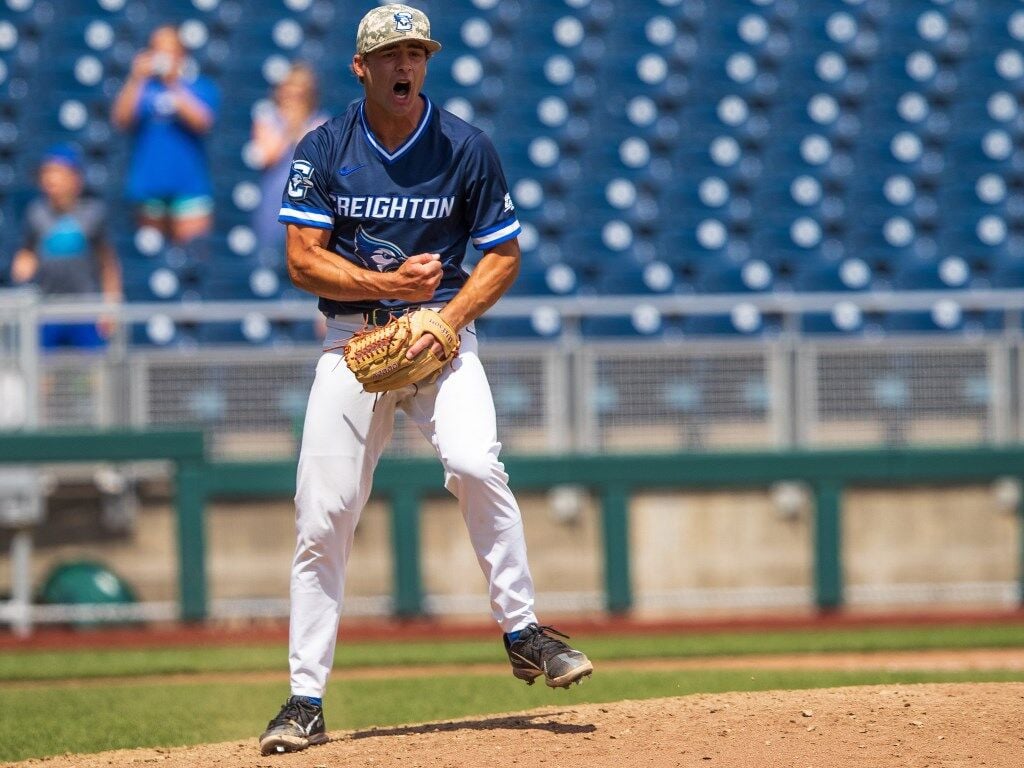 Creighton closer John Sakowski fired a fastball that missed the bat of Xavier's hard-swinging leadoff man and smacked into the catcher's glove to finish Saturday's win with a strikeout.
Recent Creighton graduate Ryan Wolak can tell you everything you need to know about that final pitch.
Wolak knows Sakowski's fastball clocked 89.2 mph. And it took the ball .416 seconds to get from the closer's right hand to the hitting zone. And when it reached its target, the ball was 4 feet, 2 inches off the ground (maybe just above the zone) — but the pitch looked enticing to Luke Franzoni because it flew by 4 inches off the center of the plate.
Wolak has the numbers on that pitch's revolutions per minute and the tilt of the ball's axis as it spun. And more.
Wolak could relay info about the 266 other pitches in Saturday's 3-2 CU win, and the hitters' swings, too.
It's been his job all season — to lead a group of 13 Creighton students as they track spin rates and launch angles and study stats and trends, reporting their findings to the baseball squad.
The analytics wave that's overtaken the sport's pro ranks has officially filtered into CU's program. Creighton's Student Baseball Analytics Team is making an impact for the Jays.
"It's very cool to watch a game play out and know that you have stakes," Wolak said. "We're a part of the team — the coaches always say that. So it is really satisfying to contribute and then see success on the field.
"You don't know how much you're contributing to it, of course. But it's a lot of fun."
It started after Wolak, a lifelong baseball fan who grew up in the Chicago suburbs, went to a Bluejay game two years ago and wondered if his data-science skills could be useful.
He met with pitching coach Eric Wordekemper. They enlisted the help of professors from the Heider College of Business. The word got out. Soon they had an analytics team.
This season, the group met for a couple of hours each week inside a classroom to build scouting reports. They were together on game days to assess the data outputs from the stadium's TrackMan system, which uses radar to track countless measurements.
"For us, it's another tool in our tool belt," Wordekemper said. "(Analytics) can be very beneficial. It's just about figuring out, how do you work with it appropriately?"
If you're checking the iPad after every pitch, trying to celebrate your high spin rate, well maybe that's too excessive, Wordekemper said. Same goes for a hitter obsessing over how hard he hit a ball.
Wordekemper said the goal is to use the numbers to help diagnose a problem and work toward a solution.
"I think it can help the kids figure out what type of player they are," Wordekemper said. "They're getting to their peak performance level faster."
Anything to help Creighton gain an advantage.
This program's success under coach Ed Servais has always been rooted in its ability to help players maximize their talent — and the Jays appear to be on an upward trend.
They had six players off their 2019 NCAA regional team selected in the subsequent major league draft. CU will compete for a second-straight NCAA tournament bid at the Big East tournament beginning Thursday in Mason, Ohio.
Wolak won't be on hand this week, though. He graduated with a new job lined up.
But he hopes the student-led analytics team can continue to build off what it has established. They've increased their presence on Twitter (@CreightonBAT). A website is next. Maybe they can even work this extracurricular activity into the curriculum someday.
Analytics do have some limitations, but it's part of the sport now. And CU's embracing that.
"I think sometimes there's a misunderstanding of analytics," Wolak said. "It's really not trying to find things that are new in the game. It's trying to understand things that people who've been around the game for decades probably have already figured out. But you don't have to play as much of a guessing game."