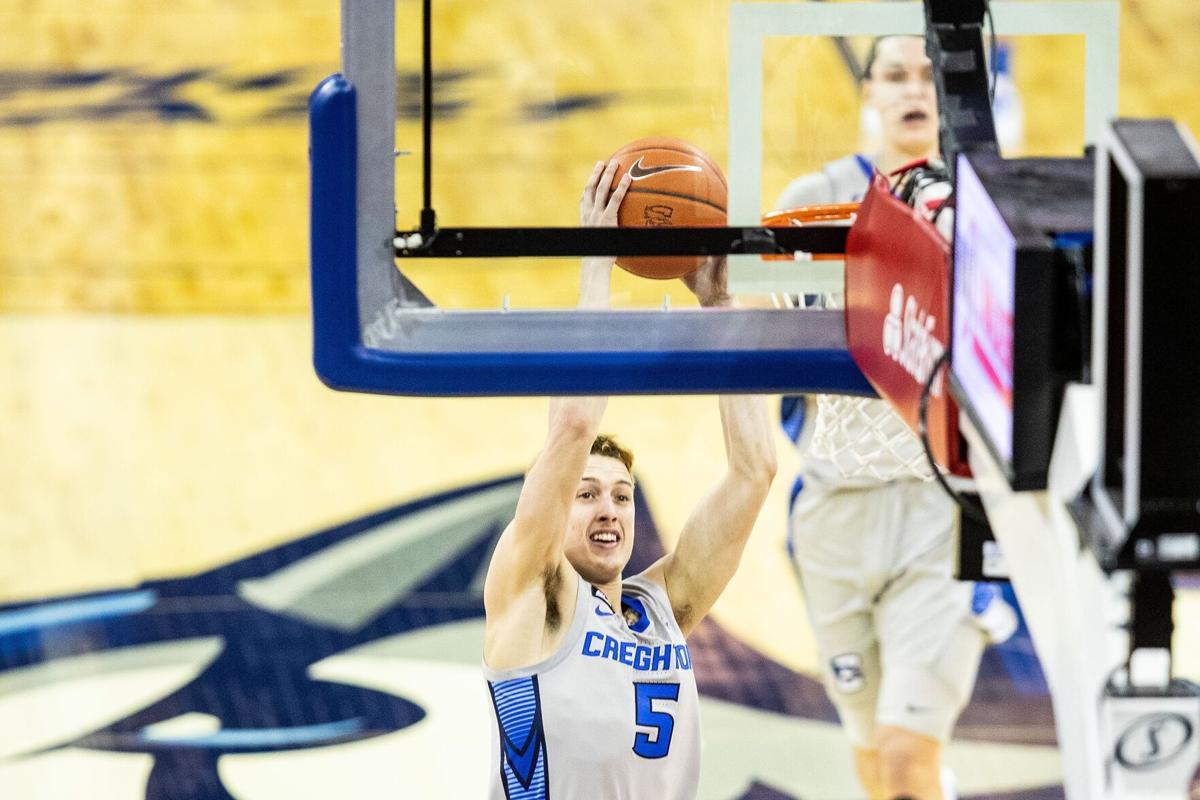 The Big East preseason player of the year wasn't available to run the show for No. 7 Creighton on Saturday, but the Jays did not deviate from their collaborative and balanced approach during a blowout win over St. John's.
Yet CU's skilled group of playmakers still combined to clinically slice up the Johnnies' defense, using crisp ball movement, good spacing and clever cuts to build a double-digit lead and clinch a 97-79 victory.
The Jays (10-2, 6-1) had six players finish in double figures, and one more with nine points. Eight Creighton players recorded two or more assists. CU made 16 3-pointers, guided in 11 layups and rattled the rim with six dunks — shooting 54.4% from the floor and eclipsing the 90-point mark for the fifth time this season.
"I just thought the ball movement was terrific," coach Greg McDermott said. "That's how our offense is designed. That's what our culture's about."
There have been games this season when everything hasn't been clicking. When the shots weren't falling consistently.
But the formula's never changed.
Everyone's a threat. Nothing's forced. Each possession seems to contain a perfect blend of improv and artistry until a high-percentage shot is created — it's like a group of seasoned comedy actors reacting together as they work their way to the hilarious punchline.
And the Jays, who won their sixth-straight game, were all smiles Saturday.
Especially during one brilliant stretch of play in the first half.
Senior Mitch Ballock's 28-footer broke a 15-15 tie at the 14-minute mark. He delivered a perfect bounce pass on the break for a Damien Jefferson layup. Ballock hit another 3-pointer a couple possessions later, too. Senior transfer Alex O'Connell, who finished with 16 points, knocked down three triples during CU's decisive surge.
By the time sophomore Shereef Mitchell had secured a steal and raced down for a fast-break layup, the Jays held a 40-25 advantage with 7:38 left before the break. They'd scored 25 points during a 13-possession span.
"(That run) maybe was some of the most unselfish, best offensive basketball that I've seen in a long time," McDermott said. "That's encouraging to see, especially with Marcus out. Shereef going into the lineup, it's like we didn't miss a beat."
Mitchell said he didn't know he'd be starting for the third time in his career until McDermott told him Saturday morning.
The Omaha Burke product wanted simply to play his game. Don't overthink it. Mitchell said his teammates, especially Zegarowski, offered helpful words of encouragement in the moments leading up to tipoff.
Then Mitchell buried a wide open 3-pointer on the game's first possession. He finished with 10 points and three assists.
It was an exhibition of the areas where Mitchell improved during a productive offseason. He's a better shooter (5 of 12 from 3-point range this year) and he's progressed as a set-up man (21 assists, eight turnovers).
"It's just me being comfortable out there, finding the right shots, the open shots," Mitchell said. "Even creating for my teammates. That's something I want to do, and see my guys score."
Whether he's in the starting lineup again remains to be seen.
Mitchell did roll an ankle at the end of the game but he said he'll be fine. And McDermott said Zegarowski will benefit from a few extra days off this week — the Jays don't play again until Saturday at Butler.
Whatever role is needed, Mitchell said he'll be ready to adjust. As will the rest of the team. That was evident against St. John's (6-6, 1-5).
The Jays had Ballock running the point at times Saturday. They utilized lineups they hadn't worked on in practice, McDermott said. Sophomore Jett Canfield earned meaningful playing time (a season-high nine minutes) for the first time this season.
And when the Red Storm tried to inch its way back into the game — trimming a 22-point deficit to 87-76 with four minutes left — CU put the ball in the hands of senior Denzel Mahoney, whose back-to-back jump shots closed out the win.
"Sometimes guys get hurt and somebody's got to be ready to step up," McDermott said.
---
Creighton vs. St. John's