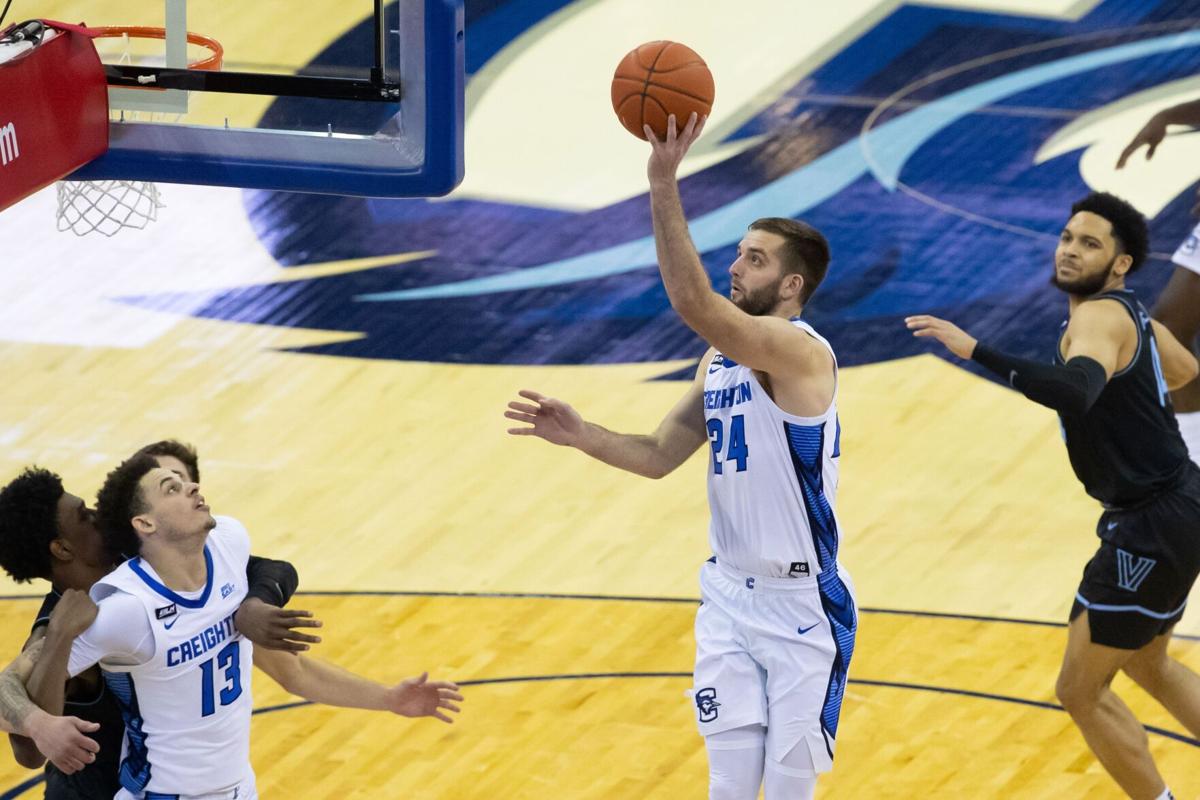 Saturday's win was arguably Creighton's best all-around performance of the season, and it came against the most talented opponent it has faced.
Yet Creighton's point guard was thinking afterward about how his team can get better.
Marcus Zegarowski isn't ready to exhale.
Even within this stretch, in which the Bluejays will go 10 days between games.
They'll need to take some time off to rest and recharge. Seemingly every player has a sore foot from a recently turned ankle or another bruised body part from an incidental collision or some other ailment resulting from four straight weeks of bruising Big East ball. But there's room for improvement in their game.
"I'm really happy with where we're at, and the key right now is to keep building, keep growing," he said. "This next 11-day stretch is going to be really important for us to get better as a group. We've got to work on some things and get ready for DePaul."
The initial plan is to practice three times this week, and to focus on themselves in each of those settings.
They haven't had a session like that since Jan. 12 — and that day their top two point guards weren't healthy enough to suit up. Every other practice has been primarily constructed around getting the team acquainted with the next game's plan.
But now No. 19 Creighton can self-assess a little more, devote some time to drills and address a few flaws.
"We have an opportunity to hopefully make a little bit of progress," CU coach Greg McDermott said. "Tweak some things. Grow in maybe areas of weakness where we're not as consistent maybe as we once were. We'll have a chance to do that."
It'll be especially important for the reserves, an inexperienced group that hasn't really had time to celebrate or address the individual highs and lows of the season.
Senior grad transfer Alex O'Connell can continue to get comfortable in the defensive scheme. Sophomore transfer Antwann Jones can experiment with his playmaking tactics. Sophomore Shereef Mitchell can boost his confidence as a scorer. Freshman Ryan Kalkbrenner can explore ways to counter some of the ways opponents have tried to limit his production.
And that's just the start.
"We're going to take advantage of this time," McDermott said.
But the biggest challenge with a break like this will become apparent next week, when the Jays have to ramp back up for competition.
Their next opponent, DePaul, will play at Seton Hall on Wednesday and at St. John's on Saturday before traveling to Omaha on Feb. 24.
CU doesn't want any rust in the meantime, particularly after what it showed Saturday. The Jays blew out a top-10 team, holding Villanova to 37.5% shooting while erupting for 86 points.
But they weren't perfect against the Wildcats — whether you look at the early game rebounding numbers, or the miniscoring drought at the end of the first half or the occasional missed assignments. So players should be motivated to continue the chase.
"I still think we have another gear to get to. I think we have a lot to improve on," Zegarowski said. "It's good to know that. We're still not scratching the surface of what we can be, on both ends of the floor."
---
Photos: No. 5 Villanova travels to No. 19 Creighton