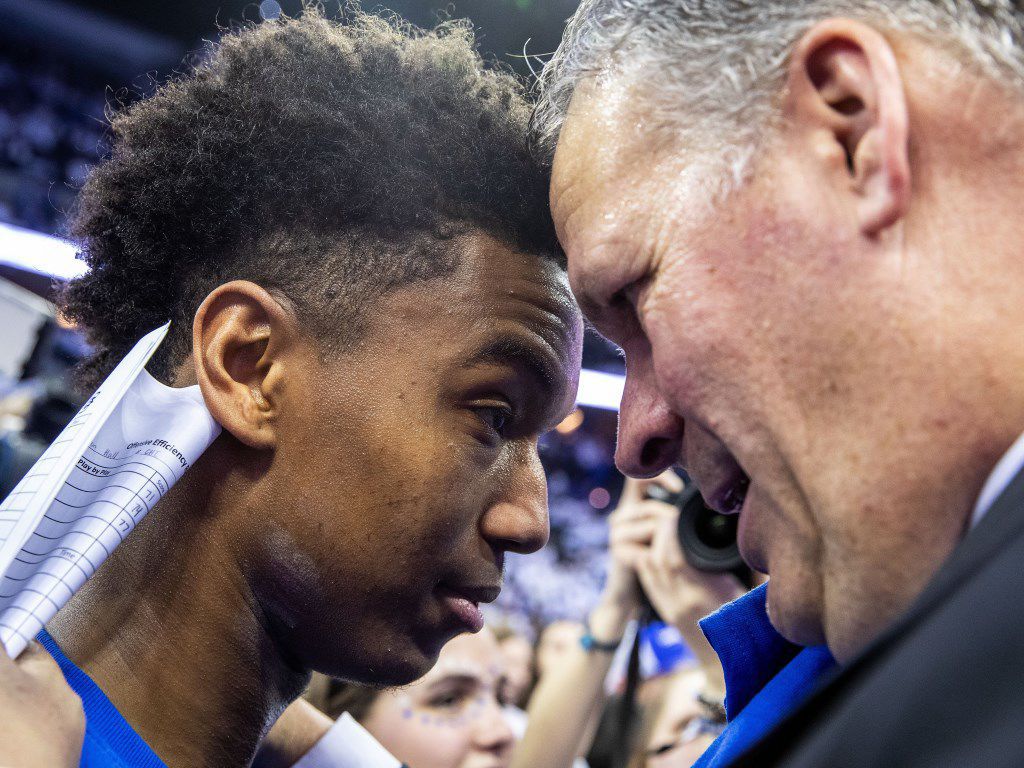 Creighton coach Greg McDermott said Wednesday that Ty-Shon Alexander will have as much time as he needs to decide between turning pro or returning to school.
Alexander announced Friday that he declared for the NBA draft.
There is a June 3 withdrawal date for early entrants, but that NCAA-mandated deadline could be moved back given the impact of the coronavirus pandemic on the predraft process. The NBA is reportedly considering postponing its June draft to August.
McDermott said he doesn't care how long it takes Alexander to figure out his next move.
"We'll hold a spot for him," McDermott said during a Zoom call with reporters.
One of the key aspects of Alexander's decision-making process will be influenced by feedback from agents.
NCAA rules allow college players to temporarily hire certified agents to guide them through predraft events and to cover related expenses. But according to multiple reports, the majority of top NBA agents did not complete the NCAA's certification process.
McDermott said Wednesday that he has even advised Alexander to communicate mostly with the noncertified agents.
"He could choose an agent and not sign, and continue to go through the process and maintain his eligibility — which I have recommended that he do," McDermott said.
Alexander said last Friday that his goal over the next few weeks will be to find out more about how teams are evaluating his pro potential. And while the first-team All-Big East pick said that he was leaning toward the pros, he indicated that he hasn't made up his mind.
McDermott said he doesn't want to rush Alexander, even if the uncertainty may impact Creighton's recruiting pitches to high school prospects or transfers.
"We'll continue to explain Ty-Shon's decision to the people we're recruiting as best we can, and then we go from there," McDermott said.
The Bluejays did announce Wednesday that transfer Alex O'Connell signed and that they'd officially added walk-on guard Sami Osmani. They still have two open scholarships, though.
Kerwin Walton, a 2020 four-star prospect from Hopkins, Minnesota, plans to announce his college choice April 25. Creighton is one of his six finalists.
Here's some other notes from McDermott:
» McDermott said there may be more Creighton players who declare for the NBA draft before the April 26 deadline, though he didn't mention any names Wednesday.
He said he'd prefer to let those players make their own announcements if they decide to test the NBA draft waters.
McDermott said there were multiple Jays who sought feedback from the NBA's undergraduate draft advisory board. Last year, half of the 175 nonseniors who declared for the draft in April returned to college.
"Whether guys are going to declare for the draft, everybody has that option — there's certainly no penalty," McDermott said. "There's a possibility that a couple guys may do that."
» O'Connell, who officially signed with Creighton on Wednesday, is a perfect fit, McDermott said.
O'Connell intends to redshirt next year — the CU staff sold its developmental plan to the 6-foot-6 guard, McDermott said. Just having O'Connell in practice will make the program better, McDermott said.
And once O'Connell becomes eligible for his final collegiate season in 2021-22, McDermott indicated that he'll have no issue finding a role with the Bluejays.
"I think he has the versatility to play a couple different positions," McDermott said. "I think he can take the ball off the rim and lead the fastbreak. I think we can certainly use him in ball screens. He's going to be able to space the floor, come off screens and shoot the basketball for us. It's a great fit all the way around."
O'Connell, a former top-100 recruit, averaged 5.2 points per game at Duke last year. He was a career 36% 3-point shooter with the Blue Devils.
» Two guards, Davion Mintz and Jalen Windham, transferred to different schools. CU has had four scholarship players transfer in the past four years. It's also had four players leave early to start their pro careers during that span, and there may be more after this offseason.
Creighton's had less attrition than most programs, McDermott said. But he added that player movement is part of this new age of college basketball.
He said the Jays will continue to build their program around the development of high school players. Then they'll use the transfer market to fill voids in the roster.
"You have to be really careful about bringing guys in on top of someone that's been committed to your program and that has developed," McDermott said. "I think they have a right to have that opportunity, that position."
Photos: Leading scorers for Creighton men's basketball since 2000
Who has paced the Creighton offense over the last several years? Find out in our gallery of the Jays' top scorers since 2000. 
Be the first to know
Get local news delivered to your inbox!