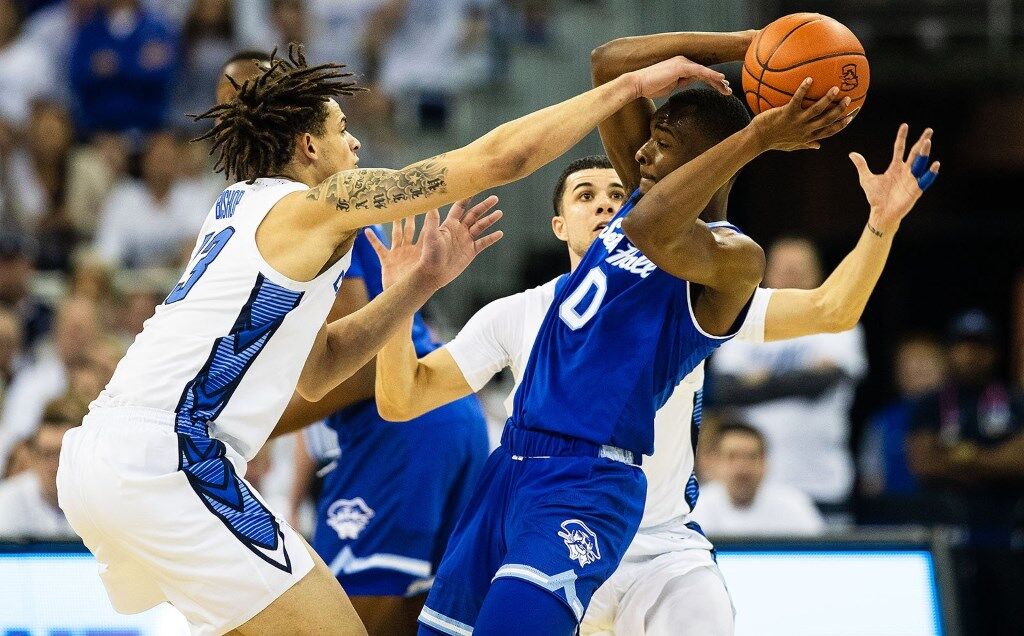 The last time Creighton and Seton Hall played a game that wasn't decided in the final moments, Mitch Ballock was just getting introduced to Big East ball.
The Jays beat the Pirates with relative ease, 80-63, in January 2018 at the CHI Health Center. Ballock, a freshman, scored four points in 17 minutes off the bench that day.
These two programs have combined to produce four hard-fought nail-biters, where the intensity has pulsated with seemingly every made shot. They've posterized each other with dunks and jumpers. The coaching staffs have dueled with their innovative play designs and sharp defensive schemes.
The players involved haven't missed many chances to trade verbal jabs with each other, freely trash-talking during game action. Damien Jefferson and Sandro Mamukelashvili ended up face-to-face at the end of last year's regular-season finale.
Both sides have made sure to relish the good moments, too — whether it was Myles Powell skipping across Creighton's floor after a game-winner two years ago, or the Jays welcoming a court-storming before cutting down the nets in March.
And Ballock has played an integral role for the Jays through all of this.
"Creighton-Seton Hall games are really fun, and you never know what you're going to get," Ballock said. "It's going to come down the wire."
The last four games have.
Two years ago, Powell's driving bucket with 1:16 remaining put the Pirates ahead for good in a 63-58 home win over Creighton. A week later, he beat the Jays again — this time nailing a tiebreaking 3-pointer with 48 seconds left to secure an 81-75 win.
Denzel Mahoney helped CU get some payback last year when he made a 3-pointer with 1:06 remaining, sealing an 87-82 road win.
The season's second meeting went back and forth until the final nine minutes, when the Jays broke it open with a decisive 30-10 run en route to a 77-60 win. That clinched a share of the regular-season title for Creighton, and launched an on-court postgame party.
"They lost last year and I'm sure it's etched in their minds, the celebration that occurred after we won that game," Creighton coach Greg McDermott said. "As a competitor, that's going to stick in the back of your mind."
The Pirates return six guys who appeared in that game, all of whom are playing vital roles on this year's surging squad. Creighton has six players back, too.
And many of those veterans were around for the two tightly contested showdowns in the 2018-19 season (the ones that ended with Powell's heroics).
So what happens when they get together again Wednesday?
More adrenaline spikes, at the very least.
Both teams want this one. Seton Hall (8-4, 5-1) sits in second place in the Big East standings, a half-game ahead of Creighton (8-2, 4-1). Villanova is in first after winning three league games before Christmas.
All three squads shared the crown last year. And they know how important these head-to-head meetings will be in a competitive race to repeat.
"They're 5-1, we're 4-1. We're attempting to stay on top of this league, and keep ourselves within a swing of the top," McDermott said. "It's a very important game in that regard."
Photos: Creighton faces Seton Hall for 2019-20 Big East crown