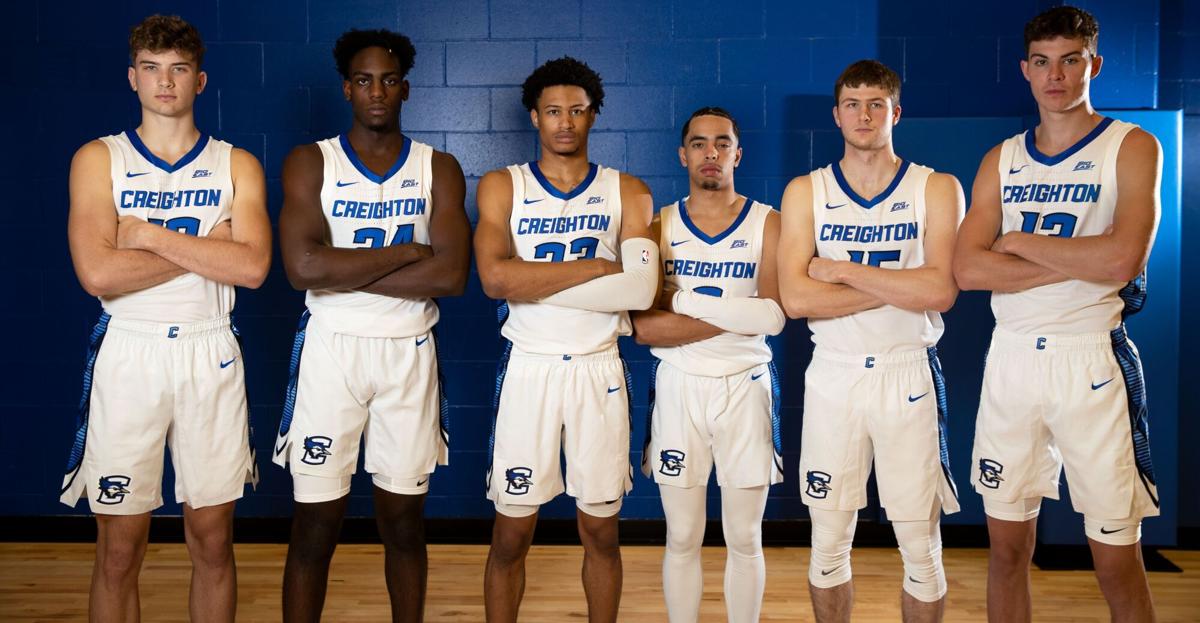 The whistles shriek, the action stops and the teaching starts.
That's how it has gone at Creighton preseason practice the past two weeks, particularly on defense as the coaching staff works to build a foundation with a squad full of newcomers.
That's because — though the Bluejays are known for pushing tempo, shooting 3s and scoring, and recruited this roster to excel in those areas — they know they can't win at the sport's highest level without consistently getting stops. So that's where the focus has been.
"We're not where we need to be to compete on the defensive end and to be able to play to our strengths, which is to play in transition," freshman guard Trey Alexander said. "Offense starts with the defense. That's what (the coaches) are trying to get at. And it's what we're trying to do."
Alexander said that coach Greg McDermott and assistant Ryan Miller, who's taking a lead role in coordinating the defensive schemes, have made a point to constantly bring up the details.
They'll pause a possession. They'll wait until a rep ends and recreate a scenario to talk through, too. Poor positioning on the back-side of the play might prompt a tutorial. Or maybe there's confusion about a rotation or poor technique maneuvering around a screen.
Sometimes, the miscues boil down to the five players just not communicating effectively enough while they're flying around — and the staff will be quick to remind them of that.
"For a lot of us, it's breaking habits," freshman guard Ryan Nembhard said. "Certain defenses I've played in the past, we have different principles. So it's every day having a conscious mindset that we've got to lock in and do what we do here, instead of focusing on things we did in the past."
The process CU's younger players are going through defensively is not unlike the growing pains once endured by last year's Jays.
Those veterans spent much of 2018-19 figuring out how to understand and embrace their responsibilities on defense. But by March 2021, they were relying on their tone-setting tenacity to win grinders. The Jays made 33% of their 3-pointers in the postseason, yet reached the Big East title game and won two NCAA games to reach the Sweet 16.
That team had five starters who played in the system together for years. This current squad does not.
Had a couple of those players stuck around, perhaps they could have set an example this month. Instead, everyone's learning. Only junior Shereef Mitchell has been here for more than one season.
But he likes the approach of the eight newcomers so far.
"From June to now, we've come a long way," Mitchell said earlier this month. "And it's going to be a lot more even than what it is now, but they pick up things real quick. They've been great ever since they've been here."
They'll have to keep at it.
Creighton is two weeks into its six-week preseason camp — the Jays hosted a media day session Wednesday. They'll have a closed scrimmage against Missouri and an exhibition game against Upper Iowa later this month to test their progress.
They're well aware of the improvement that is needed. But they're ready to take on that challenge.
"We still have a lot of learning processes and sometimes we still fail at it, but we're at a point where we feel like we're getting incorporated into it," Alexander said.
---