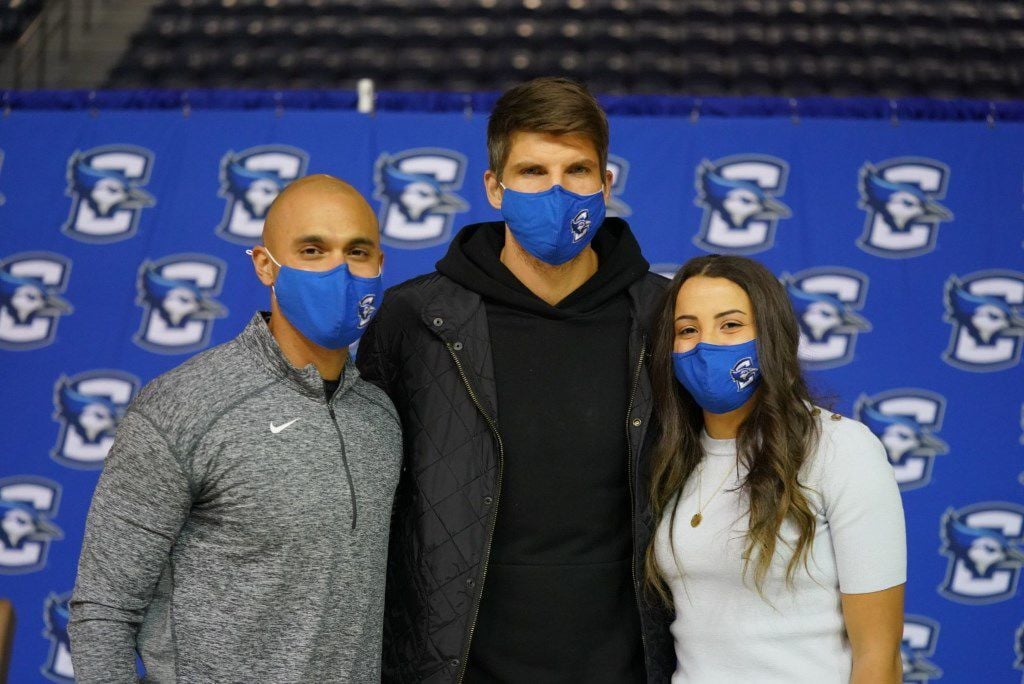 Before the Milwaukee Bucks declined to take the court for a playoff game two months ago, Kyle Korver said he was in tears as he processed an emotional locker room scene.
Korver recounted the story Sunday night during a visit to his alma mater, where the former Creighton All-American participated in an hourlong panel discussion on systemic racism and social justice.
What Korver remembered about that August night inside the NBA bubble: the pregame clock was winding down and one assistant was raising his voice as he expressed concern for his kids back home.
It had been three days since the police shooting of Jacob Blake in Kenosha, Wisconsin. And the incident, which intensified a national debate on policing in America, was on the minds of the Milwaukee players and coaches.
They weren't focused on game planning in the locker room. They were thinking about the unrest in their community.
"I just sat there in my chair with tears running down my face," Korver said. "I'm looking at my jersey — it says Black Lives Matter. And I'm just like, 'what are we doing?'"
They soon learned that guard George Hill wasn't going to play that night. Sterling Brown was out, too. Korver said those two didn't request that the rest of the team follow their lead, but they did.
The Bucks' unprecedented walkout sparked three days of protests by NBA players. The league postponed six playoff games.
Korver, a 17-year NBA veteran, explained Sunday why he supported his teammates' position.
"You stand with the marginalized," Korver said. "And when you can, you amplify their voice, you listen to their thoughts, you listen to their ideas and you find a way to help out."
It was a little over a year ago that Korver published a 2,600-word essay titled "Privileged" for the Players Tribune. The piece chronicled his enlightenment on issues of racial inequality.
Korver said it was the result of years of self-reflection. He journaled. He read books. He listened to podcasts. He talked to friends, family and teammates. And he's still learning, still evolving.
"I'm not an expert on this," Korver said. "It makes me super nervous to try to step into a lot of these spaces. All I can share are my own stories."
That's what Korver did Sunday, sitting at center court in Sokol Arena alongside ex-Bluejay guard Josh Dotzler and current CU women's basketball standout Rachael Saunders.
The three panelists discussed issues of segregation and redlining. They talked about policing practices, voter suppression and the wealth gap. They wondered about media coverage of protests, and shared their interpretation of the purpose of the Black Lives Matter movement.
Saunders said she, along with Creighton's student-athlete advisory committee, wanted to host the Sunday conversation on racial injustice — available in full on YouTube — in an effort to bring new perspectives to light.
"I think a big thing that came about this past summer and spring was the openness to talk about these things," Saunders said.
Korver encouraged the audience to do that going forward. He's been embarking on his own journey for a while.
It started with empathy, Korver said. Then humility. Soon Korver was challenging himself to think differently about the experiences of Black people in America.
"In God's eyes we do all matter the same," Korver said. "But in man's eyes, we haven't. And that's all we're saying. The story so far in this country has been imbalanced — it has not been equal. And all lives can't matter the same until Black lives matter more."