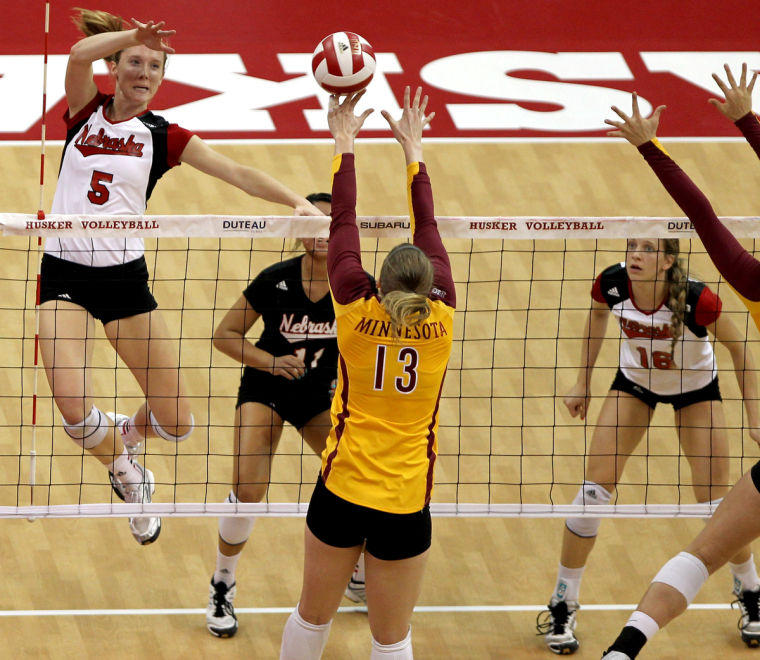 LINCOLN — Going into her freshman season, blocking was one of the last things on Amber Rolfzen's mind.
But discovering an appreciation for what Nebraska volleyball coach John Cook describes as "the hardest skill to learn" has allowed the former Papillion-La Vista South star to grab NU's starting spot at opposite hitter.
Over the past few weeks, Rolfzen's improvement in blocking has allowed her to become a force despite a decline in her offensive production. A physical presence at the net, she has 20 blocks in Nebraska's four league matches and has been a big part in limiting the main attackers of the Huskers' opponents.
"Beginning of the season, I really did not like working on blocking, I'll be honest," Rolfzen said. "I always thought it was so repetitive to just swing your arms. But, as it got going, blocking is my favorite thing to do in practice. You take a lot of pride if you can shut down the other team's big gun that they go to all the time."
The Big Ten is full of elite attackers, and thus far, Rolfzen has fared well when trying to slow them down. Since she plays on the right side, in several rotations she mirrors the opponent's left-side attacker, which is usually where a team's top outside hitter is aligned. So far, Rolfzen has been a key in keeping opponents' top options in check, which has helped Nebraska to a 4-0 league start despite having five starters who are new to Big Ten competition.
In the Huskers' wins over Minnesota and Wisconsin last weekend, NU held Gophers all-conference outside hitter Ashley Wittman to a negative-.150 attacking mark with just three kills. The following night, Wisconsin's Courtney Thomas had 18 kills, but erred nine times in 53 swings for a .170 attacking mark.
To open Big Ten play, Rolfzen held Illinois star sophomore Jocelynn Birks to a .125 hitting mark, and even though Northwestern's Stephanie Holthus recorded 20 kills against Nebraska, she committed 10 costly hitting errors while contending with Rolfzen's block much of the evening.
"She has become a very good blocker," Cook said. "She can shut those guys down or make them think about hitting different shots than what they like to hit. That's what you need your right-side block to do."
Her defense has made up for a recent slow stretch in her attacking numbers. Rolfzen is hitting .034 in Big Ten play and has exceeded five kills in just one league match.
"We were always kind of told if you don't have a good offensive night, make it up with something else," Rolfzen said.
Nebraska (11-2, 4-0 Big Ten) will need Rolfzen to continue her defensive trajectory. The Huskers will see a couple more of the Big Ten's elite outside hitters during what should be the toughest weekend road swing in the conference.
NU will play at No. 17 Michigan (11-4, 1-3) Friday before traveling to red-hot No. 7 Michigan State (15-1, 4-0) Saturday. Both matches start at 6 p.m.
Michigan senior outside hitter Lexi Erwin (3.23 kills per set) is one of five starters back from the Wolverines' club that reached the final four last year. Cook said not to be fooled by Michigan's slow start in league play. The Wolverines finished sixth in the Big Ten last year with an 11-9 record before making a surprising postseason run.
Michigan State outside hitter Lauren Wicinski is second in the Big Ten with an average of 4.58 kills per set. The Spartans have won 13 matches in a row, including a five-set victory at No. 4 Penn State on the Big Ten's opening weekend.
Michigan State has been the total package so far, leading the conference in service aces (1.78 per set) and ranking in the top three in hitting percentage, blocks and opponent hitting percentage. MSU's Alexis Matthews is an All America-caliber middle blocker. She ranks second in the Big Ten in blocks (1.42) and third in attack percentage (.459).
The Huskers defeated Northwestern and Illinois in their first league road trip, a feat Rolfzen said gave the Huskers confidence going into the snake-pit road environments of the Big Ten.
"I enjoy playing against other teams' home crowds," Rolfzen said. "It's really fun to beat a team on their home court. I don't know why. Maybe it's just a competitive thing I have, but playing on the road, it's exactly what we thought it would be like. Student sections, they're always against you, and they're always cheering when you make a mistake."
Be the first to know
Get local news delivered to your inbox!